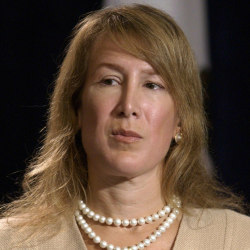 Donna Arduin | Senior Fellow
Donna Arduin is a partner at Arduin, Laffer & Moore Econometrics.
---
Donna Arduin is a partner at Arduin, Laffer & Moore Econometrics. She is one of the nation's most successful veterans of state budget management and tax reform, having served as budget director under former Michigan Gov. John Engler, former New York Gov. George Pataki, former Florida Gov. Jeb Bush and former California Gov. Arnold Schwarzenegger, helping steer budgetary practices in each of these states toward fiscal responsibility. Donna established a reputation for bringing government spending under control through long-term policy planning and fiscally conservative budgeting; the governors she has served have consistently received high marks on the Cato Institute's fiscal report cards during her tenures with their administrations.
She recently consulted for Illinois Gov. Bruce Rauner, Sen. Marco Rubio and Gov. Rick Scott of Florida, and California gubernatorial candidate Meg Whitman.
Donna is further noted for creating the nation's first interactive "e-budget," implementing performance-based budgeting, simplifying property taxes and reducing the size of state governments.
Donna graduated magna cum laude with honors in economics and public policy from Duke University. Prior to her career in the public sector, she worked as an analyst in New York and Tokyo in the private financial markets for Morgan Stanley and the Long-Term Credit Bank of Japan.