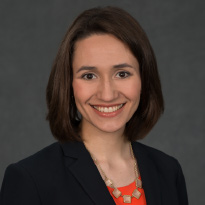 Diana Rickert | Vice President of Communications
Vice President of Communications
---
Diana Rickert serves as Vice President of Communications at the Illinois Policy Institute, the state's top taxpayer watchdog group. She also writes a monthly column for the Chicago Tribune and regularly appears on Chicago and national news to comment on tax and public policy issues. Before joining the Institute, Diana wrote for daily newspapers for more than nine years under the byline Diana Sroka.
Most recently, Diana was a reporter for the Northwest Herald in suburban Chicago. In 2011, her reporting on Illinois' pension crisis garnered more than nine prestigious journalism awards, and was a finalist for a Lisagor award for investigative reporting from the Chicago Headline Club. In 2014, her writing for the Chicago Tribune commentary page also landed her a finalist spot for the Headline Club's Lisagor awards. Diana also has worked for the Daily Herald, Milwaukee Journal Sentinel and Associated Press, among other news organizations.
Diana is a graduate of Marquette University, where she studied journalism and political science. During college she founded an free-market, student-run newspaper called The Warrior, which won many journalism awards. She resides in the Chicago suburbs.