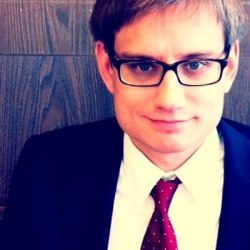 Jacob Huebert | Senior Attorney at Liberty Justice Center
Senior Attorney at Liberty Justice Center, author of Libertarianism Today.
---
Jacob Huebert is senior attorney at the Liberty Justice Center, the Illinois Policy Institute's free-market public-interest litigation center.
Jacob litigates cases to protect economic liberty, the First Amendment, and other constitutional rights in federal and state courts in Illinois.
In the area of economic liberty, Jacob led LJC's successful challenge to Bloomington, Illinois' vehicle-for-hire ordinance, which had prevented new competitors from starting vehicle-for-hire businesses. He is also fighting for food truck owners' rights in Beavers Donuts v. City of Evanston.
In his First Amendment practice, Jacob and LJC are challenging Illinois' campaign finance law, which restricts campaign contributions for all but a privileged few in Illinois.
Jacob received his B.A. in economics from Grove City College and his J.D. from the University of Chicago Law School. After law school, he clerked for Judge Deborah L. Cook of the United States Court of Appeals for the Sixth Circuit. He then practiced law as a litigator at a large law firm in Columbus, Ohio, and then in his own law office before joining the Liberty Justice Center upon its founding in 2011. His work has earned him recognition as a Rising Star in appellate law by Super Lawyers in 2009, 2011, and 2012.
As an adjunct law professor, Jacob has taught advanced legal writing at Chicago-Kent College of Law; jurisprudence, payments and advanced appellate advocacy at Ohio Northern University College of Law; and appellate advocacy at the Ohio State University Moritz College of Law. He has spoken to Federalist Society chapters at law schools across the country on topics including economic liberty and judicial selection.
Jacob is the author of a book, Libertarianism Today, and his writing has been published widely in scholarly, professional and popular publications.
Jacob is admitted to practice in the State of Illinois and the State of Ohio, as well as the United States Supreme Court, the United States Court of Appeals for the Seventh Circuit, the United States Court of Appeals for the Sixth Circuit and several other federal courts.