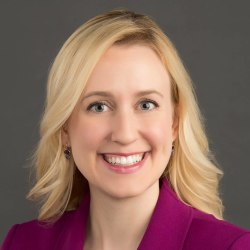 Kristina Rasmussen | President and Chief Operating Officer
Spreading liberty. Wife. Mom. Quilter. Rider. Traveler.
---
Kristina Rasmussen is the president and chief operating officer of the Illinois Policy Institute. She is responsible for executing the organization's strategic plan, which centers on turning liberty principles into marketable policies that become law.
From her post in Springfield, Kristina has helped the Illinois Policy Institute overcome steep odds to defeat multiple tax hikes and pass free-market legislation.
Kristina joined the Illinois Policy Institute in 2009 as executive vice president, a position she held until 2016 when she became president and COO. In 2015, Kristina accepted the Overton Award from the State Policy Network, which recognized her excellence in leadership.
Kristina regularly shares her insight on fiscal issues and government reform with audiences across Illinois and the nation.
Her opinion pieces have been featured in the Chicago Tribune, The Washington Post, National Review Online, Investor's Business Daily, The Hill, U.S. News & World Report, the St. Louis Post-Dispatch, Crain's Chicago Business and The State Journal-Register, among others.
Kristina is frequently asked to comment on policy matters and has been quoted in The Wall Street Journal, the Economist and the Associated Press. Her television appearances include Fox News, CNN, Fox Business, C-SPAN and WTTW, and she has been a guest on numerous radio shows.
Kristina previously served as director of government affairs for the National Taxpayers Union, where she amplified the organization's pro-taxpayer message. In addition to her extensive advocacy on tax and budget issues, Kristina worked on transportation and state transparency matters. She also worked on behalf of free enterprise at the National Federation of Independent Business.
Kristina completed her master's degree in political management at George Washington University. She graduated summa cum laude from Randolph-Macon Woman's College with a bachelor's degree in political science.
Kristina and her husband are proud to be raising their three beautiful daughters in the Land of Lincoln. She is motivated to change Illinois because she knows the state has the potential to be a beacon of opportunity shining across the Midwest and the nation.
Kristina is responsible for recruiting amazing talent to join the Illinois Policy Institute in order to help advance economic freedom throughout Illinois. If you believe in the Institute's mission and feel you have something to add to the team, please send Kristina your résumé and a short statement of interest.