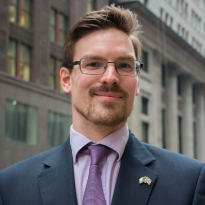 Mark Adams | Regulatory Expert
---
Mark Adams is working to find solutions to legal, economic and regulatory problems with a focus on identifying alternative approaches to policies that disproportionately affect opportunities for low-income, working families.
Mark was a research fellow with the Mercatus Center in Arlington, Virginia, where he worked on federal regulatory and economic issues. He also taught economics and statistics at Western Carolina University in North Carolina.
Mark earned a doctorate and a master's degree in economics from George Mason University, and a bachelor's degree in economics from the University of Liverpool.
Mark is originally from a village near Nottingham, England, and grew up in the British city of Manchester.