CTU demands would cost taxpayers an additional $452 million
The Chicago Teachers Union has threatened to strike over contract demands that would cost taxpayers an extra $452 million in the first year. Chicago teachers already make more than other big city peers.
Chicago Mayor Lori Lightfoot faces $452 million in new contract demands from the Chicago Teachers Union, meaning precarious finances would be even worse if it were solely up to the union representing some of the nation's highest-paid teachers.
CTU presented demands totaling $452 million to Lightfoot and the Chicago Public Schools Board of Education, and has rejected a neutral fact-finder's contract recommendations, threatening to strike for the third time in seven years if demands are not met, according to the Chicago Tribune. Lightfoot is caught between the threat, CPS' precarious financial situation and the damage likely if city taxpayers are again asked for more. Chicago taxpayers face the highest debt burden of the 10 most populous cities in the country, according to Truth in Accounting.
An Aug. 11 report by a fact-finder appointed to make recommendations in the stalled negotiations calls for raises totaling 16% over five years, compared to Lightfoot's original offer of 14% over five years, according to WTTW. CTU is demanding 5% a year, and only wants a three-year contract.
Employee health insurance contributions are also at issue.
The Lightfoot administration has indicated it accepts the fact-finder's recommendations.
Negotiations with CTU
CPS' history of mismanagement and poor financial decisions has led to excessive borrowing and a "junk" credit rating. Its debt has quadrupled since 1998, with current debt at over $8 billion. The district is also forced to allocate hundreds of millions of dollars each year to the Chicago Teachers Pension Fund after multiple years of making inadequate contributions.
Lightfoot's first contract proposal included a 14% pay increase over a five-year period. It infuriated CTU leaders, who said it didn't cover any of the union's primary demands. CPS also proposed having employees contribute 1.5% more toward their health insurance during the final three years of the five-year contract, according to WTTW.
CTU's demands include a 5% pay raise each year, more generous benefits, numerous staffing requirements, 55 additional "community schools," a reduction in class size, creation of affordable housing for teachers and many other guarantees. CTU wants a three-year contract instead of the five-year deal the district and mayor prefer.
The fact-finding report, which WTTW obtained, recommended raises of 16% over five years, as well as a 1% increase in health insurance contributions by employees over the contract term.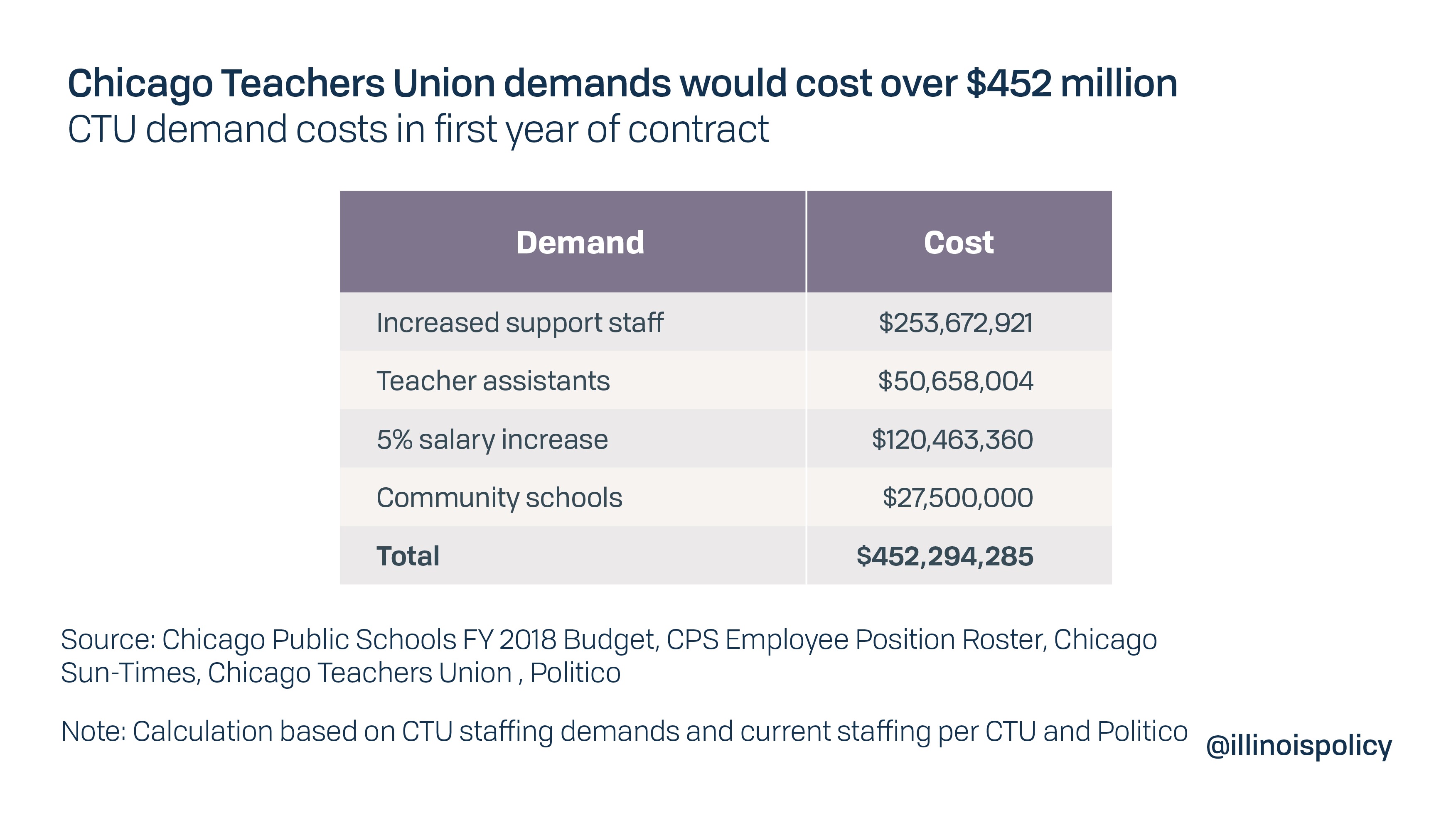 If Lightfoot were to accept all of the union's demands, it would cost the district an additional $452 million in the first year, with that number increasing year over year due to pension costs and compensation increases.
Politico reports Lightfoot has offered to hire an additional 200 social workers and 250 full time nurses, adding to the current 413 social workers and 310 nurses. However, CTU wants 500 additional nurses and enough social workers to bring the ratio of general education students to counselors to 250 to 1 and the ratio of special education students to counselors to 50 to 1, according to the Chicago Tribune. Given the district's 372,214 students, that would require more than 1,000 additional social workers.
Lightfoot's offer is a reasonable way to increase services for at-risk students without overburdening overtaxed Chicago residents.
CPS spends $15,412 per student. That is $2,075, or 16%, higher than the state average. Chicago Public Schools continues to underperform the state academic achievement benchmarks year after year. Average SAT scores in CPS schools are 56 points lower than the state average, 4-year graduation rates are 11 percentage points lower, and the percentage of CPS teachers rated proficient or excellent comes in at 11 percentage points lower than the state average.
Implementing a 5% salary increase as CTU has demanded would cost the city an additional $120 million in the first year. That would limit opportunities to hire more faculty and relieve pressure on existing district employees.
According to the Illinois State Board of Education, less than 1% of Illinois districts have a higher base salary than CPS. Its maximum salary for a teacher with a bachelor's degree is also the fourth highest at over $96,000, not adjusted for cost of living.
According to the Teacher Contract Database of the National Council on Teacher Quality, CPS compared to school districts in the nation's 10 largest cities for which data are available has the highest maximum salary for teachers with a bachelor's degree, as well as the highest maximum salary for teachers with a master's degree. They come in second, behind San Antonio Independent School District, for base salary of new teachers with bachelor's degrees and master's degrees. CPS has the highest average salary among school districts in 10 of the nation's top 13 largest cities – comparable data was not available for three of the cities – when adjusted for cost of living.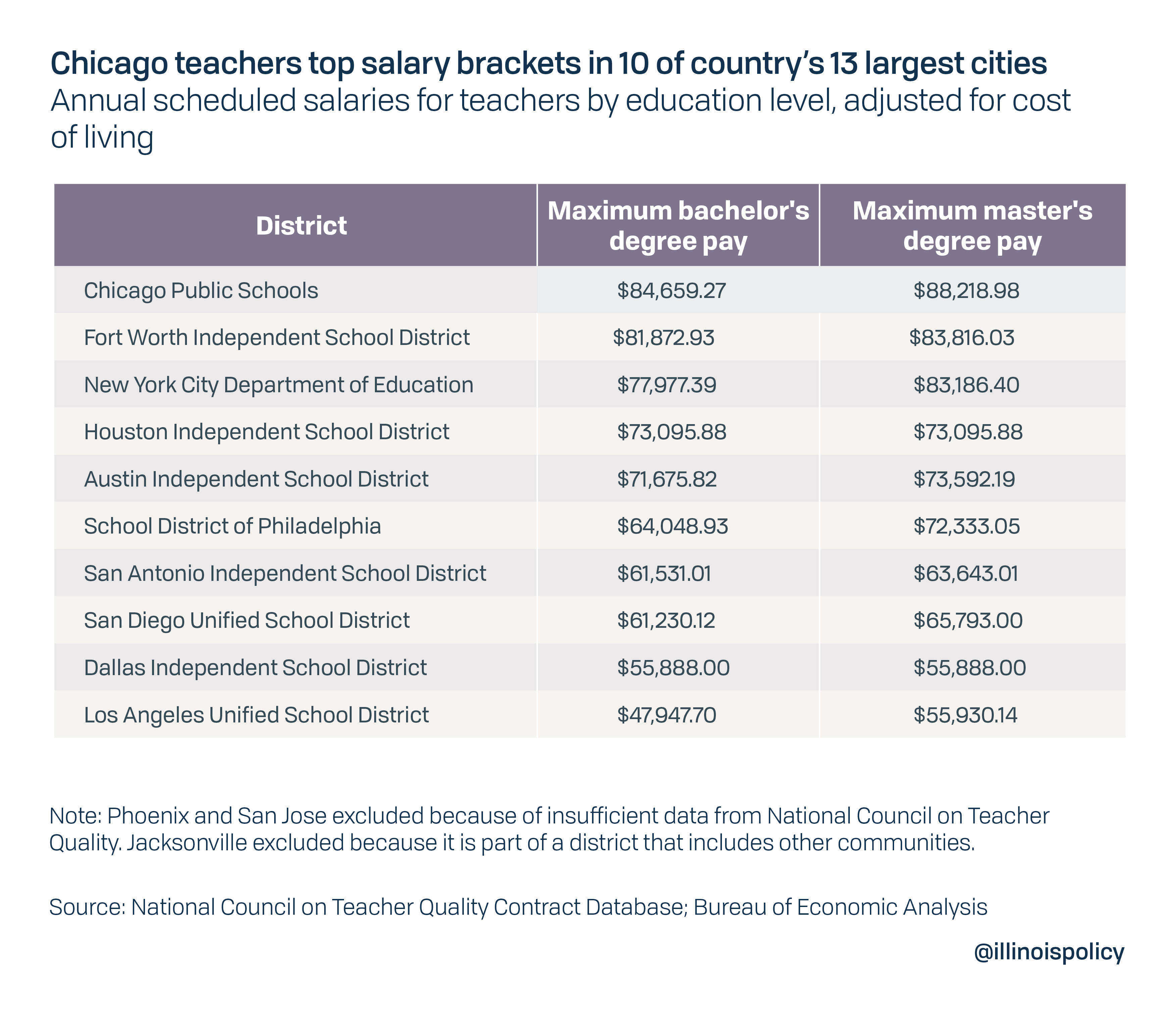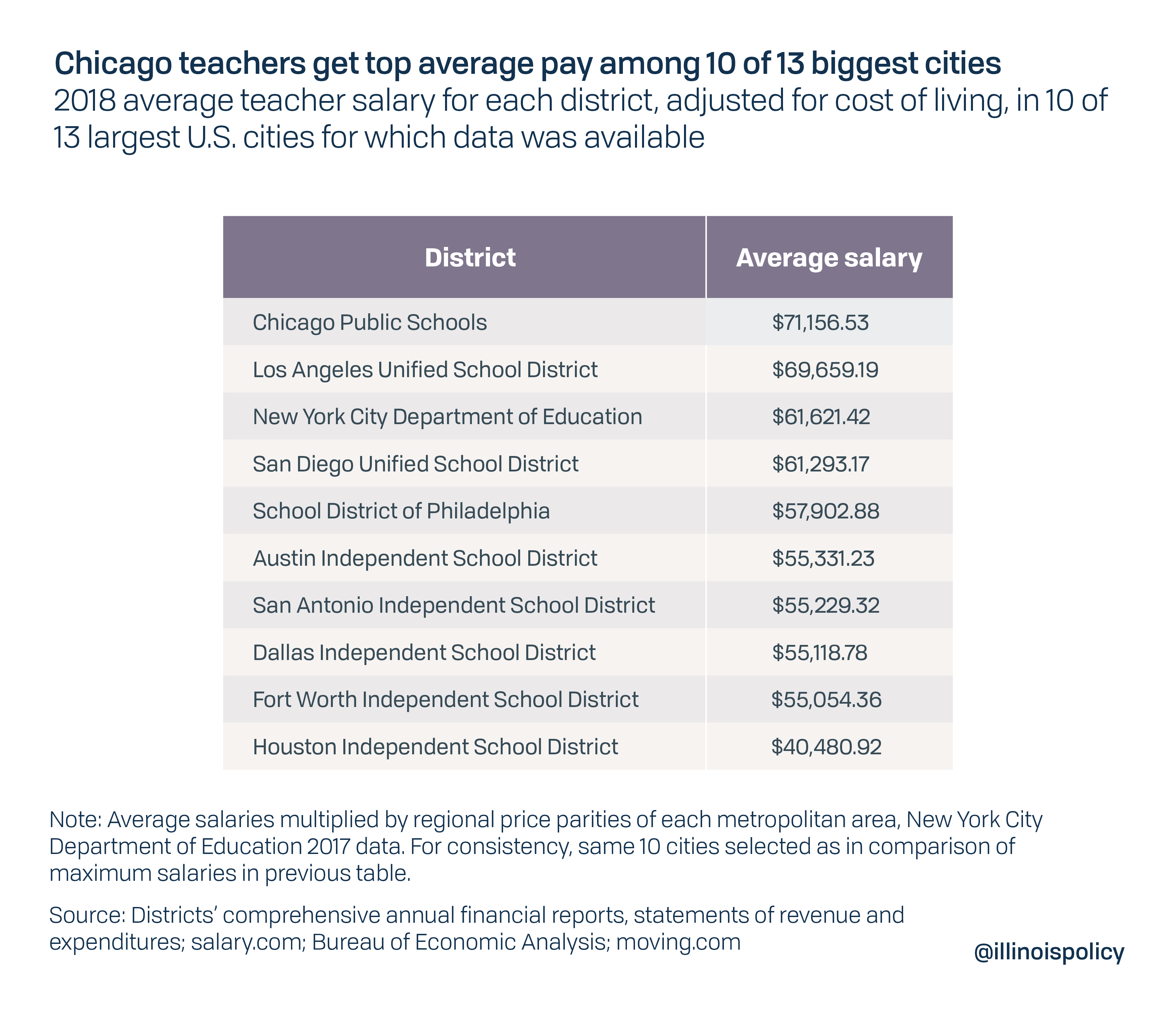 In total, CTU is demanding the district hire just under 4,400 new staff. Using the prior salary schedule, it would cost an estimated $304 million in the first year. Because pension benefits are determined by salary, yearly contributions would also increase. Because of the 2017 education funding bill, those rising costs would fall on the state. Illinois has been ranked worst in the nation for fiscal health and is not in a financial condition to cover even more pension contributions for CPS.
The district already spends more for compensation, on average and in real terms, compared to school districts in 10 of the country's largest cities for which data is available. This spending reduces resources available to hire more teachers – potentially increasing class sizes. A comparison of pupil-teacher ratios shows CPS has nearly 6 more students per teacher compared to the state average. CTU is fighting for smaller classes, but by demanding larger raises that also drive up mushrooming pension costs the union will hurt the district's ability to hire more teachers and meet that goal.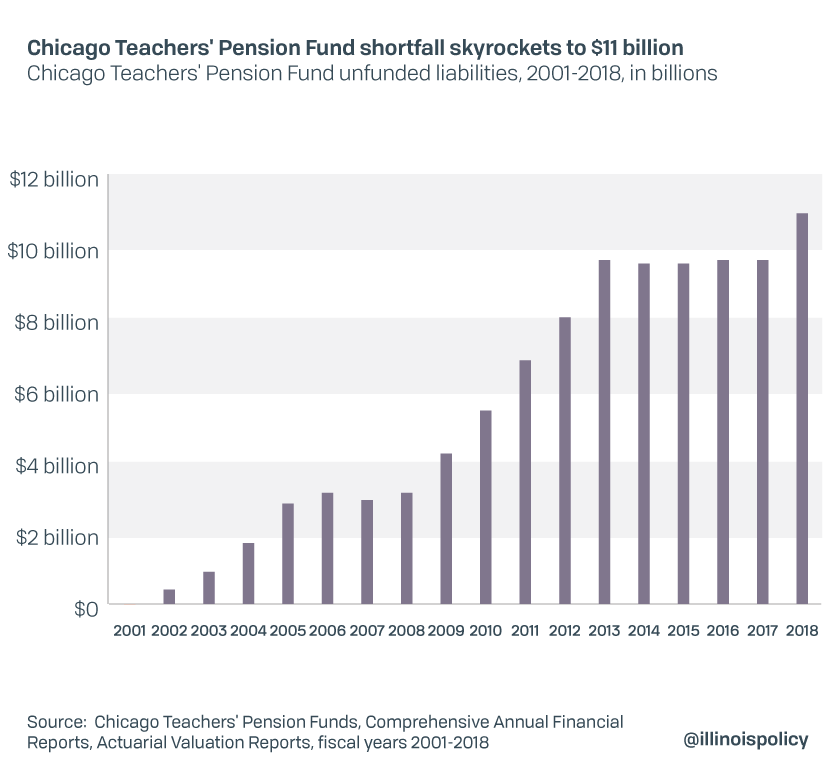 Just under $11 billion of unfunded pension liabilities means CPS' budget and contract woes will continue each year. Without pension reform, the district budget will continue to be distressed and hinder the union's contract goals, such as hiring more teachers, school counselors and nurses.
The start of the school year, the threat of a strike and the potential for more Chicago residents to leave rather than pay even more in taxes are all putting pressure on Lightfoot as she tries to forge a deal. There is a reasonable middle ground if salaries are limited to actual cost-of-living adjustments and school employees share more of their health care costs.
The unreasonable extreme would be threatening to strike over $452 million in demands that neither the school district nor taxpayers can afford.