QUOTE OF THE DAY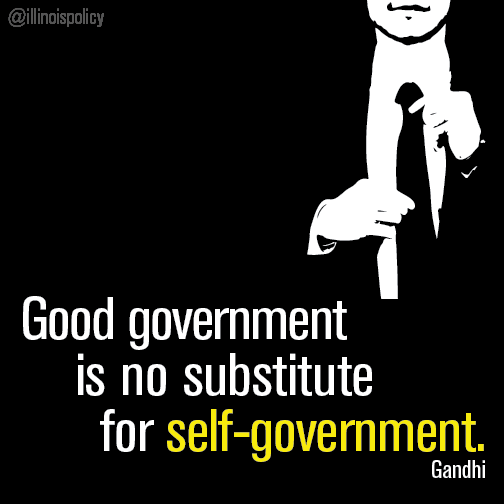 Chicago Tribune: Chicago may borrow money to cover police back pay
Mayor Rahm Emanuel may borrow more money to come up with the $65 million or so the city will need to cover police back pay if a newly proposed contract is approved, the city's top budget official said Tuesday.
Budget Director Alexandra Holt did not say how much the city will need to borrow, but indicated it would be a short-term loan paid back by mid-2017, when the new police contract would expire.
That's in contrast to the long-term borrowing done to pay for such costs under former Mayor Richard M. Daley. The last time the city had to come up with back pay for police and fire contracts, Daley took out a $240 million loan of at least 25 years.
---
Bloomberg: Perry: Toyota to Tesla Invest Based on Taxes, Regulation
Texas Governor Rick Perry, a potential U.S. presidential candidate in two years, said companies such as Toyota Motor Corp. (7203) will invest where they're least burdened by taxes and regulation.
Toyota, the world's largest automaker, chose Perry's state as the home for its new North American headquarters that will house about 4,000 employees. The Japanese company plans to finish construction as soon as 2016, when Perry could be a Republican candidate to succeed Barack Obama.
Perry, 64, touted the move by Toyota in a speech to The American Chamber of Commerce in Japan today while also ruing Tesla Motors Inc.'s decision to build a battery factory in Nevada. Perry said he called Governor Brian Sandoval to congratulate him even though Texas lost out on the plant.
---
Crain's: Banks shed bad loans, but Chicago delinquencies highest in U.S.
Banks have hacked their pile of busted Chicago-area commercial real estate loans to the lowest level in five years, helped along by a steadily rising market. But delinquencies are still higher here than anywhere else in the country.
The delinquency rate for bank loans on local income-producing properties fell to 4 percent in the second quarter, from 4.7 percent at the start of the year, according to Trepp LLC, a New York-based research firm. The rate peaked at 7.7 percent in 2011.
The drop, to the lowest lowest rate for the Chicago area since the end of 2008, is a good sign for the market. But the rate remains the highest among the 100 biggest metro areas in the country and was double the 2 percent national rate, according to Trepp.
---
Chicago Tribune: Police seizure of motorists' cash on rise, netting $2.5 billion since 9/11
After the terror attacks on Sept. 11, 2001, the government called on police to become the eyes and ears of homeland security on America's highways.
Local officers, county deputies and state troopers were encouraged to act more aggressively in searching for suspicious people, drugs and other contraband. The departments of Homeland Security and Justice spent millions on police training.
The effort succeeded, but it had an impact that has been largely hidden from public view: the spread of an aggressive brand of policing that has spurred the seizure of hundreds of millions of dollars in cash from motorists and others not charged with crimes, a Washington Post investigation found. Thousands of people have been forced to fight legal battles that can last more than a year to get their money back.
---
TIME: This is How the U.S. Has Been Spending Its Money Since 1971
You've heard it too many times—griping and groaning about the United States' debt, worrying about where tax dollars are going, outrage that the government is spending its money on all the wrong things—but in truth, too many Americans have no idea where the federal budget goes, which is a part of the reasons why they feel left in the dark.
Instead of pointing fingers, it's always best to get a little perspective. In truth, too many Americans have no idea where the federal budget goes, and what the government has deemed a financial priority over the past couple of years. Research engine FindTheBest complied federal budget data since 1971 to see how the government has been spending its money over time. The bars in the graph are divided by program.
---
Chicagoist: Richard M. Daley's Influence Still Runs Deep
Of all the connected former politicians we would have expected to vie for a city contract, Richard M. Daley would have been at the bottom of the list for myriad reasons, starting with he's Richard M. Daley.
Yet it appears he did indeed throw his fedora into the ring for a contract to develop land in the Illinois Medical District. According to the Sun-Times, Tur Partners, the company formed by Daley and son Patrick after he left office, was part of a group bidding to develop 9.5 acres of land controlled by the Illinois Medical District Commission. The group later pulled itself from consideration but, in a sign of how deep the Daley cachet still runs, the other two groups seeking the bid had connections to the former mayor.
The winning bid went to IMD Gateway Partners, a group headed by developer Jack Higgins and Elzie Higginbottom. Higginbottom was one of Daley's most reliable fundraisers during the mayor's political career. He has concessions contracts at O'Hare and Midway Airports, and his company manages the Cook County government building. Higgins was originally selected to develop the land by the Medical District Commission before it was revealed he owed $2.9 million in personal income taxes to the IRS. His daughter, the Sun-Times notes, was with Daley's nephew Richard "R.J." Vanecko the night Vanecko threw the punch that killed David Koschman in 2004.
---
Chicago Tribune: Why corporations and startups are working together
The words entrepreneur and startup have had a great run of late. A study of Census Bureau data analyzed by scholars at the Ewing Marion Kauffman Foundation demonstrated that virtually all net new job creation over the past three decades has come from true startups — new businesses less than 1 year old. According to the research, new businesses create an average of 3 million new jobs each year, while existing businesses of any age, type or size shed, in aggregate, a net annual average of around 1 million jobs as some businesses fail and as others incorporate technology to become more efficient. In 2013, studies showed that 300 out of 100,000 adults created new businesses in 2012. Business creation of 0.3 percent translates into approximately 514,000 new business owners each month during the year. "Young companies or new businesses are the job growth engine of the United States economy," said John Dearie, executive vice president at the Financial Services Forum
So it's about time corporations take notice of the value entrepreneurs or startups can bring larger companies. Entrepreneurs hold the key to spark the innovation that corporations lack. In 2013, we saw more corporations interacting with the startup community and doing things they had never done before. Why are they doing this? They're reaching out because of exploding innovation and a 21st century mindset of speed and product innovation that has left many of them in the dust.
---
US News: Detroit, key creditor reach tentative deal that may clear stumbling block in bankruptcy case
Detroit has reached a tentative deal with one of its key creditors that could remove the biggest stumbling block in the city's plan to reduce its debts and emerge from bankruptcy protection, according to a federal court filing Tuesday evening.
The joint filing by the city and bond insurer Syncora Guarantee said that they "have reached an agreement in principle" to settle the company's $400 million claim in the nation's largest-ever municipal bankruptcy case.
The two sides said they need 48 hours to complete the deal and ask Judge Steven Rhodes for a postponement of the bankruptcy case trial until Friday.
---
WBEZ: Chicago SRO owners say proposed city ordinance is 'hostile'
A new City Hall plan to preserve fast-vanishing affordable housing units in single-room occupancy (SRO) and residential hotels has some Chicago SRO owners upset.
The Single-Room Occupancy and Residential Hotel Preservation Ordinance, to be introduced at Wednesday's City Council meeting, includes incentives to induce building owners to maintain a certain threshold of affordable units in their buildings. There are few specifics about those incentives, but much of the measure focuses on financial penalties that owners would face if the number of affordable units in their buildings falls below a mandated percentage.
"Essentially what has happened is the city wants to change the rules in the middle of the game," said Eric Rubenstein, Executive Director of the Single Room Housing Assistance Corporation, which works with building owners, operators and tenants to preserve SRO housing in Chicago. "The properties are going to be dropping substantially in value because of the proposed ordinance, as now written," he said.
---
Jim Pethokoukis: Is the current job market recovery stronger than the one in the 1980s? 
You can tease the data until they cry for their mothers, but you cannot plausibly make them declare that the jobs recovery after the 2007-2009 recession has been stronger than the rebound after the 1981-82 recession. But over at Forbes.com, Adam Hartung approvingly quotes some newsletter writer who attempts to make just this case:
President Reagan has long been considered the best modern economic President.  So we compared his performance dealing with the oil-induced recession of the 1980s with that of President Obama and his performance during this 'Great Recession.' As this unemployment chart shows, President Obama's job creation kept unemployment from peaking at as high a level as President Reagan, and promoted people into the workforce faster than President Reagan. President Obama has achieved a 6.1% unemployment rate in his sixth year, fully one year faster than President Reagan did.  At this point in his presidency, President Reagan was still struggling with 7.1% unemployment, and he did not reach into the mid-low 6% range for another full year.  So, despite today's number, the Obama administration has still done considerably better at job creating and reducing unemployment than did the Reagan administration.
If you think the jobless rate — despite all the current controversy about labor force participation and job quality — by itself reveals all one needs to know about the state of the US labor market, then your intellectually curiosity is easily sated. But even that aside, the comparison made above is silly. In the 68th month of the Obama presidency — the August job report is what we are looking at — the unemployment rate was 6.1% while 68 months into the Reagan presidency, the rate was 6.9%.
---
Real Time Economics: U.S. Hiring Hits Highest Level Since 2007 in July
The number of hires by U.S. employers in July reached the highest level since 2007 and job openings hovered near their highest level in 13 years, the latest sign of improvement in U.S. labor markets.
Employers hired some 4.9 million workers in July, the highest level since December 2007,the Labor Department said Tuesday. Employers reported 4.7 million openings in July, roughly the same as in June, which was at a 13-year high.
In July, there were around 2.1 unemployed workers for every job opening, up slightly from two in June, but down from three workers per opening one year earlier. There were nearly 6.5 unemployed workers for every opening at the depth of the recession in 2009. Between 2004 and 2006, the ratio of unemployed workers to job openings averaged around 1.9.
---
Chicago Tribune: City watchdog may get oversight of public buildings panel
Mayor Rahm Emanuel will announce a plan Tuesday to give Inspector General Joseph Ferguson oversight of the Public Building Commission, taking a step toward honoring a pledge he made during his 2011 election campaign to give the inspector general's office the power to investigate city "sister agencies."
Heading into a re-election campaign and facing a flagging approval rating and possible challenges from progressive candidates like Chicago Teachers Union President Karen Lewis and Ald. Robert Fioretti, Emanuel will work to bolster his credentials as an ethics reformer by extending Ferguson's reach to the public building panel.
It remains to be seen, however, whether the mayor will give Ferguson enough resources to act as a watchdog for the building commission in addition to his other government oversight responsibilities.
CARTOON OF THE DAY