Illinois lost 20 people per day to Missouri over past decade
Politicians' refusal to make serious spending reforms is pushing more taxpayers out of Illinois, with Missouri being an attractive landing spot.
Illinois lost tens of thousands of residents on net to neighboring Missouri over the past decade. And the state may attract even more outbound Illinoisans in search of work in the coming years.
The Land of Lincoln gained only 15,000 Missourians in exchange for nearly 24,000 Illinoisans in 2015, according to data from the U.S. Census Bureau. That's a net loss of almost 9,000 Illinoisans to Missouri in just one year.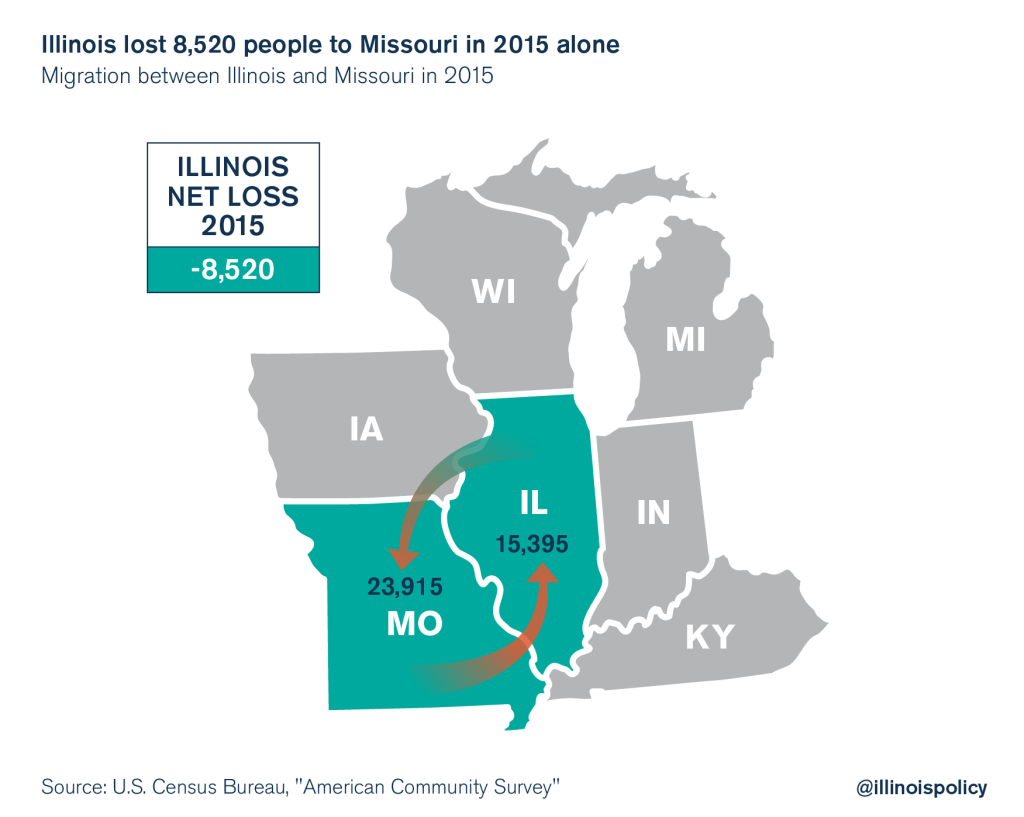 Illinois consistently suffers net migration losses to Missouri. Over the 10-year period from 2006 through 2015, Illinois suffered a net loss of nearly 73,000 Illinoisans to Missouri, for an average net loss of almost 20 Illinois residents per day. Illinois lost more people to Missouri than it gained from that state for each year over the past decade, and suffered an average yearly net loss of more than 7,000 Illinoisans.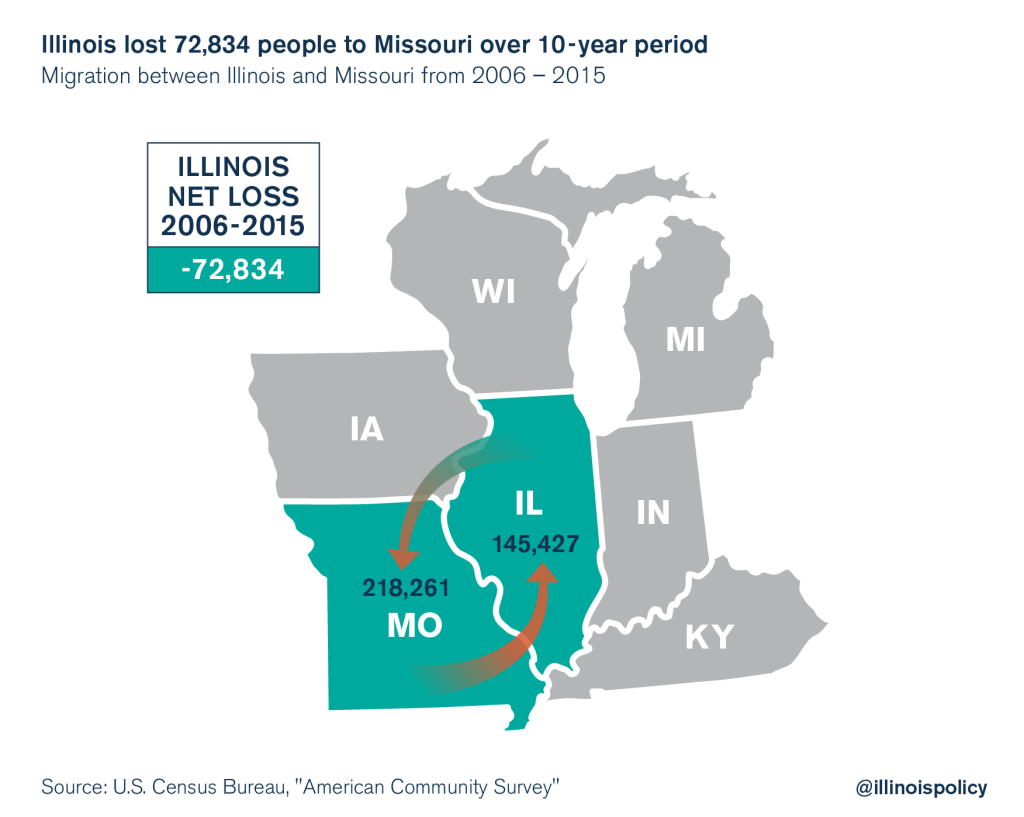 Missouri recently became the 28th state to pass Right-to-Work legislation, making Illinois a forced-unionization island surrounded by Right-to-Work states. Neighboring Right-to-Work states attract business investment over uncompetitive Illinois. The policy has also been shown to generate faster income and jobs growth, rendering these states attractive relocation destinations for out-of-work Illinoisans.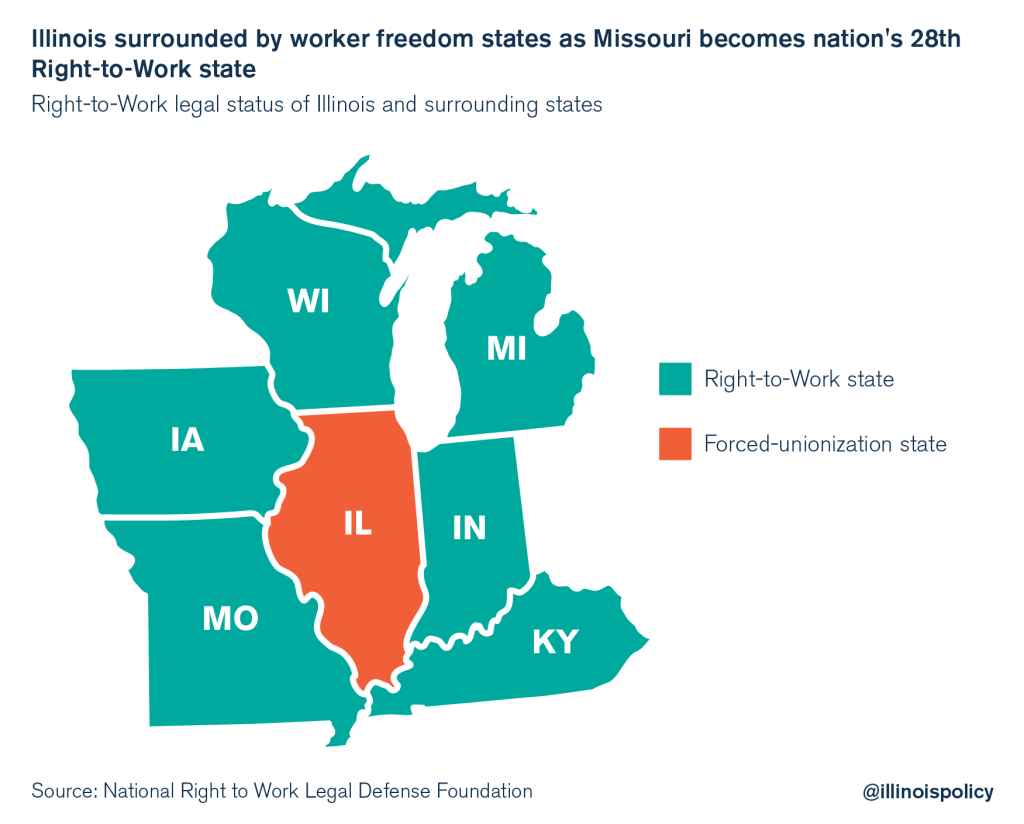 Illinois' out-migration has already reached crisis proportions. The state's population is shrinking, and in 2015, half of the fleeing Illinoisans moved to other Midwestern states.
A $7.1 billion budget hole, a soaring $130 billion pension debt, a manufacturing sector with collapsing employment opportunities, a higher-than-average unemployment rate, the nations' highest black unemployment rate, a shrinking workforce and some of the nation's highest workers' compensation costs and property taxes all plague the Land of Lincoln.
Eight of Illinois' metro areas – including Carbondale, which is roughly an hour's drive from Missouri – are either in or at risk of entering a recession. This is the devastating effect of overall economic weakness and the prolonged chipping away at Illinois' manufacturing sector. And as if that's not bad enough, Illinois' tax revenue may be declining, signaling either the start of a statewide recession, or a dangerous disintegration of the tax base due to severe population losses.
Despite all indicators pointing to economic crisis, Illinois state senators are bucking meaningful pro-growth reforms and refusing to rein in out-of-control spending, which is a fundamental driver of Illinois' looming economic collapse. Instead, their so-called "grand bargain" to pass a budget demands more tax dollars from a dwindling and already overtaxed tax base. The Senate deal includes multimillion-dollar personal and corporate income tax increases, while also introducing a new "business opportunity tax," which would tax businesses by payroll, and a new tax on services.
More tax-and-spend money grabs will only force more Illinoisans to vote with their feet, and bring their tax dollars with them. State officials should consider the following policy initiatives to help improve Illinois' competitive standing with states like Missouri:
Property tax freeze to provide tax relief and protect homeowners from underwater mortgages. In 2016, Illinois' property tax rates were 2.25 times higher than Missouri's.
Reform spending drivers, such as pensions, workers' compensation and government union collective bargaining.
Enact Right-to-Work legislation, so that Illinois can compete with surrounding industrial-friendly states.
Failed policies and an unwillingness to pass meaningful reforms have crushed taxpayers, stifled opportunity and left Illinois on the verge of an economic death spiral. As long as Illinois officials ignore systemic policy failures, Illinoisans will continue to flee to the Show-Me State and beyond, pushing economic stability more and more out of reach in Illinois.