Illinois' public-private pay gap is growing even wider
State-government employee compensation has grown at over twice the rate of private-sector compensation in Illinois since 2000.
Illinois has more than 151,000 state-government employees from all funding sources – dedicated, general and federal – according to data from the Bureau of Economic Analysis. Taxpayer dollars support salaries for these workers. As such, it is crucial to track relative growth in the state's payrolls to make sure that burden is affordable.
Unfortunately, current evidence shows growth in state-government pay is significantly outstripping what Illinois' private-sector workers can afford.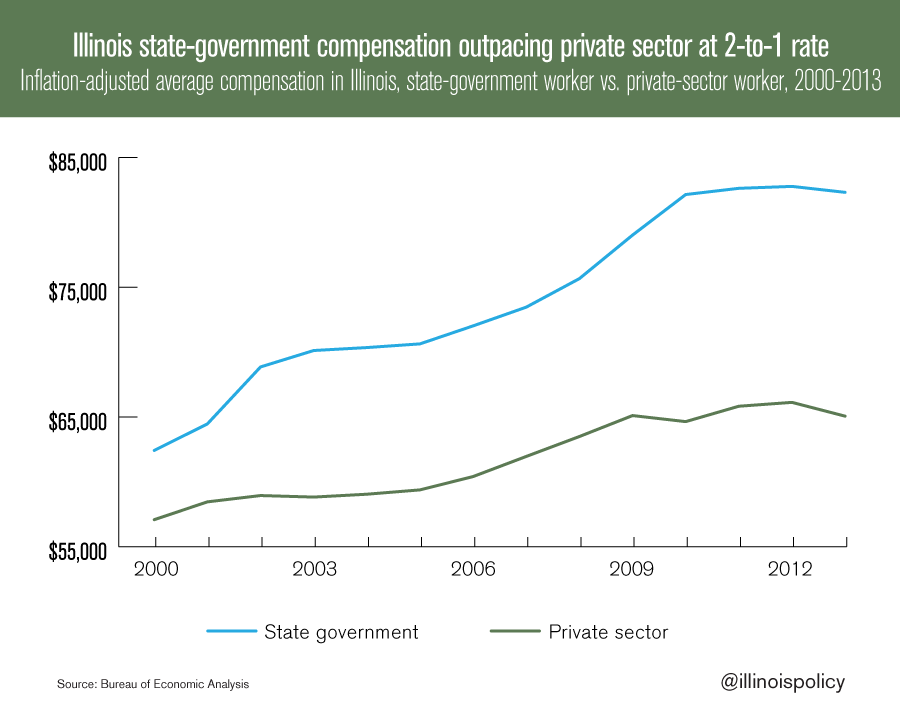 Between 2000 and 2013, total compensation (wages and salaries, plus benefits) for the average Illinois state-government worker grew by 32 percent, to $82,314 from $62,423 (adjusted for inflation).
In contrast, average private-sector compensation in Illinois grew by only 14 percent, to $65,064 from $57,086.
This unfair pay gap raises serious questions regarding the long-term budgetary and economic sustainability of a cash-strapped Illinois.
Visit Key Policy Data to learn more about government employment and compensation in Illinois and other states.
Image credit: elycefeliz