Illinois Senate's support of AFSCME arbitration bill cost unions $5.8 million
The cash that flows from government-worker unions to elected officials has paid off in Illinois senators' support for an AFSCME arbitration bill.
It's no secret that government-worker unions are among the heavy-hitters in Illinois politics. Since 2002, the state's five largest government-worker unions – the American Federation of State, County and Municipal Employees, the Illinois Education Association, the Illinois Federation of Teachers, the Service Employees International Union and the Chicago Teachers Union – have spent more than $46 million on direct political contributions to candidates. Of the current General Assembly, 86 percent of sitting lawmakers were funded by government-worker unions – that's on both sides of the aisle, Republican and Democrat.
The cozy relationship between government-worker unions and elected officials has paid off. Over the past decade, state workers who belong to AFSCME have received 27 separate raises, thanks to contracts negotiated by Democratic governors. These raises had no relationship to the workers' job performance or promotions.
AFSCME's latest contract with the state expired on June 30, and now Republican Gov. Bruce Rauner is responsible for negotiating the new deal covering Illinois' more than 35,000 state workers. But given the state's poor finances and Rauner's insistence on enacting spending reforms, AFSCME sees the writing on the wall: The era of one-sided contract negotiations is over.
So here's AFSCME's solution: Take Rauner out of the negotiating process.
AFSCME, together with Democrats in the General Assembly, drafted a bill that would remove Rauner from the bargaining process. If a contract deal is not reached within 60 days, then negotiations head to an unelected arbitrator who will have the power to decide the next contract. This law would be in effect for just four years – only while Rauner is in his first (and according to the union officials' hopes, last) term. Conveniently, arbitrators almost always side with unions, as many researchers have found.
Rauner rightly vetoed this arbitration legislation, Senate Bill 1229, on July 29, 2015, but now Democrats are using their supermajorities in the General Assembly to override his veto.
On Aug. 19, the Illinois Senate voted to override the governor's veto. The override measure now moves to the Illinois House, which has until Sept. 3 to vote to override the governor's veto. If the House votes in favor of an override, then SB 1229 will become law, and AFSCME's next contract will more than likely be decided by an unelected arbitrator.
It's not surprising that the Senate voted in favor of the override, given how much campaign cash its members have received from government-worker unions. Since 1994, government-worker unions have given more than $5.8 million in direct contributions to the state senators who voted in favor of the override.
The following chart shows every state senator who voted in favor of the AFSCME bill and how much each has received from government-worker unions since 1994: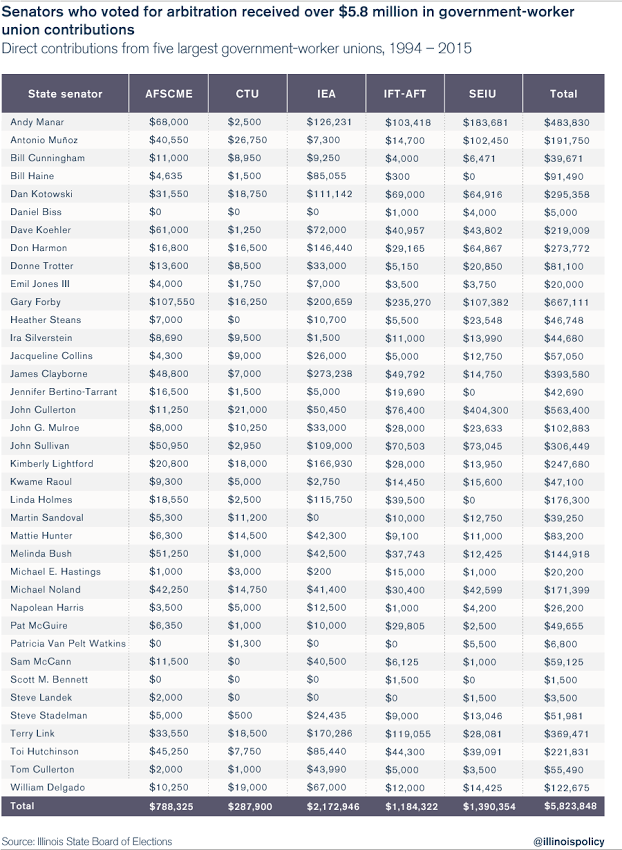 But not all campaign cash goes directly to candidates. Since 2008, government-worker unions have given significant amounts to the Senate Democratic Victory Fund, and a modest amount to the Republican State Senate Campaign Committee: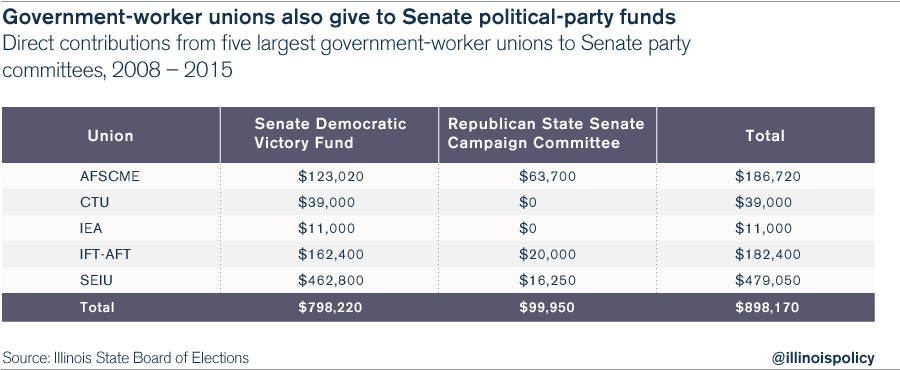 Click here to learn how you can contact your state senator to let him or her know you disagree with SB 1229.