Most Illinois cities are shrinking, according to U.S. Census Bureau
Illinois' statewide out-migration crisis is backed up by city-level data.
Out of Illinois' largest 27 cities, 17 shrank in population and 10 grew from 2013 to 2014.
Data from the U.S. Census Bureau shine a light on the annual growth and decline of cities across America. The Census Bureau looked at all 746 American cities with a population of more than 50,000 people, and projected their annual population changes. Unfortunately for the Land of Lincoln, the majority of Illinois cities are shrinking and come in near the bottom of the national rankings.
Only Naperville and Elgin ranked in the top 50 percent nationally for growth. The other 25 Illinois cities were clustered near the bottom of the pile, with Rockford ranking 737 out of 746 U.S. cities and Decatur ranking 744 out of 746.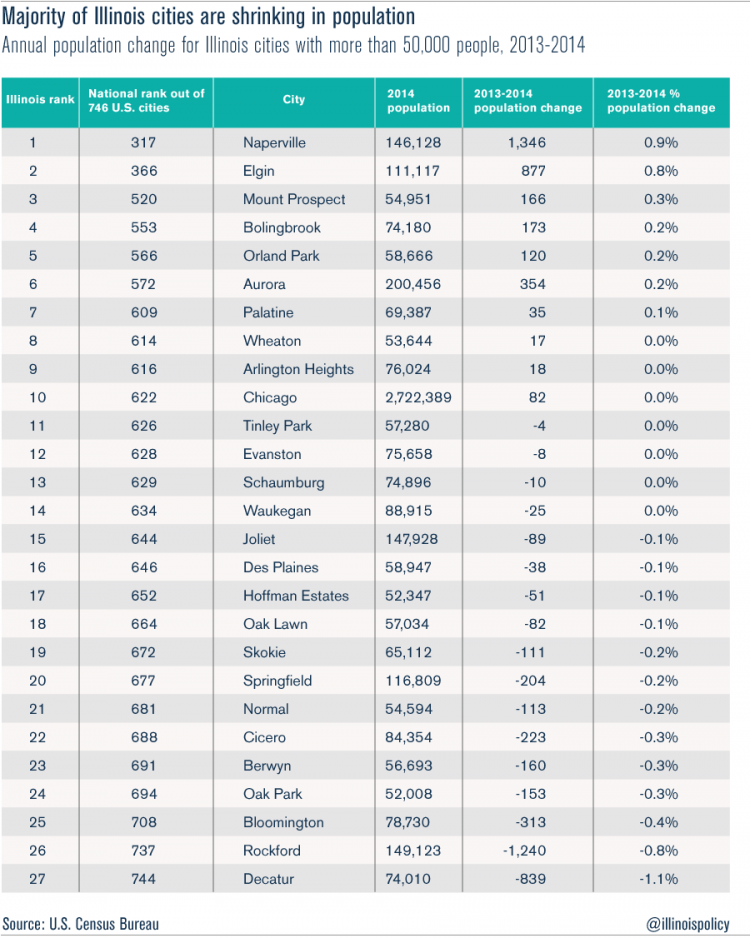 Illinois' city-level population data is surprising, and reveals the deeper problem of Illinois losing people due to out-migration to other states. Illinois cities should experience natural growth due to more births than deaths. And indeed, there were 53,500 more births than deaths in Illinois last year. In addition to that source of growth, all American states, including Illinois, experience net gains from international migration.
So why is Illinois' population shrinking? Many Illinoisans are packing up and leaving for other states, and they are not being replaced by people moving in from out of state. Illinois gained from having 53,500 more births than deaths, and a net gain of 32,500 from international immigration. However, those gains were overwhelmed by a net loss of 95,000 people to other states, the worst net loss to other states in Illinois history. In sum, the Land of Lincoln's population shrank by nearly 10,000 last year because Illinois' net loss of 95,000 people to other states outweighed the natural gains from more births than deaths, and the gains from international migration.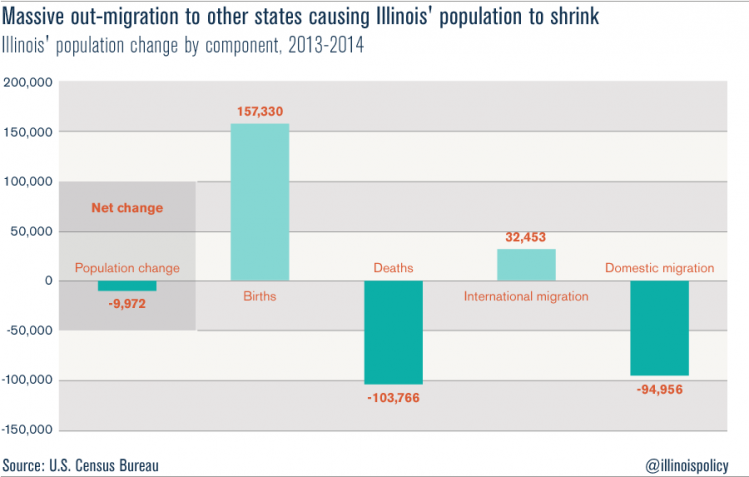 Illinois is losing the battle for citizens because too many people are voting with their feet to move out and find a new life in another state. These families and individuals are collectively expressing a massive no-confidence vote in the status quo. In addition, Illinois is unique in the Midwest as the only shrinking state. Out of all regional and neighboring states, Illinois is the only one that shrank in population last year.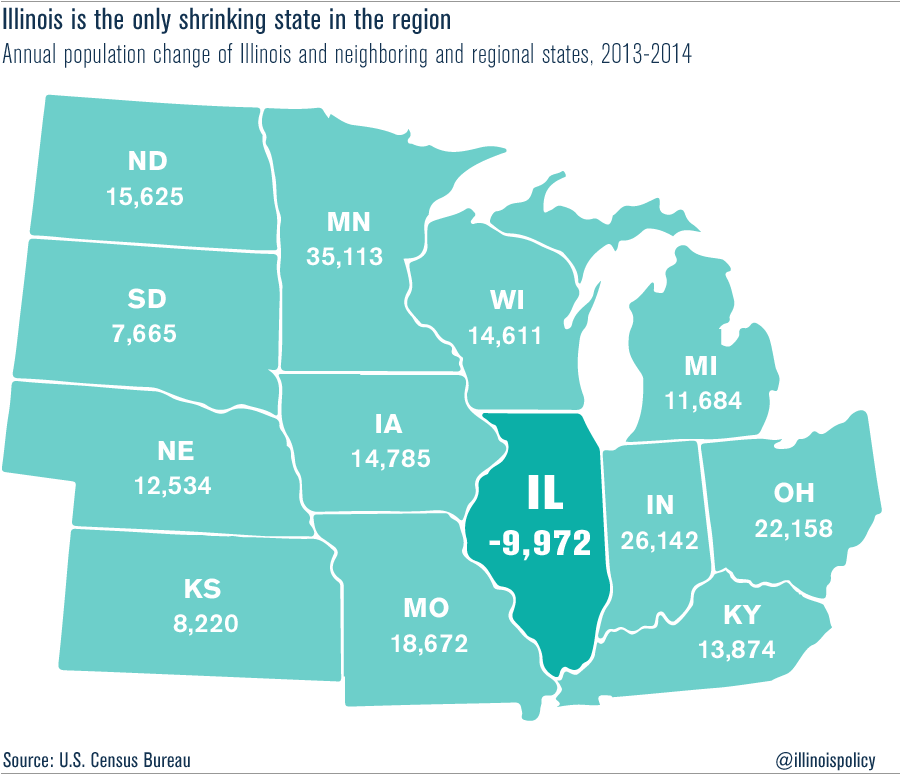 Illinoisans who planned to leave the state last year were asked by Gallup polling why they wanted to go. The top reason given was for better job and business opportunities. Furthermore, the state needs to address its entrenched culture of cronyism through political reforms. That's why the key pieces of Gov. Bruce Rauner's "Turnaround Agenda" make so much sense, and are critical to implement. They are:
Term limits to end Illinois' culture of career politicians
Fair maps for drawing new legislative districts
Lawsuit reform to limit frivolous lawsuits and reverse Illinois' reputation as a judicial hellhole
Economic reforms to spur job growth, including a property-tax freeze and workers' compensation reform
With an out-migration problem that is so obvious, the Illinois General Assembly should be acting quickly to reform the political and economic pain points that are driving the exodus. Thus far, only Rauner has made moves to put forward a pro-growth agenda, while taking executive action to rein in spending. It's time for members of the General Assembly to begin doing their jobs, and participate in healing Illinois' many self-inflicted wounds.