Right to Work: No impact on collective bargaining, but can make unions stronger
Even union officials are starting to take notice of the fact that Right to Work can help unions thrive.
Right to Work is not for or against unions. In fact, the only effect of Right to Work on collective bargaining is that it takes away a union's ability to get a worker fired for not paying them.
Think of government involvement in organized labor as a spectrum. On one extreme is government outlawing unions. On the other extreme is forcing all workers to be members of a union. The preferred place for government is in the middle: neutrality. Government should not force or forbid anyone from joining a union.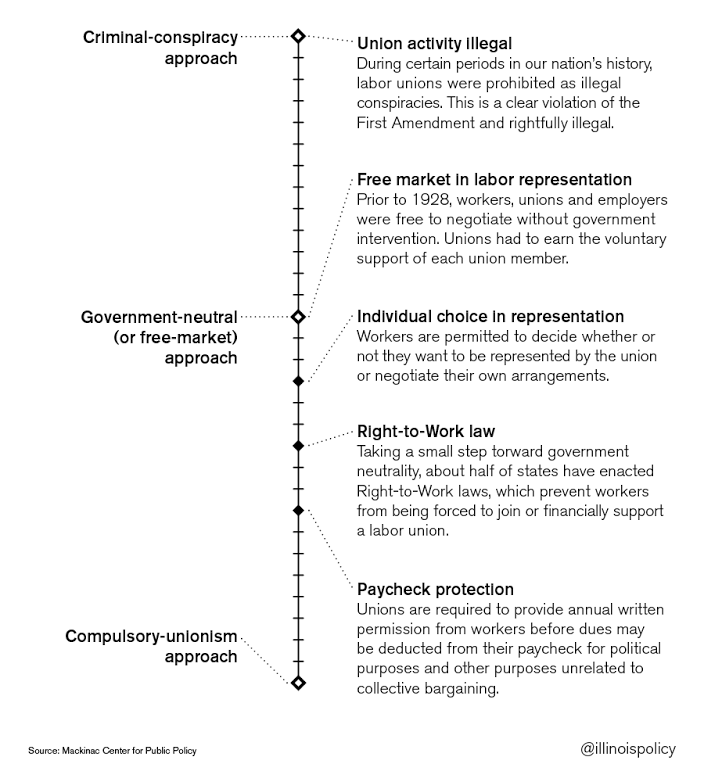 With Right to Work, workers, unions and employers can still bargain over wages, hours, working conditions and everything else they could bargain over before a state passed Right to Work.
The difference is that with Right to Work, a union must earn the dues of its members.
By allowing unions to compete in providing value to membership, Right to Work can make unions stronger. Combine this competition with Right-to-Work states adding more jobs – meaning there is more opportunity for union jobs – and the result is that union membership is growing faster in many Right-to-Work states than in their non-Right-to-Work counterparts.
In 2014, Right-to-Work Indiana tied with non-Right-to-Work Colorado for adding the most union members in the country. Both states added 50,000 new union members each, according to data from the Bureau of Labor Statistics. The state that lost the most union members was non-Right-to-Work Washington, which lost 55,000 members.
The ratio of which group of states adds more union members varies each year. In 2012, Right-to-Work states added 39,000 new members and non-Right-to-Work states lost 390,000. Other years, like last year, forced-unionism states came out ahead.
Even union officials are starting to take notice of the fact that Right to Work can help unions thrive.
As Gary Casteel, secretary-treasurer for the United Auto Workers, noted:
"I've never understood [why] people think Right to Work hurts unions … To me, it helps them. You don't have to belong if you don't want to. So if I go to an organizing drive, I can tell these workers, 'If you don't like this arrangement, you don't have to belong.' Versus, 'If we get 50 percent of you, then all of you have to belong, whether you like to or not.' I don't even like the way that sounds, because it's a voluntary system, and if you don't think the system's earning its keep, then you don't have to pay."
A year after Michigan passed Right to Work, Doug Pratt, director of member and political engagement for the state's largest union, the Michigan Education Association, said that Right to Work caused his union to increase their efforts to "explain to our members why membership is of value," and that "We're stronger because of it …"
Right to Work has little effect on collective bargaining, but can have major effects on the efficacy of union representation. Illinois union members should hope their union leadership begins to recognize these potential benefits.
Image credit: Juanjo Gutiérrez