58 former Illinois state lawmakers collecting six-figure pensions
Former lawmakers receive generous benefits from the state's worst-run retirement fund.
After leaving Springfield, 58 former state lawmakers are collecting yearly pension payouts over $100,000, according to General Assembly Retirement System data. Of those, 44 have accumulated over $1 million in total pension benefits.
On average, the 58 former state lawmakers collecting six-figure pensions have accumulated nearly $1.5 million in total pension benefits, while averaging only $126,300 in total contributions.
In one of the nation's worst states for pension debt, with estimates ranging from $130 billion to $250 billion, the lawmakers' system is the worst of the worst. The General Assembly Retirement System, or GARS, contains only 14.4 percent of needed funds and requires a taxpayer bailout each year. That compares to a 40 percent funding ratio for the state's five pension systems combined.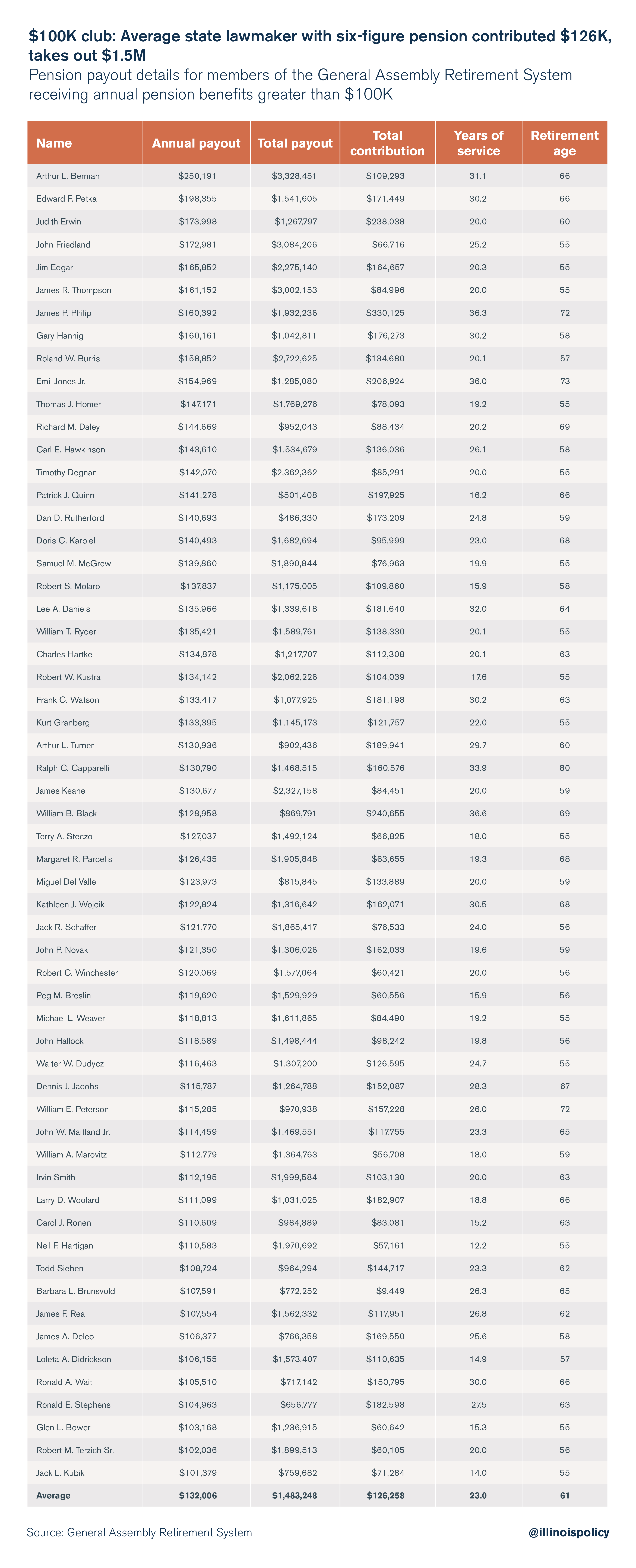 Topping the GARS list in both yearly and total pension payouts is former state representative and senator Arthur L. Berman. Berman served 31 years, first in the Illinois House and then the Illinois Senate, until retiring in 2000. Berman receives a $250,000 yearly pension, accumulating over $3.3 million in total benefits.
Also on the list is former Illinois Gov. Jim Edgar, whose landmark pension legislation, the "Edgar ramp," paved the way for today's crisis. Edgar collects $166,000 in yearly benefits from GARS and has accumulated nearly $2.3 million since retiring at age 55. His total income from taxpayers was reported as more than $311,000 per year, because he also receives $83,000 from the State University Retirement System and $62,796 in part-time pay from the University of Illinois.
With a base salary of $67,836, Illinois lawmakers have the most generous salary of any neighboring state and the fifth-highest in the nation. Taxpayers end up paying a former state lawmaker's salary three times over to keep GARS afloat.
Pensions benefits for lawmakers are also more generous than those for teachers and other state workers.
Illinois Tier 1 teachers can receive up to 75 percent of their last, highest four years. Tier 1 lawmakers, however, are able to receive up to 85 percent of their salary as of the last day of service. Under the GARS formula, a lawmaker with 20 years of service is able to reach their maximum percentage, while a teacher must work 34 years to receive the maximum. The 3 percent compounding cost-of-living adjustments, or COLAs, double a lawmaker's pension in 25 years.
The disparity between politicians' and other state workers' benefit formulas also extends to Tier 2 benefits, which cover lawmakers that entered GARS in 2011 or later. COLAs are still compounded annually for Tier 2 lawmakers, but not for teachers and other state workers.
Lawmaker pensions drain taxpayer funds, provide excessive benefits and involve an inherent conflict of interest. While a constitutional amendment to reform future pension growth is needed, lawmakers in Springfield can take the first step in reigning in runaway pension debt by moving to eliminate legislative pensions.