Who we are
The Illinois Policy Institute is the strongest voice for taxpayers in the state. We stand up for regular Illinoisans who deserve a voice in their government but have been ignored in favor of special interests for too long. We educate and engage Illinoisans from all walks of life to ensure our state is a place where everyone can thrive. Illinois is a place we should all be proud to call home.
The Illinois Policy Institute believes:
The best policies empower people – and limit the power of government.
All children should have access to educational opportunities that prepare them for the future.
Workers deserve the right to choose whether a labor union serves their values and interests.
A public pension system that threatens to bankrupt our state, drive down economic growth, and evaporate retirements for public-sector workers is immoral – but modest reforms can solve this crisis.
That civil and personal liberties must be protected and preserved.
Illinois should be a place where people of all talents, interests and cultural backgrounds can succeed with hard work and ingenuity.
The first 20 years: A letter from Matt Paprocki
This summer we reflect on the Illinois Policy Institute's 20 years of fighting for taxpayers and advancing prosperity, fairness and opportunity. We are grateful to you, our investors and partners, who share our vision of a better Illinois and whose generosity makes this work possible.
Twenty years ago, the institute began as a scrappy upstart organization. Our small staff filled many different roles to produce policy papers, talk with media and keep operations running. In fact, some of the furniture for our LaSalle Street office space was assembled by John Tillman.
The institute has grown a lot since then – we've expanded our policy focus, built out a cutting-edge marketing operation that reaches mil-lions of people, and upgraded our communications strategy.
After a visit to our office earlier this year, the nationally syndicated columnist George Will wrote, "From 16 stories above the Chicago River, the reformers at the invaluable Illinois Policy Institute have stared into their state's fiscal abyss and devised solutions."
Over the years we have honed our research operation and adapted our policy solutions to the changing needs of the state. But what hasn't changed is our mission: The Illinois Policy Institute continues to strive to make Illinois a beacon of freedom and prosperity shining across the Midwest. We focus on lifting the poor and marginalized through the miracle that is the free market system. Belief in the free market and individual freedom and dignity are foundational values that underpin everything the institute does.
And after years of effort, we are starting to see our dreams move closer to reality.
In 2018, the U.S. Supreme Court ruled on Janus v. AFSCME. This case changed government unions across the country by affirming a pub-lic-sector worker's right to refrain from associating with or financially supporting the unions that represent their workplaces. And now Illinois' largest government unions are missing 38,000 people who would have been pouring money into the unions if it weren't for the work of the Illinois Policy Institute.
In 2020, we worked with a coalition that defeat-ed the job-killing progressive state income tax at the ballot box in overwhelming fashion.
We also saw the downfall of the most powerful state politician in United States history, former Illinois House Speaker Michael Madigan. We analyzed and spotlighted Madigan's insider dealings and stranglehold on the General Assembly for years.
And this led to the FBI viewing our website for Madigan content more than 1,200 times. That is an average of once a day, every day, for more than three years.
When Madigan stepped down in disgrace, before his indictment, the institute was ready with already-drafted ethics reforms to ensure this regime change resulted in a fairer and more transparent political climate in the state.
We have highlighted ordinary Illinoisans who have challenged state power to improve the lives of others. Lisa Creason is a nurse in Decatur who transformed her life and career by working to end licensing restrictions that denied second chances to too many former offenders.
Joe Ocol is the Chicago Public Schools teacher who bucked his union to show up for his students on Chicago's South Side and introduce kids from disadvantaged neighborhoods to the joy of competitive chess.
You are not alone. After 20 years, we have over3,000 investors from every part of the state. Nearly 2 million people receive our emails. To put that into perspective, that is almost one of every two people expected to vote in Illinois' general election this November.
As we look ahead to the next 20 years, we are energized and ready to confront the challenges facing Illinois, and to work with our investors and like-minded reformers to make the Land ofLincoln a state more people want to call home. Thank you for partnering with us in this mission.
Sincerely,

Matt Paprocki
President
Turning the impossible into the inevitable
During the past two decades, our investors and partners have helped us turn
the politically impossible into the politically inevitable.
What follows is a summary of the high-water events that have marked our journey
and set up a bright future. We'll describe how the Illinois Policy Institute has been:
Fighting for a fairer Illinois by exposing corruption
Protecting taxpayers' wallets by defeating a tidal wave of tax proposals
Giving workers choice by enshrining new freedoms
Pushing back on government overreach by fighting for change
Through the creation of these milestones, we have developed the most effective free market infrastructure for communication and citizen engagement in the state.
Our first 20 years are pointing to our next two decades of taxpayer wins.
To all who have shared your hearts and treasure to make this journey possible,
thank you.
Fighting for a fairer Illinois
Most people thought Illinois House Speaker Mike Madigan would only leave office in handcuffs or a casket.
But that's not what happened.
The longest-serving and most powerful House speaker in the history of the United States left Springfield in solemn silence on Jan. 13, 2021. He left on his own accord, after his colleagues took away his speaker's gavel.
Today, not only has Madigan been stripped of his power, but a federal corruption indictment may also strip him of his freedom. More importantly, the machine he built and the policies that protected it are slowly but surely being dismantled.
How did it come to this?
Madigan gave a hint in a statement released after four of his allies were indicted as part of a federal investigation into Commonwealth Edison's alleged, yearslong scheme to bribe the speaker.
"Some individuals have spent millions of dollars and worked diligently to establish a false narrative that I am corrupt and unethical," he said.
Madigan was ousted from the speakership because the Illinois Policy Institute succeeded in our multi-year campaign to educate Illinoisans about his power. As a result, Illinois House Democrats became more fearful of their constituents than of the speaker himself.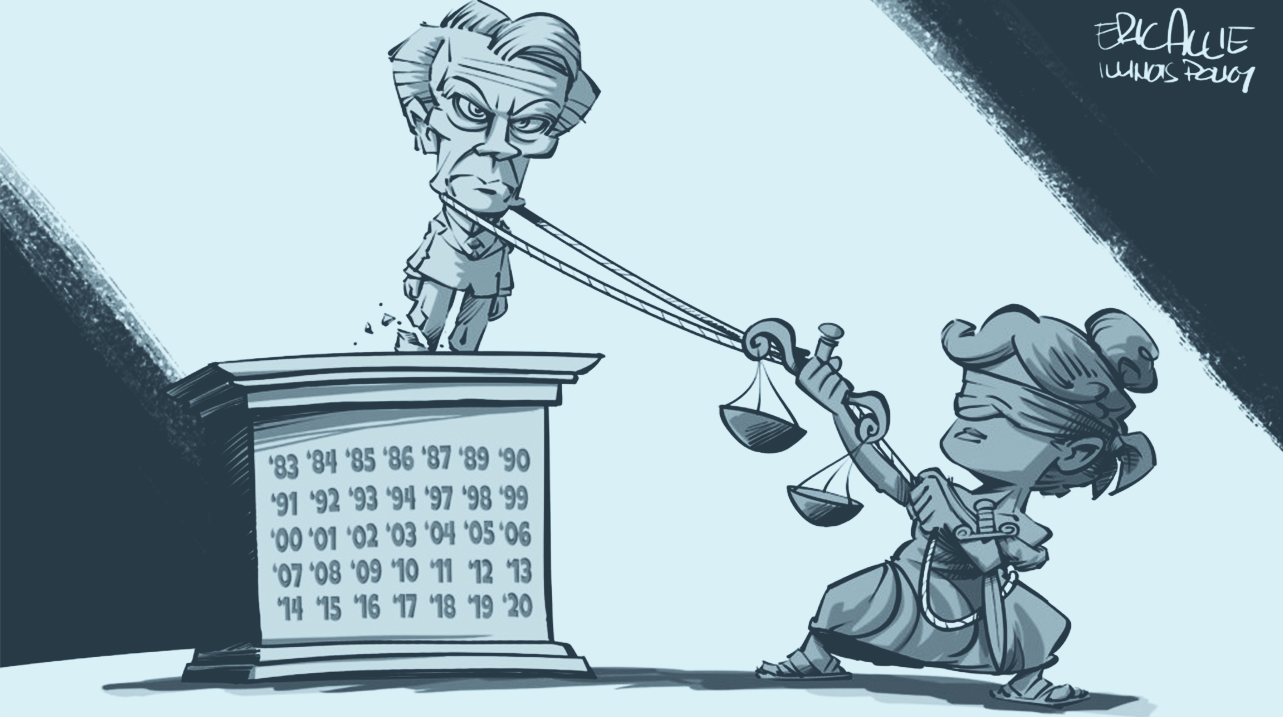 Madigan, the mystery
"We don't want nobody nobody sent" is the most famous catchphrase for Chicago corruption. But a lesser-known mantra of the Daley Machine, and the title of a book exploring its operations, better captures how Madigan amassed and held power for decades: "Don't make no waves, don't back no losers."
For decades, Michael Madigan was not a household name. He did not make waves. And he liked it that way.
A 2012 poll (results below) found that despite serving nearly 30 years as speaker and nearly 20years as chairman of the Democratic Party of Illinois, the most common opinion of Madigan was"don't know" or "no opinion."
Our team got to work, chronicling Madigan's wielding of the House rules, property tax law, legislative district mapmaking and more to amass and solidify his power.
One of the strategic imperatives at the Illinois Policy Institute is to make marketing a priority in all that we do. In fact, the size of our audience on social media alone allows us to run the biggest focus group in the state every single day. We know what Illinois voters are talking about – and how they're talking about it.
Slowly but surely, the most common question we heard went something like this: "What do we do about Mike Madigan?"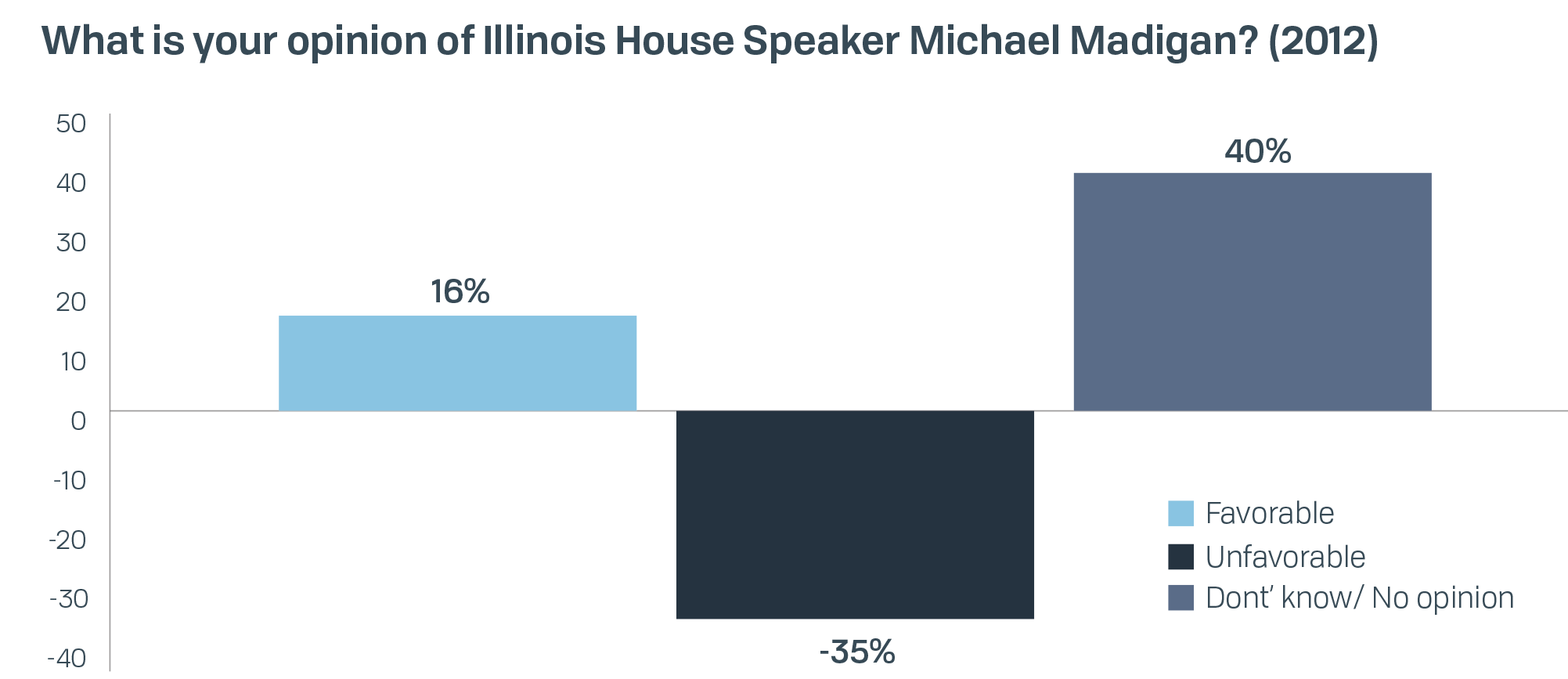 Madigan, the movie
Our Madigan campaign culminated in a feature-length documentary on the speaker: "Madigan: Power. Privilege. Politics." The film earned more than 250 media mentions, 1 million views of the trailer alone, and more than 2million views of all or parts of the documentary. The institute became the go-to expert on Madigan. Here's how it played out:
1M trailer views
500K film views
2K screening attendees
250 media placements
Go-to experts on Madigan
1,200 unique pageviews on Madigan content from the FBI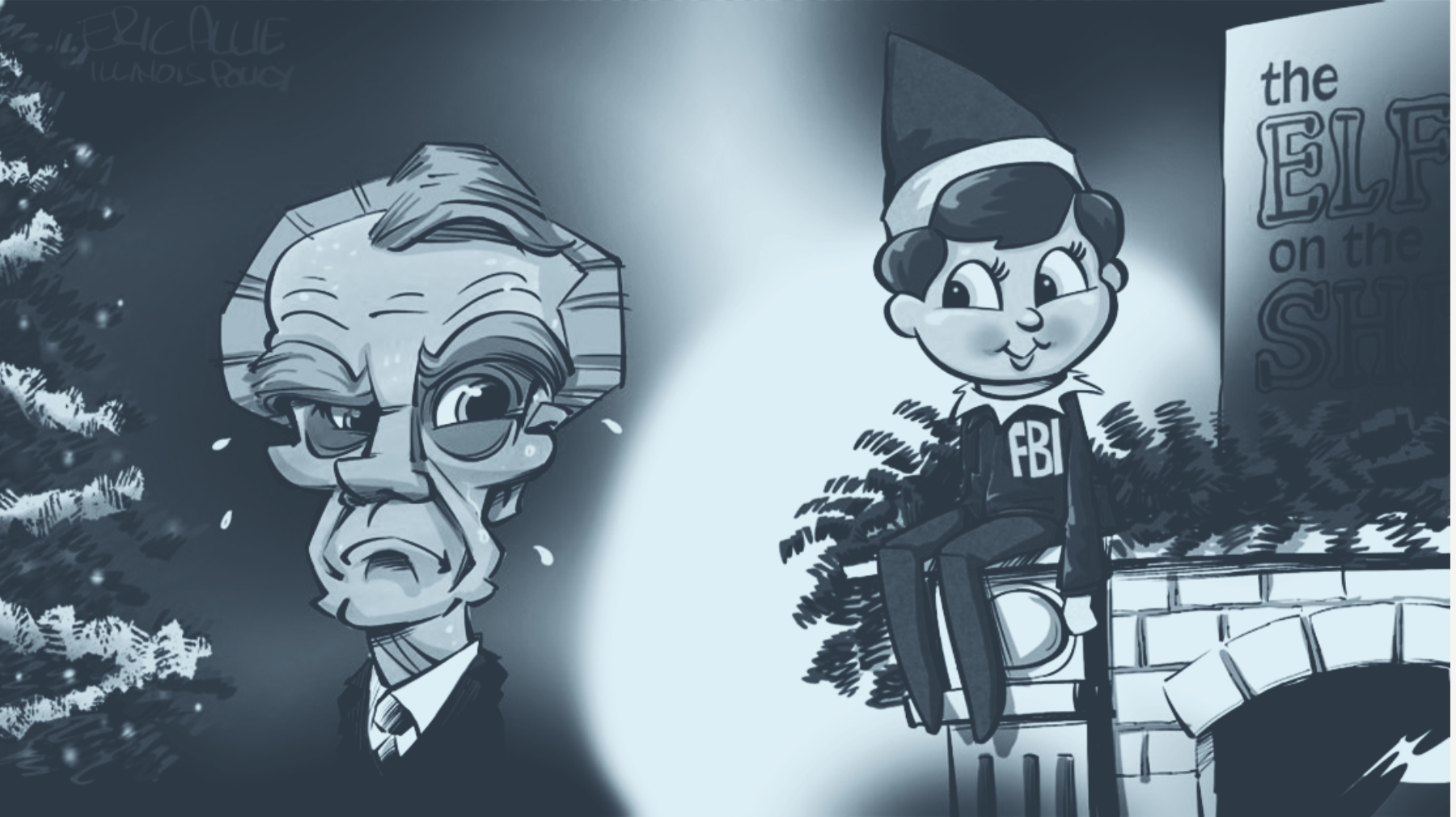 Perhaps most notably, our Madigan content was viewed more than 1,200 times by the FBI'sCriminal Justice Information Services division. The most popular piece of content was our report on Madigan's House rules, which described how Illinois granted more power to the speaker than any other state, with copious examples of bills killed or passed on the will of just one man.The tide started to turn.
Madigan's approval rating plummeted. He became one of the most disliked politicians in the nation by 2019 – more than 70% of Illinoisans dis-approved of the speaker, more than double his disapproval rating in 2012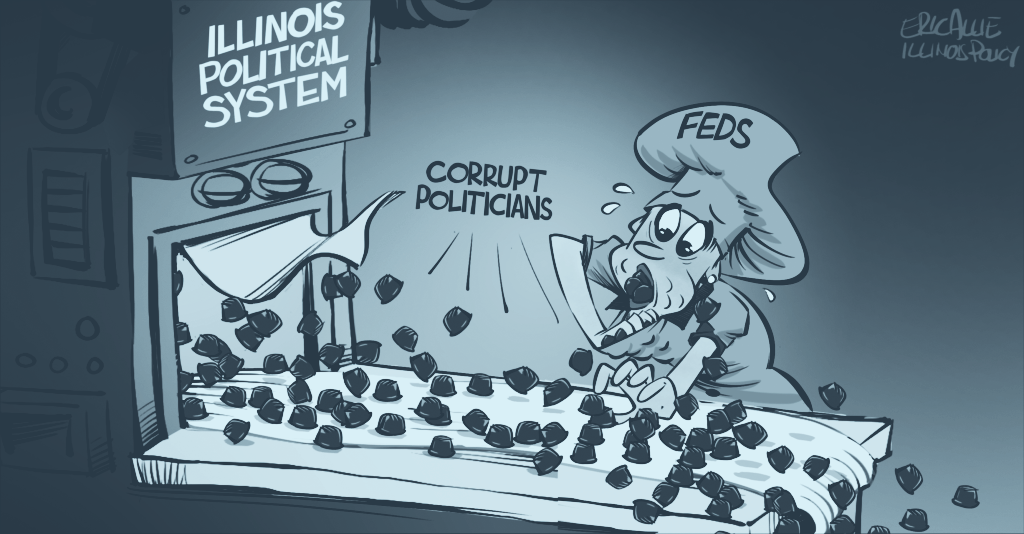 Ethics reform
But with Madigan's departure, there was still work to do. In the wake of the Madigan scandal, Illinois' incoming speaker made promises to tackle corruption in the state and to consider reforms to the House rules that enabled Madigan's consolidation of power. Several of the resulting reforms came from the institute's recommendations.
New House rules were adopted to force all bills in the Rules Committee – where popular bills would languish and die during Madigan's tenure – to be discharged to substantive committees, and to limit the term of the House speaker to 10 years.
The General Assembly also passed an omnibus ethics bill that expanded financial reporting for public officials, allowed the Illinois LegislativeInspector General to open investigations with-out approval from the Legislative Ethics Com-mission, made up of lawmakers, and made some efforts to limit instances of lawmaker lobbying and of using the revolving door between lawmaker and lobbyist.
These reforms, although allowing some glaring loopholes and not nearly going far enough, were certainly a step in the right direction away from the days when Madigan held the gavel.
The Illinois Policy Institute started the work, and we will finish it. Illinois' honor in government is being restored.
Protecting taxpayers' wallets
The Illinois Policy Institute for 20 years has been the last line of defense for the competitive advantages that remain in Illinois' tax and business climate.
And yet, today, the Prairie State has the highest state and local tax burden for a median-income family of all 50 states. It's held that record since2018, the year after the record-setting permanent state income tax hike.
Still, Gov. J.B. Pritzker signed 24 tax and fee hikes that collectively took $5.24 billion more away from Illinois' families and businesses.
Illinois Policy Institute research was the first to ex-pose that these tax hikes raised an average family's taxes by roughly $680 per year permanently, leaving that family with a net tax hike for Pritzker's first term of $2,165, even after the governor signed off on $550 in temporary, single-year tax relief that expires after the November election.
Here's an illustration of the impact of these taxes on Illinois' families: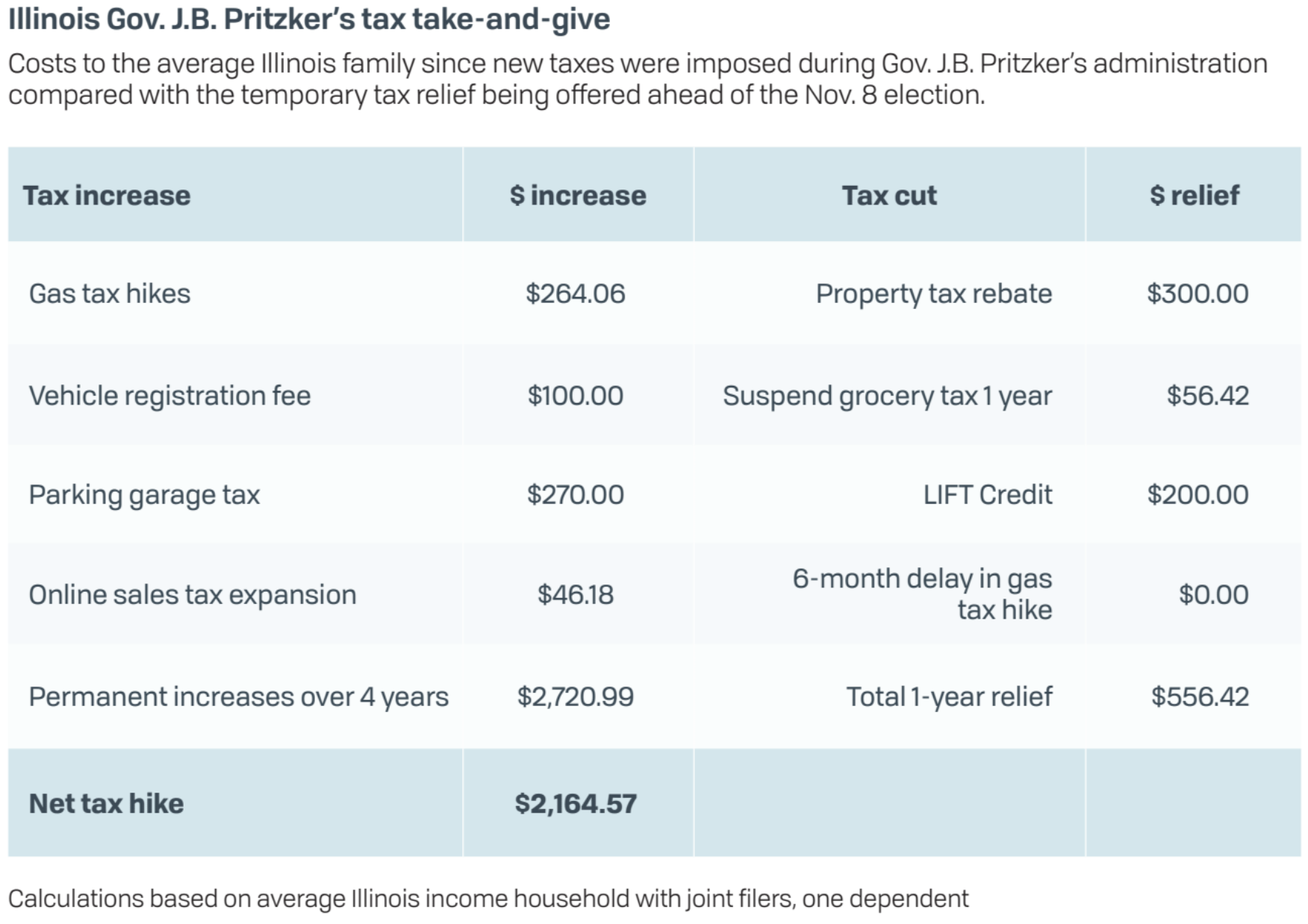 Against this backdrop, it's clear much more work remains to be done to turn Illinois into a state with prosperous markets, healthy finances and reasonable tax burdens.
The Illinois Policy Institute was created to be the strongest voice for taxpayers in the state – to restore balance in a state captured by special interests and corrupt insider politics. Because of our investors, the institute has been crucial to every fight that defeated a tax hike proposal.
We're still watching.
The pension game
Public pension debt is the most severe public policy challenge facing the state of Illinois. Most recently reported by Moody's Investors Service at $313 billion, Illinois' pension debt is larger than any other state's relative to the size of its economy.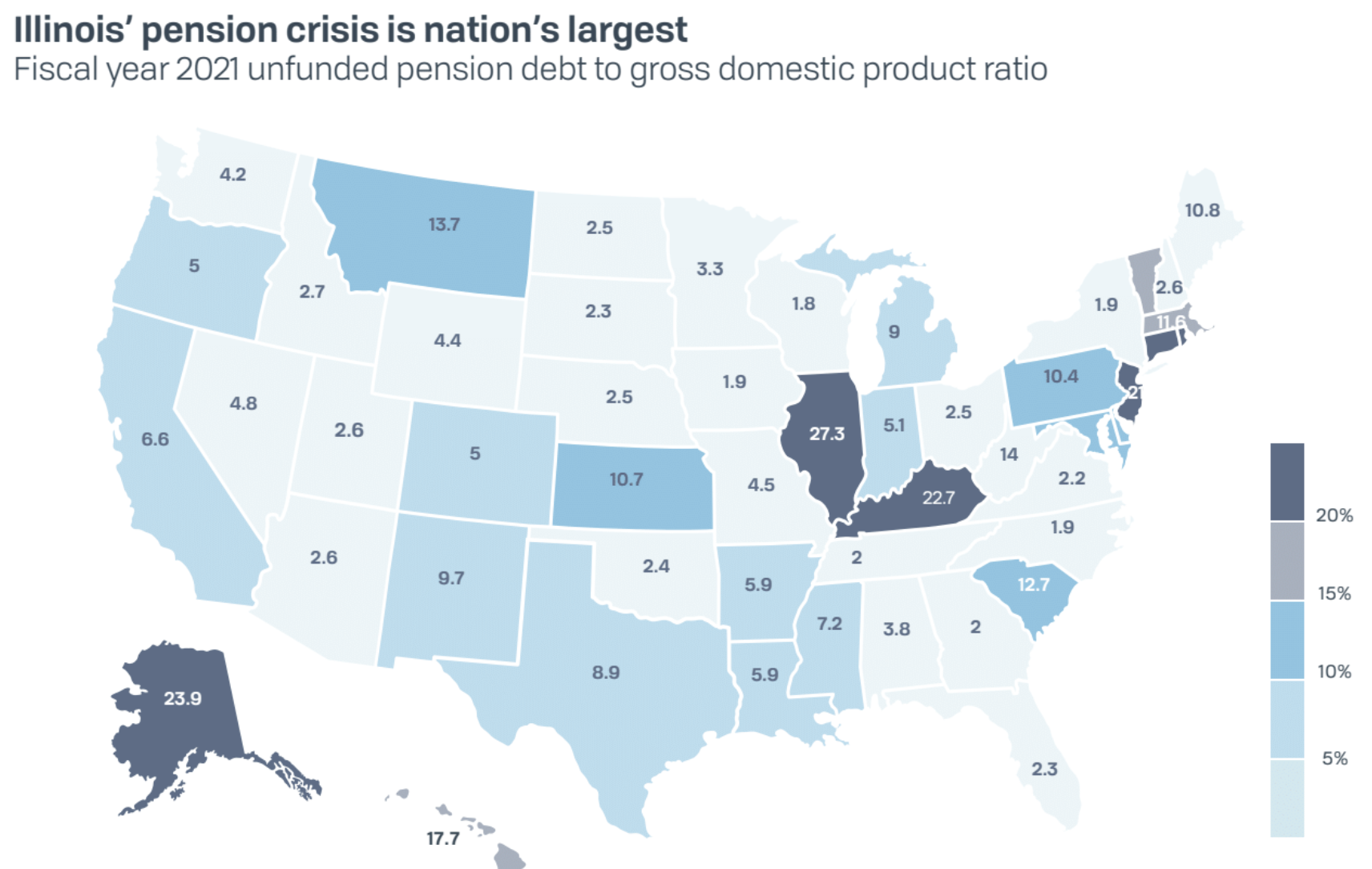 Illinois Policy Institute research has demonstrated the pension crisis is a root cause of virtually every other fiscal and economic challenge facing the state.
We've shown how growing pension costs in our state are consuming precious taxpayer dollars that should be serving schools, the poor and the disadvantaged. We're highlighting how the growth and influence of public-sector unions and the benefits in the collective bargaining agreements approved by the lawmakers they fund are driving our state's financial disaster.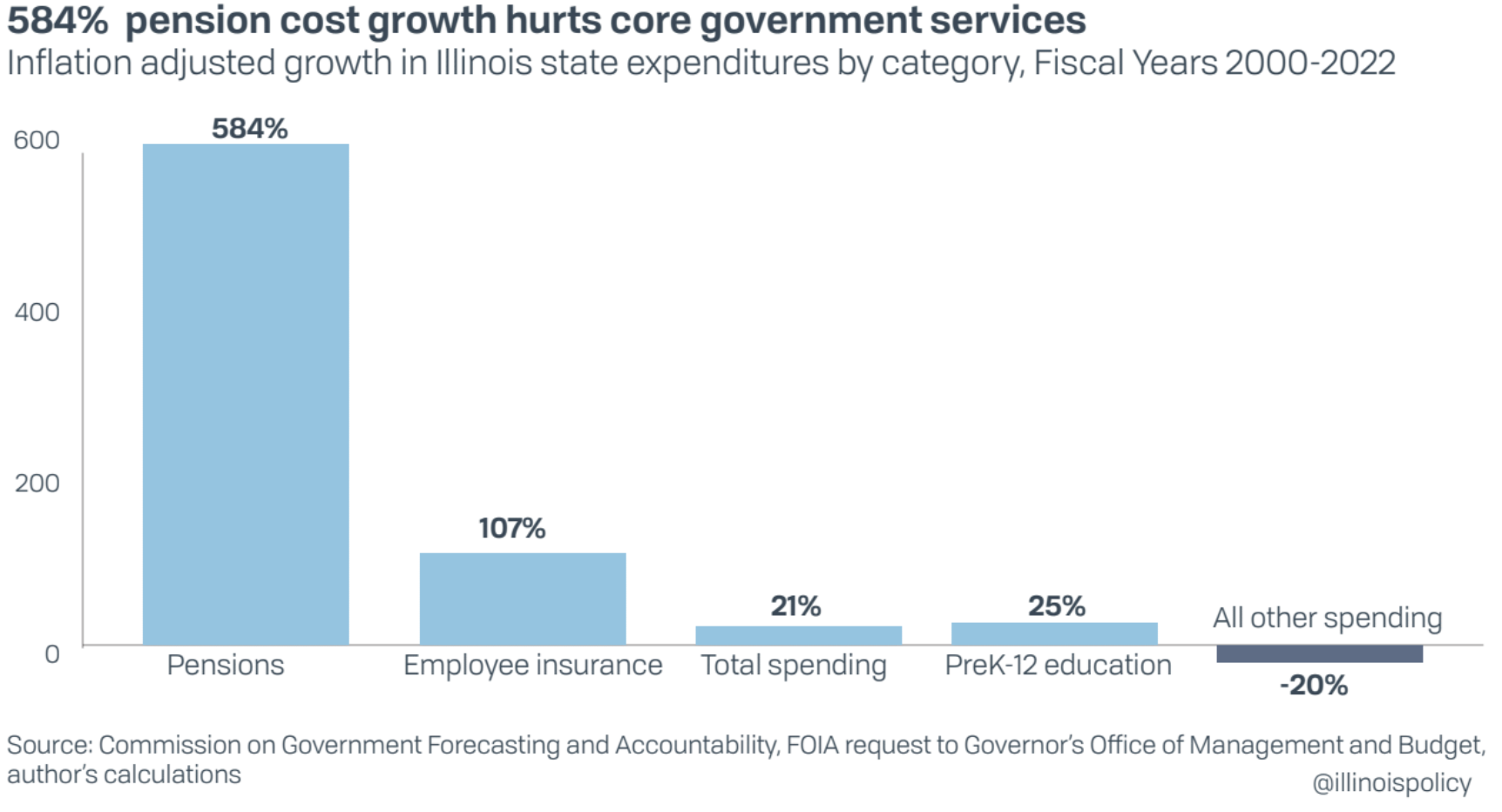 But explaining the problem isn't enough.
In 2018, the institute redoubled efforts to fix the pension crisis. It released a hold harmless re-form plan. Benefits earned for work already per-formed would still be recognized as an ironclad contract, but increases in future benefits for current workers and retirees would be subject to change.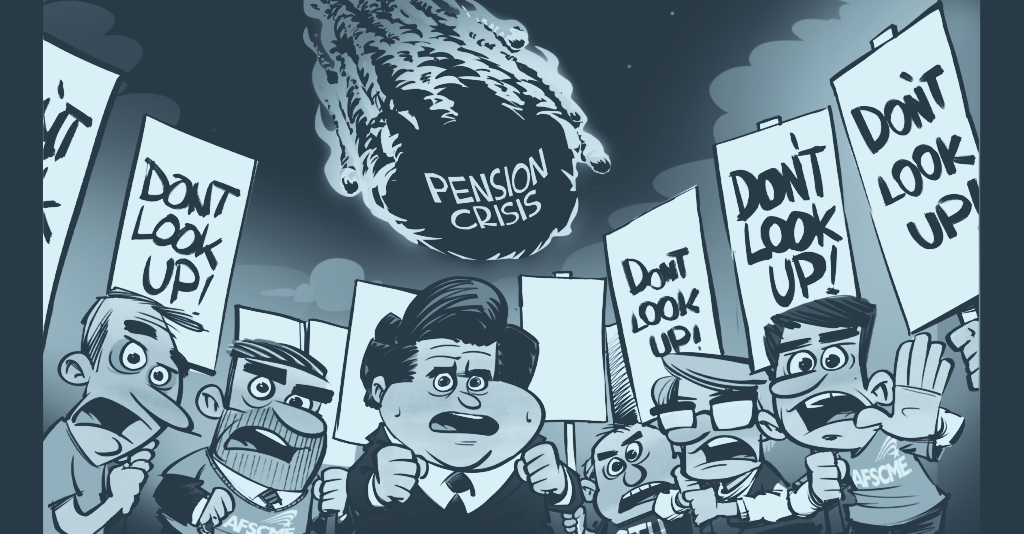 In addition, we noted that replacing 3% com-pounding, post-retirement raises with a true cost of living adjustment tied to inflation, capping maximum benefits, and making other modest changes to plans would eliminate pension debt while preserving existing promises. The changes would save taxpayers $50 billion over 25 years.
Our pension solution has gained traction like none before it. Media are taking notice. The Chicago Tribune Editorial Board's 2022 candidate questionnaire explicitly asks candidates if they support the institute's reform plan through an amendment that would "allow a reduction of future benefit growth to levels that the state can afford, while keeping current earned benefits untouched."
There's no more ignoring the elephant in the room, which means we're closer than ever to fixing the crisis.
In February 2020, 65% of Illinoisans supported a graduated-rate income tax.
By Nov. 3, only 45% voted for Pritzker's center-piece tax policy, and it failed.
What happened?
How could the richest governor in the country pour $58 million of his own money and so much of his political capital into a pro-tax hike campaign – and fail?
It's simple: Knowledge. During 2020, the voters ofIllinois achieved information parity with the political leaders in Springfield.
For decades, politicians have gone to Spring-field and introduced and passed legislation that has affected all our lives — then hidden the facts such as cost and whose crony benefited.
In 2020, taxpayers got the full story on what Pritzker's progressive tax would have meant forIllinois: eventual tax hikes on small businesses, retirees and the middle class.
That's why the Illinois Policy Institute joined retirees from Cook County in a free and equal elections lawsuit that exposed the bias in the progressive tax ballot language and the risk forIllinois retirees.
Retirees got the message.
From July to October, awareness among Illinoisans over age 55 of the fact that the progressive tax opened the door to a retirement tax went up 30 percentage points. At the same time, their opposition to the progressive tax went up 18 points.
In the fall of 2020, property taxes were the final straw. Despite promises that the graduated tax would offset the second-highest property taxes in the nation, no relief proposals ever materialized from Springfield's property tax task force.Researchers at the institute found the typical Illinois family could have expected to pay $244 more in state and local taxes the next year, even with the progressive tax savings.
Illinoisans wised up to the fact that the progressive tax removed their constitutional safeguards, and that lawmakers would be able to change the graduated rates at will. The middle class saw the threat, because they knew the state's $313 billion pension debt would mean they would be the next target for higher taxes.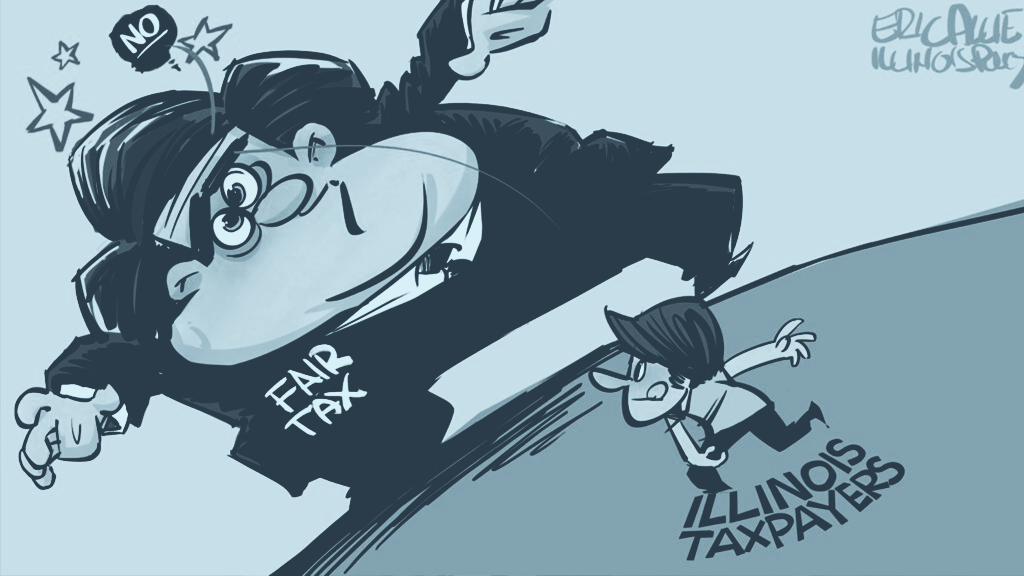 Pritzker said voters were deceived into voting against his tax proposal, but the truth is he was the one trying to sell a lemon – so unsure of his product's reliability that even the ballot included a sales pitch. The facts were never on his side and all it took was a little truth-telling to expose the threats a progressive tax posed to the state and everyone in it.
Thanks to you, the progressive tax is dead, and Illinoisans are ready to hold politicians to account for the mess they've made of the state's finances.
Defending small business, the engine of job creation
Small businesses in Illinois have a big impact.They are a dynamic job creator and tax payer.
They're also a big target for policymakers.
Today, the onslaught continues. Pritzker succeeded in securing 24 new methods to extract resources from Illinois families and businesses; he would have added more but for the efforts of the Illinois Policy Institute. One of those was a $1 billion tax hike on small businesses that would have been a job killer.
No other organization noticed the attempt to hike taxes on vulnerable small businesses by up to $1billion using lame duck lawmakers – until the Illinois Policy Institute sounded the alarm and mobilized opposition.
Pritzker brought it back again during the regular session. Again, it failed.
Taxes, pensions and business reforms: We hold politicians accountable with the truth. While media and politicians make misleading claims about Illinois' population growth and financial conditions, the institute provides Illinoisans with accurate information, debunking false claims.
For 20 years, the Illinois Policy Institute has used research and storytelling to demonstrate how Illinois' public policy challenges require systemic reforms, not higher taxes.
Because of you, the institute has planted the seeds of solutions and the ground has never been more fertile.
Giving workers choice
38 million went missing from Illinois government union coffers in 2021 and Illinois' largest government unions are missing 38,000 people.
It wasn't the result of fraud or any economic factors. It was members leaving in droves – and taking their money with them.
These members had had enough. Enough political shenanigans, enough strikes, enough self-centered leadership.
And they wanted out.
During the past 20 years, the Illinois Policy Institute has been there to lay the groundwork and lead the way to worker freedom for state and local employees trapped in their unions.
The institute's involvement started in 2014. We learned of Pam Harris, an Illinois mom whose family received a modest Medicaid subsidy to defray the costs of caring for her son. Because of that stipend, then-Gov. Pat Quinn—in concert with the Service Employees International Union—chose to define Harris and Illinoisans like her as government workers. That meant a piece of every check flowed not to her son's care, but to SEIU coffers.
Pam challenged this scheme and took her case, Harris v. Quinn, all the way to the U.S. SupremeCourt – and won. The court ruled caregivers such as Pam are not government workers and cannot be forced to pay union dues or fees.
The impact of Harris extended far beyond Illinois, freeing tens of thousands of home health caregivers across the nation from forced unionization.
Following the decision, the institute mounted a comprehensive opt-out campaign. Our efforts helped more than 13,000 Illinois in-home care-givers – 50% of home caregivers at the time – exercise their rights. This resulted in an estimated loss of $5.7 million in union fees in the first year alone, and millions of dollars in the years since.
This was a powerful result because it established a beachhead for freedom, where workers could no longer be coerced into union membership. Parents were free to invest in their children's care rather than union operations.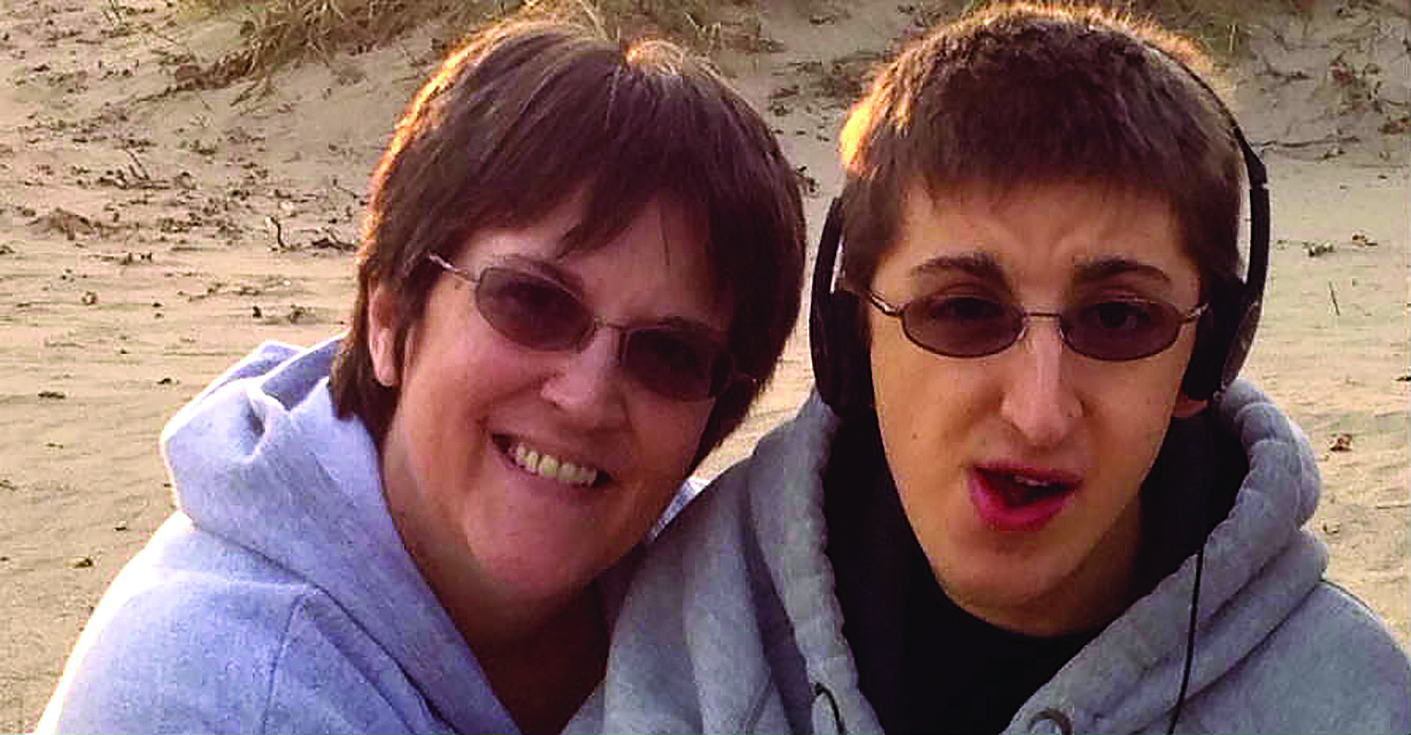 The court's decision in Harris hinted it was ready to extend this freedom to all state and government workers – if it had the right case.
The institute set out to identify prospective plaintiffs for a labor reform case that would free all state and local government workers from the clutches of unions.
That led the institute to Mark Janus, an Illinois state worker who loved his work but didn't believe the government should force him to pay money to a union to keep his job.
In conjunction with the Liberty Justice Center and the National Right to Work Legal Defense Foundation, we filed Mark's case. In 2018, the U.S. Supreme Court heard Janus v. AFSCME – and ruled that forcing state and lo-cal government workers to pay fees to a union was unconstitutional.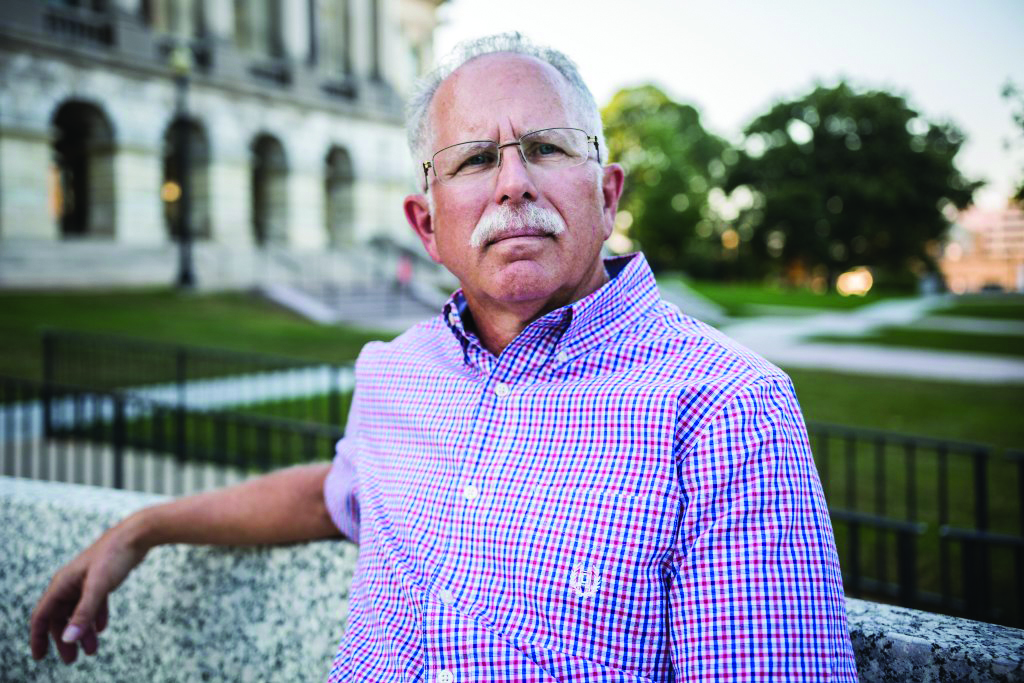 Because we persisted, 5 million government workers across the nation are now able to decide for themselves whether to join or pay money to a union.
In 2017 – the last full year before the Janus decision – the six major government unions in Illinois reported more than 427,000 workers were paying union dues or fees.
As of 2021, that number was under 390,000, a 9% drop.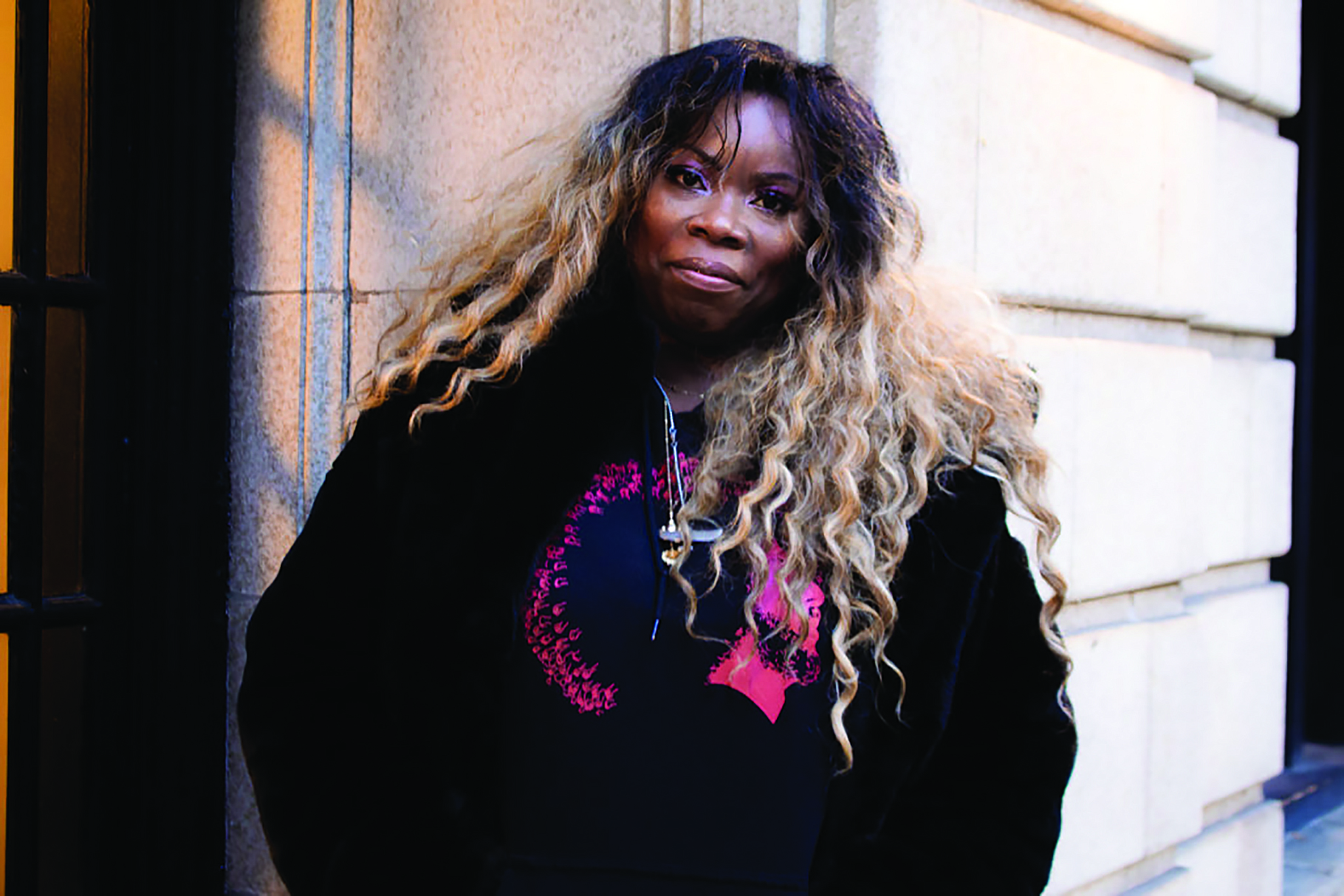 Our fight resonated with teachers, especially.
Ifeoma Nkemdi has been a Chicago Public Schools teacher for over 15 years. Nkemdi was also a proud Chicago Teachers Union member, even appearing on the news for the union when they went on strike.
As time went on, she realized going on strike did more harm than good. Nkemdi has two sons in the Chicago Public Schools system. She saw first hand the toll strikes would have on their educations.
Teachers unions alone have seen a nearly 10% decrease in public school employees willing to put their hard-earned money into unions that don't represent their best interests
In fact, the Illinois Federation of Teachers, the parent affiliate of Chicago Teachers Union, has seen a nearly 18% drop.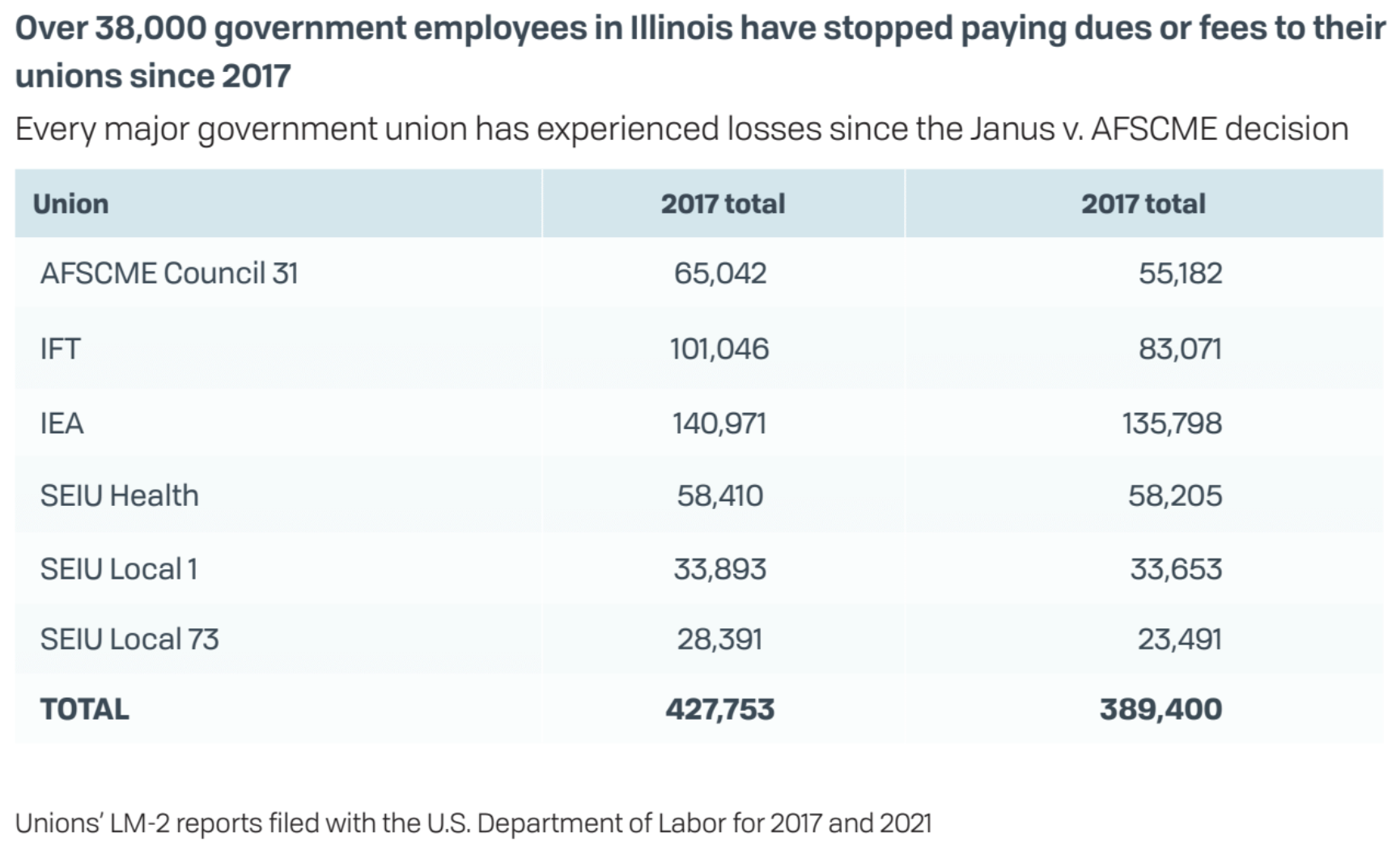 In total, that translates to approximately $38 million in dues and fees annually that is no longer flowing directly to these unions.
Despite the Janus victory, the unions haven't made it easy to get out.
Since Janus, the institute has directly communicated with hundreds of individuals, answering their specific questions and helping them navigate the process when their unions create obstacles.
Because of you, they get truthful answers from the institute accompanied by genuine concern and a pursuit of freedom.
That isn't something they get from their unions.
Pushing back on government overreach
Who should control your destiny?
At the Illinois Policy Institute, we know the best policies empower people – and limit the power of government.
That's why, over the years, we've stood up and fought for change when the scales become wildly unbalanced. Big government can prevent people from pursuing their dreams and providing for their loved ones. That's wrong.
Thankfully, we've helped people across the state put a stop to government overreach.
Freedom and fairness for Chicago food carts
For over a decade, Claudia Perez could have been arrested just for selling her tamales around her Chicago neighborhood.
Since 2003, Perez has supported her family by owning and operating a food cart in Little Village, a primarily Latino neighborhood on Chicago'sWest Side. Her business has even let her put her children through college.
But for many years, Chicago was one of the only major cities in the U.S. to prevent hard-working people like Perez from running a food cart business. She and other vendors lived and worked in fear of expensive fines and harassment. They could be stripped of their livelihoods at the whim of the police and City Hall.
But today, because of Perez' bravery and the Illinois Policy Institute's determination, food carts are now legal in Chicago.
In less than a year, the institute improved the environment for food carts. We raised awareness of the issue through articles on our website and in legacy media, produced an economic impact report showing the city was missing out on 6,400 jobs and $8 million in new local sales tax revenue, produced a short documentary on Perez that garnered over 1 million views, and supported the food cart vendors themselves. Aldermen, including the sponsor of the ordinance to overturn the ban, Roberto Maldonado, echoed this research, verbatim, on the City Council floor.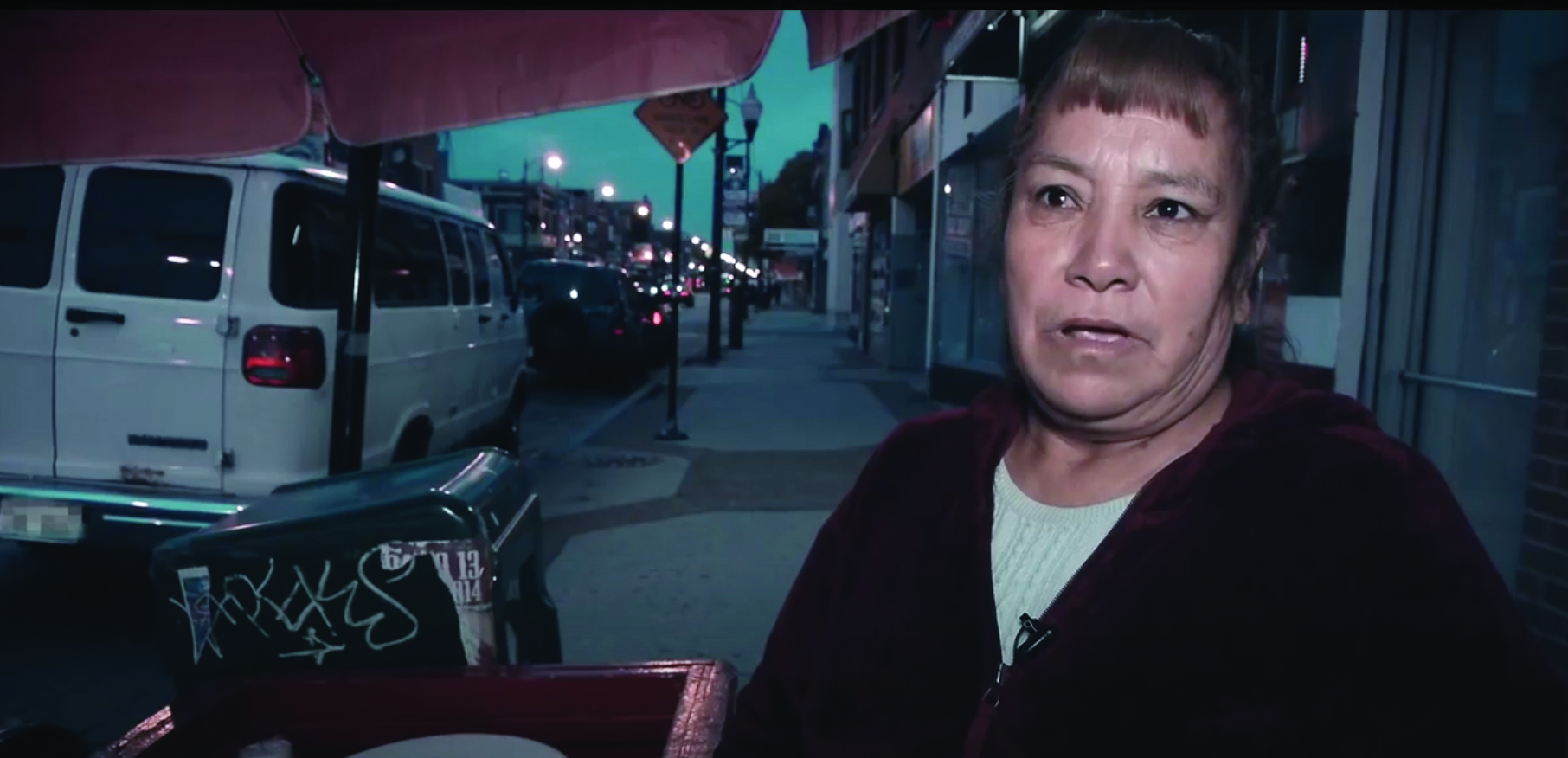 On Sept. 24, 2015, the Chicago City Council voted unanimously in favor of an ordinance to legalize food carts, giving thousands of street vendors across the city the freedom to make an honest living and opening the door for the next generation of culinary entrepreneurs.
Chicagoans love food carts. Now, their city laws reflect that.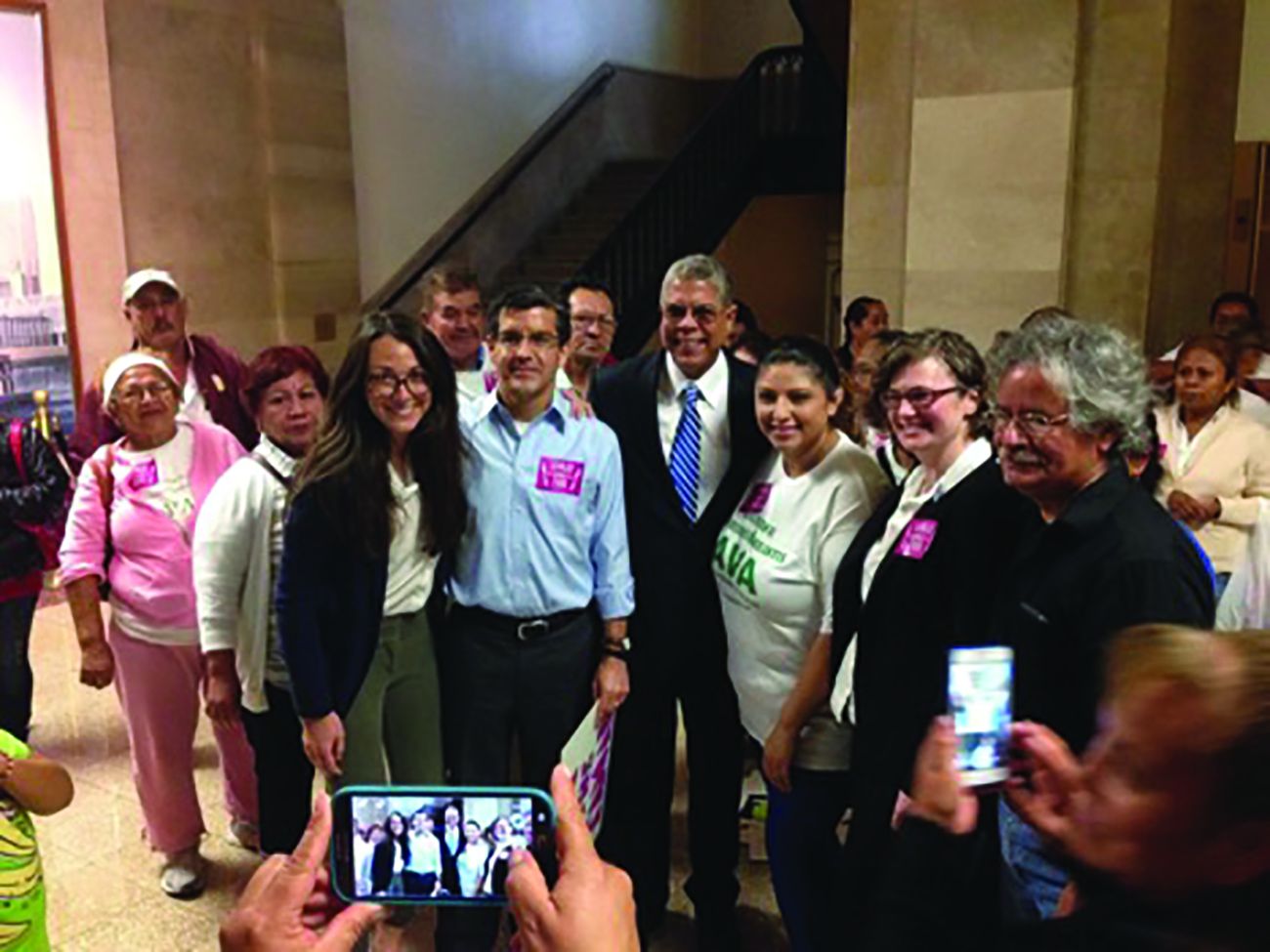 Empowering parents during covid lockdowns
Private schools found a way to stay open during the pandemic while the majority of public schools remained closed. Teachers union bosses wanted to rewrite the rules to handicap their competition should another state of emergency arise.
When House Bill 2789, legislation that would give the state more authority over private and public schools, arose in May 2021, the Illinois Policy Institute was the first to sound the alarm. Our advocacy partner, Illinois Policy, connected parents and families with a way to do something about it: Tell lawmakers, "No!"
By May 28, 2021, nearly 17,000 Illinoisans filed witness slips against House Bill 2789, sending a message to state lawmakers that they didn't want the state overreaching with new rules to govern public and private schools.
"Unfortunately, due to a very, very well coordinated misinformation campaign, House Bill 2789 did in fact stall," Sean Denny, I director of government relations, said in a video. "However, I want to assure everyone that we are going to continue pushing that issue. We're going to continue pushing it during veto session in November and December."
Teachers union bosses will continue trying to consolidate power. The institute will be there to stand up for families, kids and teachers who don't agree with politically motivated union leaders.
A mother's will to win
It's easy to get cynical about Illinois politics.
Frustration is the norm in Springfield. Optimism is an emotional liability.
But Lisa Creason doesn't play by those rules.When it comes to politics in the Land of Lincoln, the single mom from Decatur pulled off the biggest underdog story of 2016. She drove to Spring-field nearly every day of the legislative session for two years to fight for her family.
And she won.
Lisa and team members from the Illinois Policy Institute spent over two years in Springfield pushing for change via Senate Bill 42, which al-lows a select group of ex-offenders to apply for occupational licenses in the health care industry.
Lisa's fight began because she wanted to break the cycle of incarceration that went back three generations in her family, starting by undoing a mistake she made as a teenager. When Lisa was19, she stole money from a Subway cash register to buy food for her newborn daughter. She spent one year in prison.
A stray bullet killed her fiancé in 2002. She raised three kids on her own, started an anti-violence nonprofit and went to nursing school.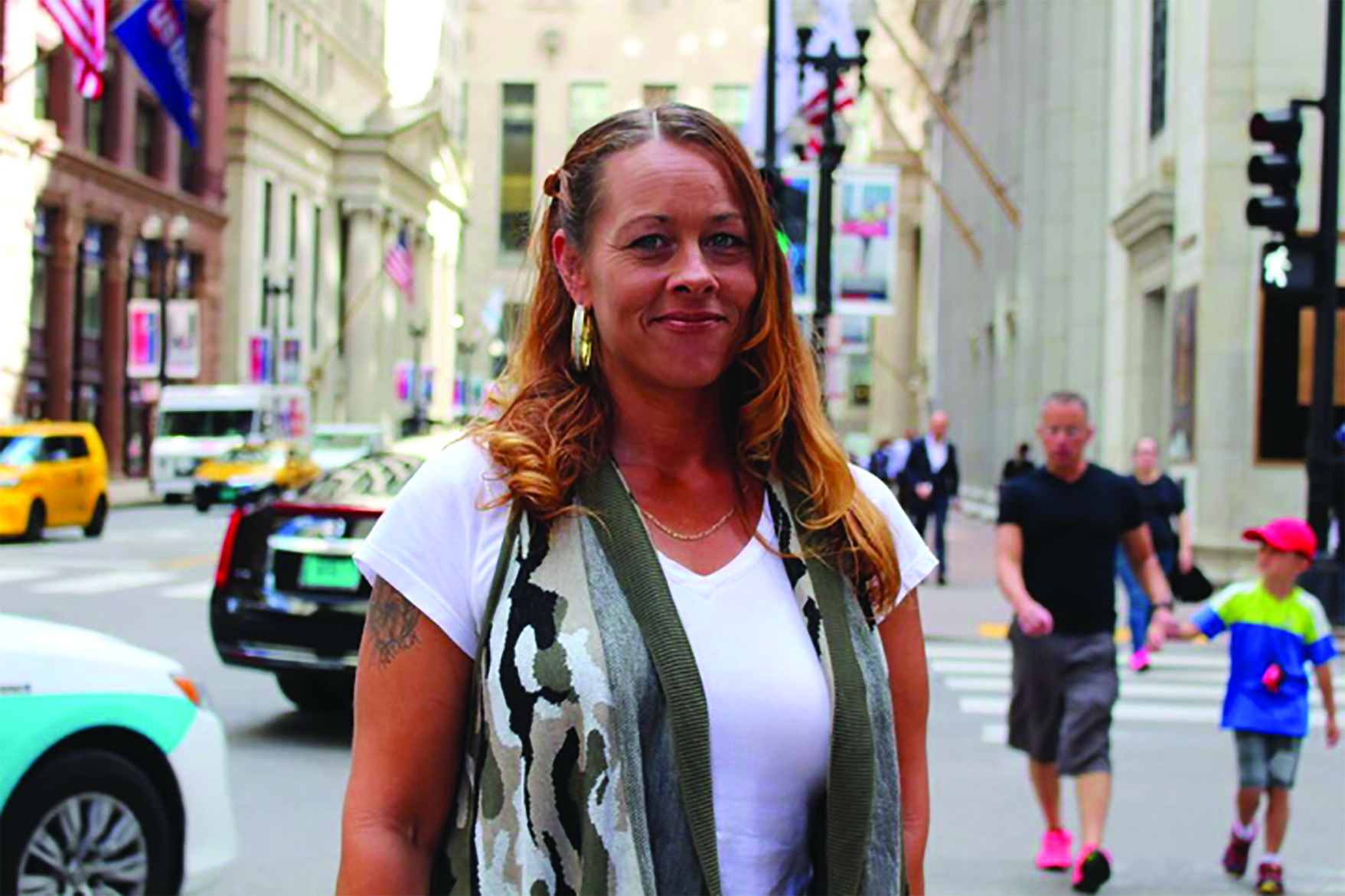 On the day she graduated, she called her mother in tears. She thought she could finally move her children out of subsidized housing, out of a dangerous neighborhood and off government assistance. She thought her hard work had finally paid off.
But then it all came tumbling down.
Because of a law passed in 2011, Lisa's teenage crime denied her the chance to apply for the state license she needed to become a registered nurse.
"To be told after all we've been through that I wasn't good enough … it was devastating," she said.
Today, because of her determination and the institute's help in getting the law changed, Lisa works as a registered nurse, saving the lives of COVID-19 patients and fighting daily to overturn similar laws across the United States.
Building a free market infrastructure in Illinois
Since the Illinois Policy Institute launched 20 years ago, the media and social media land-scapes have changed significantly. Yet we are still the best at influencing the narrative on key issues and reaching audiences in their homes.
Why?
Because of the investment in our engaged audience strategy. NPR Illinois may have put it best, describing our engaged audience infrastructure as a "viral content juggernaut."
For too long, Illinois was ruled by special interests with taxpayers left paying the bills. But power shifted when the Illinois Policy Institute entered the scene.
Our infrastructure has been critical to:
Move voter sentiment on the progressive income tax from 30 percentage points in its
favor to a 6-point defeat on Election Day.
Change Illinois House Speaker Madigan's unfavorable rating from 35% in 2012 to over
70% in 2019, leading to his downfall.
Get the highest support for pension reform in Illinois history.
Shaping the narrative in earned media
Despite the massive reduction in traditional media, the Illinois Policy Institute has grown its media footprint – and thanks to your investment, we're doing it better than any other group in the state.
That's because we're doing something unique: writing and placing original opinion pieces to control our message and persuade voters.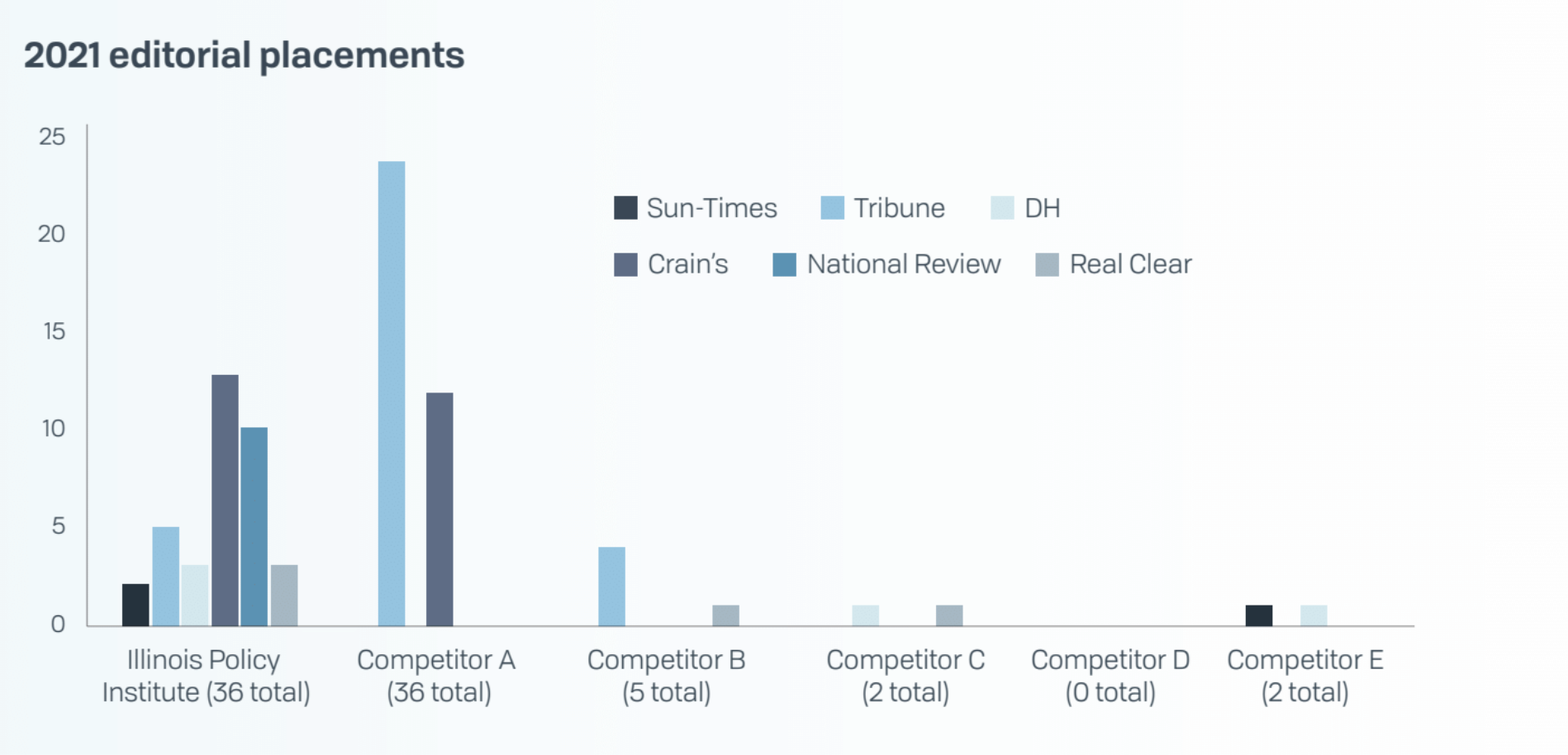 As the accompanying chart shows, in 2021 theIllinois Policy Institute published significantly in top-tier targets, compared with other players, such as WirePoints, Better Government Association, or Civic Federation. We sat at the top of the leaderboard for opinion placements in targeted outlets for all of 2021. We also have grown our total number of published op-eds for four years continuously, reaching 88 opinion pieces across all print and online outlets last year.
The result is winning big on issues such as pen-sions, property taxes, outmigration, higher taxes and teachers unions.
Connecting with and activating audiences
Our engaged audience strategy uses social media platforms to get Illinoisans to seek our email content, which we can deliver at a fraction of the cost of social media or TV advertising.
This allows us to build an asset that compounds over time, rather than folds up after every election cycle.
Website traffic
Illinoisans have come to rely on our expertise at illinoispolicy.org. Our average annual web traffic since 2017 shows 15.9 million page views from4.5 million unique users in Illinois. For example, on Nov. 3, 2020, the day of the election, over 530,000 readers visited our website.
Lincoln Lobby
The Lincoln Lobby was born in 2017 as a Facebook event page for a rally to vote against Madigan asIllinois' House speaker. Since then, it has grown to become the largest taxpayer activist group in the state, with more than 28,000 members. Lincoln Lobby members have acted in their communities, including contacting 20,000 voters in person, sending nearly 1 million text messages about the progressive income tax, and generating more than 30,000 emails to lawmakers on a recent bill.
Social media growth
The Illinois Policy Institute's social media profile shave grown to outperform those of major politicians and legacy news outlets. We have built the largest policy megaphone in the state.
For example, compare the Illinois Policy Institute's total Facebook engagements, where viewers like, comment or share a post, to those of the Chicago Tribune, Chicago Sun-Times and J.B. Pritzker. One of our most popular pieces of content in 2022 reached over 5.3 million individuals and earned over 200,000 engagements. That's equivalent to the residents ofAurora, the second-largest city in Illinois, engaging with the post.