Bipartisan bill would block 'revolving door' from lawmaker to lobbyist
Illinois is one of the few states that lets lawmakers or state agency chiefs become a lobbyist the day after leaving office. A new ethics bill would stop that.
The Illinois State Senate is moving forward on a bill to ban lawmakers from becoming lobbyists for two years after leaving office. The "revolving door ban" would put Illinois in line with most other states' policies by making public servants wait between leaving office and taking lobbyist jobs.
State Sen. Heather Steans, D-Chicago, filed Senate Bill 2314 in November to align Illinois with other states by mandating a two-year cooling-off period for former state lawmakers and state agency heads before they become lobbyists.
A bipartisan coalition of state Sens. Suzy Glowiak-Hilton, D-Western Springs, Paul Schimpf, R-Waterloo, and Scott Bennett, D-Champaign joined Steans to sponsor the bill.
Illinois is one of just 14 states without a ban on lawmakers immediately becoming lobbyists upon leaving office. The state's only safeguard is a one-year moratorium on lawmakers taking jobs with firms with which they handled contracts over $25,000.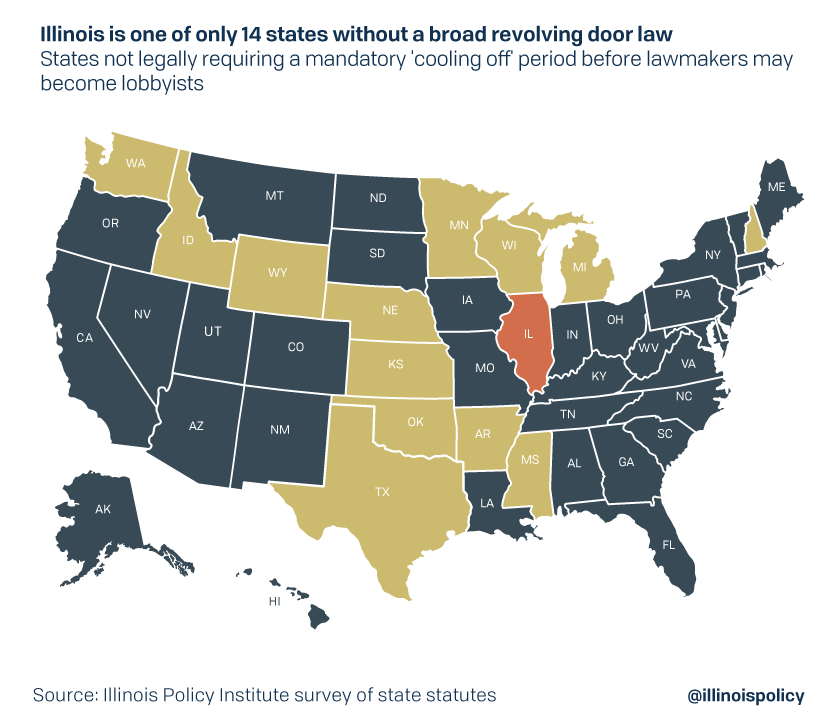 Most states have two-year bans on lobbying. Florida requires a six-year cooling off period. Under current Illinois law, a lawmaker can work as a lobbyist the very next day after leaving office.
Lawmakers who immediately become lobbyists give their constituents the impression that they were more concerned about working on behalf of a specific special interest group rather than working on behalf of the people in their district.
A two-year cooling-off period reduces the appearance of public corruption and restores voter confidence. Illinois is the second-most corrupt state in the nation, a study by the University of Illinois at Chicago found. Three lawmakers face indictments alleging corruption.
The proposal comes amid interest from federal investigators into relationships between lawmakers and lobbyists. The Chicago Tribune reported in December that the FBI questioned four individuals about relationships between House Speaker Michael Madigan and lobbyists.
One of those individuals is Mike McClain, a former state lawmaker and lobbyist. Reporting by WBEZ recently revealed McClain was seeking to reward a state employee for keeping quiet about a "rape in Champaign" and ghost payrolling.
As public corruption investigations ramp up, Senate Bill 2314 comes at a crucial time. Its passage would put Illinois in line with the majority of states by reducing the risk of legislators acting on behalf of their future lobbyist organization and redirect their focus toward the needs of their constituents while they hold public office.