Chicago teachers recover pension contributions 5 months into retirement
After retiring at age 55, the average Chicago teacher just takes five months to get back everything they contributed toward their pension during their career.
The average career Chicago teacher's pension is worth $6,376 a month or $76,511 a year, despite pensioners contributing a small percentage of their pay to the pension system during the course of their lifetime.
A retired Chicago public school teacher makes back his or her entire pension contribution just five months into retirement.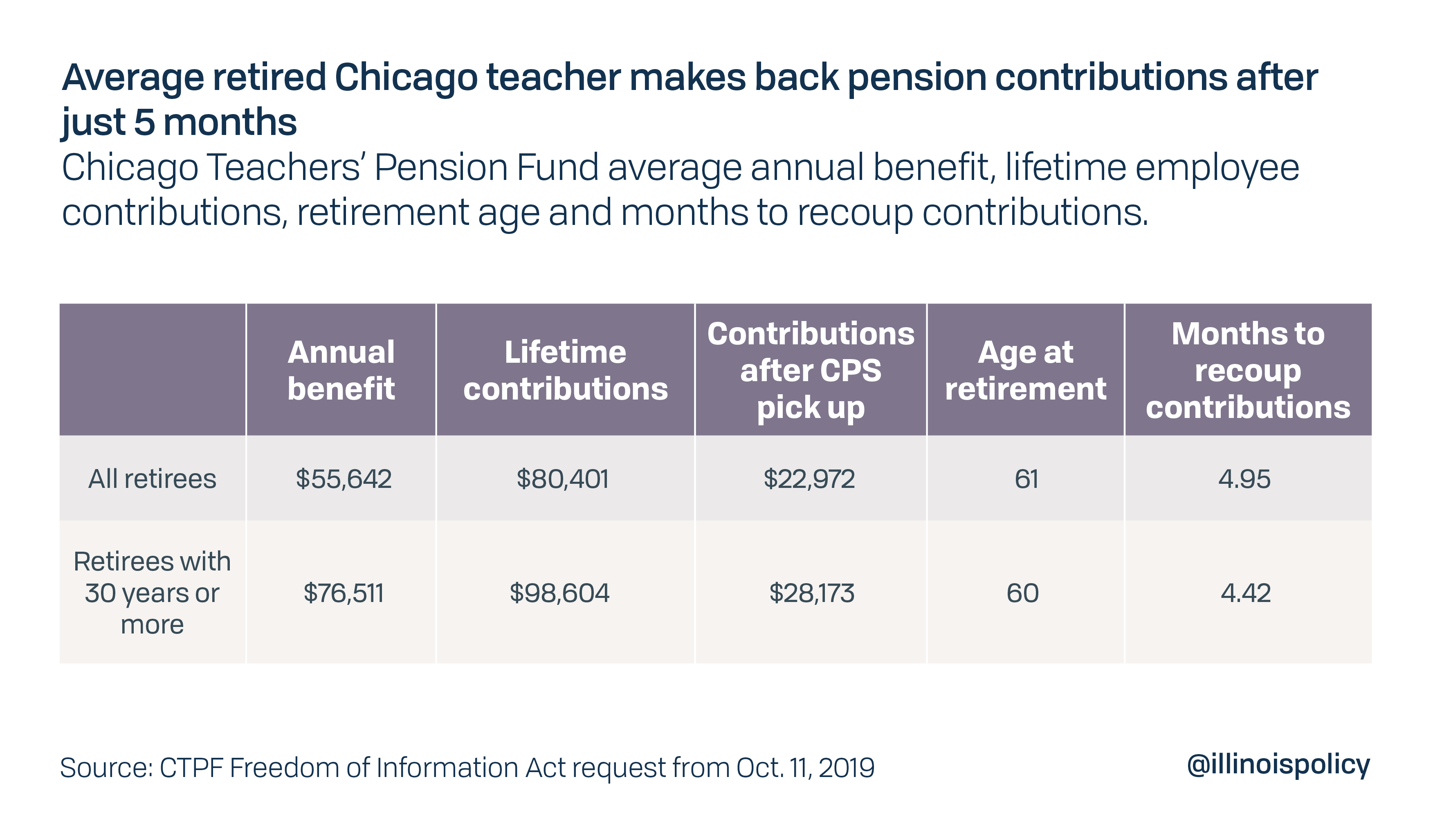 This type of return on retirement investment is unheard of in the private sector. By contrast, the average Social Security benefit for 2019 is just $1,461 per month or $17,532 per year. The maximum Social Security benefit is $2,861 per month or $34,332 per year. The earliest anyone can qualify for Social Security is age 62 and the full retirement age for anyone born after 1960 is 67.
Like most public workers in Illinois, particularly Tier 1 employees hired before 2011, Chicago teachers receive generous pension benefits that are heavily subsidized by taxpayers. Chicago Public Schools teachers can retire as young as 55, receive up to 75% of their final average salary in pension benefits and receive 3% compounded annual post-retirement increases regardless of inflation. That 3% permanent annual raise doubles the size of the first-year pension benefit after 25 years.
But even more so than other public pensioners, Chicago teachers contribute very little to their own retirement. State law technically requires teachers to contribute 9% of their salary, but CPS picks up 7% of that for employees hired between 1981 and 2017.
During the past week, CTU repeatedly made claims such as, "Springfield lawmakers changed the state funding formula for education two years ago to provide the district with $1 billion additional dollars in funding for Chicago's public schools." But this is wrong in two major ways.
First, state aid to CPS has increased by $291 million – not $1 billion. Compared with fiscal year 2017, the last budget year before the new funding formula was enacted, total revenue for fiscal year 2020 is expected to be about $763 million higher at $6.9 billion. However, that amount also includes higher property taxes. Second, new education dollars are primarily getting sucked into pensions instead of being available to invest in classrooms or support staff and services.
When Chicago Mayor Lori Lightfoot says "there's no more money" to give away to end the CTU strike, she's right. Pensions are the main reason why.