Coca-Cola distributor relocating facility, 143 jobs to Iowa from Rock Island
Atlantic Coca-Cola Bottling Co. plans to move its Rock Island facility to Walcott, Iowa, where the company is expected to receive substantial tax incentives.
Atlantic Coca-Cola Bottling Co. is planning to move its Rock Island operation to Walcott, Iowa, according to the Quad-City Times, expanding its Hawkeye State reach with a new $8 million facility.
The company will retain the facility's 143 employees, the Quad-City Times reported, relocating its Rock Island workforce to the new Walcott facility. And while it's fortunate that the move will not bring joblessness to Rock Island, the facility's relocation will divert economic activity away from Illinois.
In addition to the more business-friendly tax and regulatory environment the Hawkeye State already offers, the company is expected to receive a property tax rebate estimated between $450,000 and $500,000 and a sales tax rebate of more than $240,000 for construction materials.
While picking winners and losers through selective tax breaks is not a recipe for sustainable economic growth, the ease with which business can be poached from Illinois through tax incentives points to a broader need for a healthier business climate in the Land of Lincoln.
One telling comparison is the difference in workers' compensation costs between the two states. A 2014 study by the state of Oregon compared workers' comp premiums across industries, finding the costs in Illinois to be among the highest in the nation. Take long-distance trucking, for which Illinois businesses on average paid $15.75 per $100 in payroll for workers' comp insurance, while a similar business in Iowa paid $11.18 per $100 in payroll.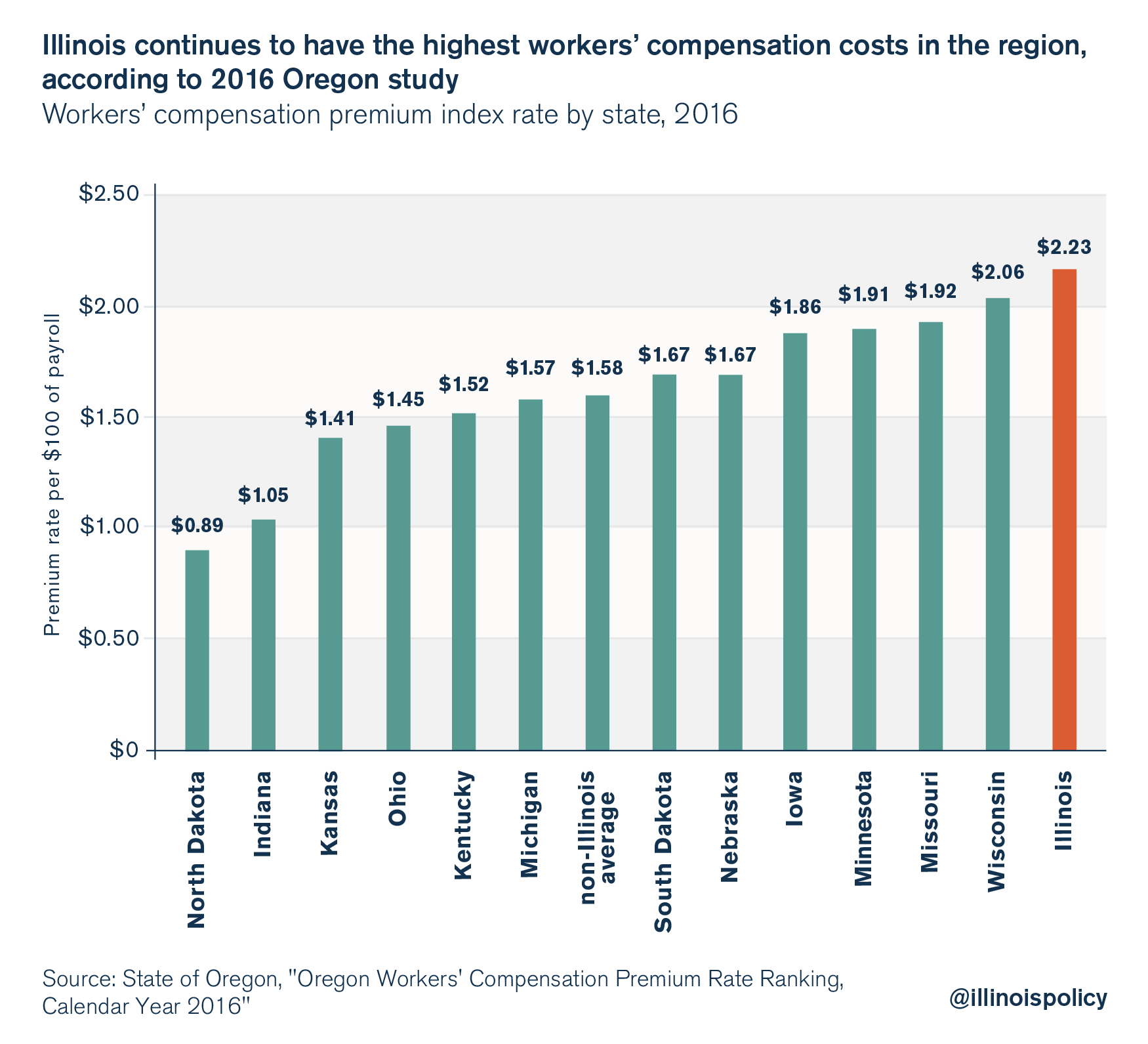 This difference might not seem like much – but the costs add up. Consider an Illinois company that employs 143 long-distance truckers earning $50,000 salaries. That business would save more than $326,000 annually on workers' comp alone by choosing instead to operate in Iowa.
Property taxes also serve as an indicator for businesses looking to make an investment out of state. In Iowa's Scott and Muscatine counties – both of which overlap with Walcott – average effective residential property tax rates in 2017 were 1.64 percent and 1.7 percent, respectively, according to property data service ATTOM Data Solutions. Rock Island County, meanwhile, shouldered a 2.56 percent average effective residential property tax rate that year.
Encouraging employers to stay in the Prairie State will require Illinois lawmakers to provide long-term tax certainty and tax relief, while lowering workers' comp costs to a level that can compete with neighboring states and the rest of the nation.