QUOTE OF THE DAY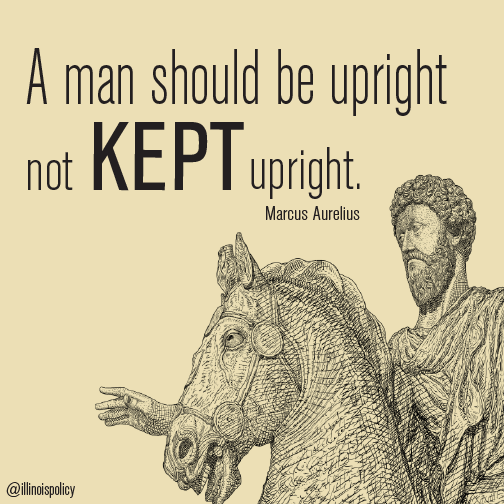 Curios City: Two neighbors, one big financial gap
George Brown of Valparaiso, Indiana, works for a steel mill these days, but at one time, his main gig was construction — across the state border in Chicago. The commute and that "living in both worlds" familiarity didn't prevent him from noting differences between the two states. Among them: The differing fortunes of state government.
He had picked up details here and there about how Illinois owed money (the state comptroller recently said Illinois has more than $5 billion in unpaid bills), how the Prairie State was hounded by bills coming down the pike (it has approximately $100 billion in unfunded pension liabilities), and how it has the worst credit rating among U.S. states.
On the other hand, just a few years ago, Indiana's coffers were so flush that it returned money to state taxpayers.
---
Chicago Tribune: Emanuel says $13 an hour minimum wage in Chicago no matter what state does
Mayor Rahm Emanuel said Tuesday that he would push aldermen to raise Chicago's minimum wage to $13 an hour no matter what Springfield lawmakers do on the issue this year.
Previously, the mayor had declined to say whether the city would move ahead with its own higher minimum wage even if state lawmakers raised the statewide minimum wage to $10 after the November election.
"Illinois should do it, and when Illinois does it, we're going to take the steps necessary to get us to the $13 here in the city of Chicago, because it's relevant to making sure work pays and making sure people can afford to live in the city of Chicago," Emanuel said at a news conference about Chicago public high school graduation rates.
---
Real Clear Policy: Will Public Employees Cut Their Own Pensions?
A firefighter wants the state to cut his own pension? It's hard to believe, especially as the increasingly acrimonious debate over public pensions divides public servants and their employers. But that's just what the The New York Times reported earlier this month. And it's not as crazy as it sounds.
Bryan Jeffries, head of Professional Fire Fighters of Arizona, argues that pensions must be reduced to prevent layoffs and wage cuts. Like counties, cities, and towns in other states, municipalities across Arizona are being forced to contribute more to the state's pension fund for police officers and firefighters to make up for past shortfalls.
 Contributions now average one-third of payroll, more than twice as high as they were 10 years ago. A typical Arizona city that pays a firefighter an annual salary of $60,000 must send another $20,000 to the state to cover pension costs. Some localities, such as Tempe, must contribute as much as half of payroll to the pension fund. As pension costs escalate, something has to give. Taxes must rise, some public-sector jobs must disappear, or public-sector salaries must be trimmed.
---
Daily Herald: District 214 might give taxpayers a rebate in 2016
Northwest Suburban High School District 214 has proposed spending $45 million in excess reserve funds on capital projects at its six high schools over three years, but officials said there still might be cash available for taxpayers to get some of their money back — in 2016.
A tax abatement will be a "strong consideration" when administrators and the District 214 school board discuss the tax levy in fall 2015, said Superintendent David Schuler.
"There is potential for it," he said.
---
Daily Herald: Griffin: Taxes grow even as property values drop
The amount of property taxes owed by Avon Township property owners last year was 14.7 percent of the assessed value of all the property there.
Five years earlier, it was just 9.5 percent.
The growth of the tax portion in that Lake County township is the biggest among 44 suburban townships analyzed by the Daily Herald for tax years 2009 to 2013. But property owners in other townships like Hanover and Leyden in Cook County, Wayne in DuPage County and Dundee in Kane County are in similar positions.
---
Milwaukee Business Journal: Tribune opinion piece rates Milwaukee's Bublr Bikes a better deal than Chicago's Divvy
An opinion column in the Chicago TribuneMonday suggests the Windy City is overpaying for its bike-sharing program, called Divvy, compared with the new Milwaukee Bublr Bikes program now being rolled out.
"Urban cyclists on blue bikes will soon be seen pedaling along the shores of Lake Michigan — but in another major city, and at a much lower price than in Chicago,"the Trib commentator wrote. "Recently, Milwaukee launched a public bike-sharing program called Bublr. The concept and look of the bikes are identical to Chicago's Divvy, but that's where the similarities end."
Milwaukee's Bublr Bikes hit the streetsAug. 6, and installations around town are still underway. The program's startup costs got covered through city funding, a state grant and more than $1 million from local businesses and individual private donors.
---
Daily Herald: Elk Grove banning blankets at summer concerts
Don't expect to plop down tarps, blankets or tables next year to reserve your spot for one of Elk Grove Village's popular summer concerts.
But you can still bring lawn chairs and coolers, village officials say.
Mayor Craig Johnson said the village staff will be cracking down on use of large items to reserve space in an effort to allow enough room for the growing crowds at the Mid-Summer Classics Concert Series. The concerts are held on the Village Green, located at 901 Wellington Ave. between the municipal complex and library.
---
City Journal: Colbert, Fallon and the cronies of the creative class
Modern "progressives" are not, as some economic conservatives would say, socialists. In fact, today's so-called progressives are not even particularly progressive, at least in the usual sense of seeking to redistribute wealth from rich to poor. As Fred Siegel has noted, contemporary progressivism is an upper-middle-class movement that caters to the social libertarianism of coastal elites, while paying lip service to left-wing economic concerns. Even when modern progressives do support economic development, they often do so in ways that stand traditional progressivism on its head—redistributing wealth upward to favored industries.
It would be hard to find a better example of this than Governor Andrew Cuomo's announcement last month that New York State will lavish $16 million in giveaways on CBS to keep The Late Show in Manhattan when urbane hipster Stephen Colbert succeeds David Letterman as host next year. The CBS handout follows an even sweeter deal for NBC, which received over $20 million in tax credits and other funding to bring The Tonight Show back to New York from Los Angeles when Jimmy Fallon took over from Jay Leno as host earlier this year. The Tonight Show didn't actually qualify for the state's $420 million-a-year film and television production tax-credit program, which excludes talk shows. But Cuomo asked the state legislature to carve out an exception for "a talk or variety program that filmed at least five seasons outside the state prior to its first relocated season in New York" and is "filmed before a studio audience of two hundred or more." E.J. McMahon of the Empire Center for Public Policy branded the provision "Jimmy's Law."
---
WSJ: GDP Expanded at 4.2% Rate in Second Quarter
The U.S. economy's second-quarter rebound was more robust than previously thought, putting the recovery back on track as it ended its fifth year.
Gross domestic product, the broadest measure of goods and services produced across the economy, grew at a seasonally adjusted annual rate of 4.2% in the second quarter, the Commerce Department said Thursday. The agency had previously estimated the second quarter's growth rate at 4%, relying on incomplete data for international trade, inventories and other sectors.
Economists surveyed by The Wall Street Journal had expected growth for the second quarter to be marked down to a 3.8% pace.
---
Cato: Libertarianism and the Pragmatic Case for a Universal Basic Income
This series on the libertarian case (or lack of one) for a basic income has been very useful. I have commented at length on several of the individual contributions. Let me try to sum up my reactions without repeating myself too much.
(1) As Zwolinkski and Huemer seem to agree, the libertarian case for a basic income is largely a pragmatic one. It falls into the same category as marijuana legalization. If we ask, "Does the state have the moral authority to decide whether I can use/grow/sell marijuana?" then the answer is, obviously, "no." But when Washington, the state where I live, held a referendum on marijuana legalization, that is not the question I asked. I asked, "Will this proposal, flawed though it is, make things better or worse than they are now?" The answer was yes, so I cast my vote in favor.
CARTOON OF THE DAY