QUOTE OF THE DAY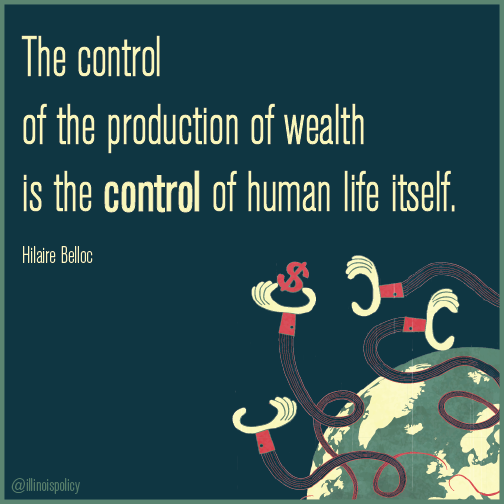 Journal Standard: Illinois needs reform, not rose-colored glasses
In an Aug. 3 opinion piece titled "Illinois-Indiana job numbers don't add up," Chuck and Pat Wemstrom object to the fact that Indiana is massively outpacing Illinois in net job creation. The piece attempts to lay out the narrative that Illinois is creating enough jobs and growing just fine.
However, the truth is that Illinois is failing to create jobs, and Illinoisans are continuing to struggle. Saying that the state's job growth is healthy or even positive is incredibly misleading.
For example, the article cites the fact that Illinois has added 250,000 private-sector jobs since the end of the recession. But that ignores the fact that Illinois lost 410,000 private sector jobs during the recession. On net, Illinois is down 160,000 jobs. That is not positive growth.
---
CNBC: Cafe gets grilled for 'minimum wage fee'
A Stillwater, MN, restaurant is getting grilled for its reaction to Minnesota's recent minimum wage hike.
In order to absorb the state's 75-cent increase in its minimum wage that began Aug. 1, Oasis Cafe owner Craig Beemer added a 35-cent 'minimum wage fee' directly to customers' tabs, according to the Minneapolis Star-Tribune.
---
Daily Herald: Mount Prospect settles with Ye Olde Town Inn for $6.5 million
Mount Prospect will pay Ye Olde Town Inn a $6.5 million settlement, the village board approved Tuesday night.
It officially puts an end to the federal racketeering lawsuit filed in 2008 by the inn's owner, Tod Curtis, who accused village officials and a local development company, Errol Oztekin's Oz Development, of conspiring to seize his land at 18 W. Busse Ave. and move forward with a downtown redevelopment plan without him.
His lawsuit named former Mayor Irvana Wilks, Village Manager Michael Janonis, Community Development Director William Cooney and village employees William Schroeder, Robert Roels and Frank Krupa as defendants.
---
Co.Exist: 4 Reasons Why People Love Living In Cities And How We're Working On Ruining Them
We've been hearing about it for years: The 21st century is the era of global urbanization, or urban globalization, or both. But now that more people want to live in cities, bigger questions loom. What makes a city? And what makes a city a desirable place to live?
The stereotypical trappings of urban living (i.e. crowds, tall, shiny buildings) do not a city make. In order to figure out what does, design firm Sasaki recently published the results of a 1,000-person, six-city survey that asked residents what they loved and hated about their surroundings. Some answers from those living in Boston, Chicago, New York, Austin, San Francisco, and Washington, D.C., could have been anticipated, but other responses were more surprising.
---
Reuters: U.S. says some healthcare emails sought by Congress are missing
A top U.S. healthcare official involved in the botched rollout of the website HealthCare.gov may have deleted some emails that were later sought by Republican congressional investigators, administration officials said on Thursday.
The emails were from a public email account maintained by Marilyn Tavenner, who heads the Centers for Medicare and Medicaid Services (CMS), the Department of Health and Human Services (HHS) agency chiefly responsible for implementing President Barack Obama's healthcare reform law.
"While we have not identified any specific emails that we will be unable to retrieve, it is possible that some emails may not be available," a CMS records official said in an Aug. 6 letter informing the National Archives of the situation.
---
Daily Herald: Consumer spending bounces back fast in Illinois
Just a year after they had seen the worst of the Great Recession, Illinois consumers were spending more than they were before the economic downturn.
New federal data show that the average Illinois resident's consumer spending has also grown faster than the average American consumer since that 2009 low.
Data from the U.S. Bureau of Economic Analysis released Thursday show spending by the average Illinois consumer increased 11.3 percent between 2009 and 2012. That's ahead of the country's 10.7 percent growth.
---
Bloomberg: Illinois Yields Approach Junk as 2014 Rally Falters
Illinois is back in the doghouse among investors in the $3.7 trillion municipal-bond market.
The extra yield investors demand to own 10-year Illinois bonds rather than AAA munis has surged 0.55 percentage point since May to 1.64 percentage points, data compiled by Bloomberg show. The gap grew after lawmakers on May 31 passed a budget with a $2 billion hole. Then last month, the state Supreme Court ruled that government retirees' health-insurance premiums were shielded from cuts, and Standard & Poor's changed its outlook on Illinois to negative.
Though Illinois is rated six steps below AAA, it trades at near-junk yield levels. That's still not attractive enough for James Dearborn at Columbia Management Investment Advisers and Patrick Morrissey at Great Lakes Advisors. A potential political shakeup from gubernatorial elections in November, considered a toss-up, and questions over the constitutionality of the state's pension overhaul have bond buyers betting prices will keep falling.
---
Crain's Chicago: Preckwinkle picks new lobbyist to lead pension reform drive
Cook County Board President Toni Preckwinkle has tapped a close associate with deep Springfield roots to be her chief lobbyist.
Scott Cisek, 38, will take over Aug. 25 as the county's director of governmental and legislative affairs. He'll succeed Derek Blaida, who was forced out in June shortly after the General Assembly failed to act on a bill reforming the county's cash-strapped pension plan, a top Preckwinkle priority.
Mr. Cisek is executive director of the Cook County Democratic Party, aka "the Machine." He managed Ms. Preckwinkle's campaign for board president in 2009 and 2010 and was field director at the Illinois Senate Democratic Fund, which put him on a first-name basis with many of those the president now needs to vote for her proposed pension bill.
---
CNBC: Tale of two Obamacares: States open with info, feds not much
By the close of Obamacare's first open enrollment in mid-April, the federal government was crowing about how many people had signed up via theHealthCare.gov insurance exchange that it operates.
But nearly four months later, the federal government remains mum on several key questions about that online marketplace, which sells coverage in 36 states, and was built with hundred of millions of dollars in taxpayer funds.
In sharp contrast to HealthCare.gov, the 15 health insurance exchanges run by individual states and the District of Columbia are, as a group, much more forthcoming with answers when asked those same kinds of questions.
---
Chicago Tribune: Power firm NRG to close plant, cut jobs, as part of pollution reduction plan
NRG Energy Inc. announced Thursday a pollution reduction plan for its four Illinois coal-fired generating plants that pushed the state more than halfway toward meeting new proposed federal limits for reducing carbon dioxide pollution.
NRG Energy officials told the Tribune on Wednesday that it will cease coal operations at one generating unit in Romeoville (the Will County plant), convert its Joliet plant to burn natural gas and upgrade its two other coal plants in Pekin and Waukegan to comply with environmental regulations.
The jobs of about 250 people will be eliminated, the company said.
CARTOON OF THE DAY