QUOTE OF THE DAY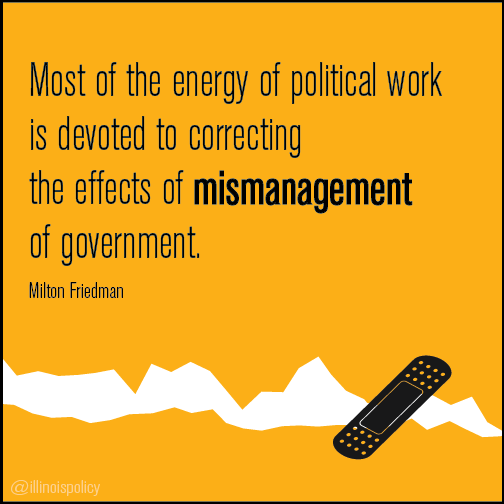 Huffington Post: Jobs Hypocrisy: Politicians Kill Opportunity With Limits On Street Vendors
Politicians talk about unemployment nonstop. But "jobs" have become just another talking point, a measure of political job performance, a launching pad to discuss bold new plans for economic development and schemes to use other people's money to prop up big business.
The truth is that suits in capitol buildings don't create opportunities — people with vision create livelihoods for themselves and others when they are simply left alone and allowed to flourish.
And while many states, such as Illinois, continue to pump millions of tax dollars into big business, the fact remains that, nationwide, small businesses are responsible for two-thirds of all new jobs created in the last 20 years.
---
Washington Post: Obamacare website won't reveal insurance costs for 2015 until after election
Those planning to purchase health insurance on the Obamacare exchange will soon find out how much rates have increased — after the Nov. 4 election.
Enrollment on the Healthcare.gov website begins Nov. 15, or 11 days after the midterm vote, and critics who worry about rising premium hikes in 2015 say that's no coincidence. Last year's inaugural enrollment period on the health-care exchange began Oct. 1.
---
Reason: Senate Republicans: CBO Projections Show Obamacare Will Raise Deficit by $131 Billion Over Ten Years
Analysis of Congressional Budget Office projections by the Senate Budget Committee finds that Obamacare will increase the deficit by more than $100 billion over the next decade.
The Congressional Budget Office (CBO) has not actually scored the deficit impact of Obamacare since the summer of 2012.  At that time, it estimated that Obamacare would reduce deficits by $109 billion over a decade.  But that was for the 2013-22 budgetary window.  Using growth rates derived from that estimate, Senate Budget Committee (SBC) staff found that this $109 billion budgetary surplus for 2013-22 would have become a $180 billion budgetary surplus for 2015-24, if nothing had changed in the interim.
---
Crain's: Why CME is cutting 5 percent of its workforce
CME Group Inc., which owns and operates the Chicago Board of Trade and Chicago Mercantile Exchange, said today it would cut 150 jobs, mainly in Chicago.
Most of the reduction, equal to about 5 percent of its workforce, will be in jobs related to operating the company's expansive, international technology infrastructure, Chicago-based CME said in a statement, but there will also be cuts in corporate and administrative jobs.
CME has been cutting back following disappointing second-quarter earnings that included trading volume declining 13 percent for that period, compared to last year, with a 15 percent drop in net income. While labor costs account for the bulk of expenses, the cutbacks still likely amount to less than five percent of overall CME costs.
---
Pew: States Ascend Into the Cloud
Seven years ago, the state of Delaware started moving computer servers out of closets and from under workers' desks to create a consolidated data center and a virtual computing climate.
In doing so, Delaware, nicknamed the First State, became the first state to move to cloud computing, in this case storing its data, operating systems and applications on centralized servers and giving agency employees remote access to the servers via the Internet.
But this system is about to run its course as the state's servers reach the end of their useful lives.
---
Institute for Justice: COPS SEIZED $ 17,550 FROM DRIVER, NEVER CHARGED HIM WITH A CRIME
Mandrel Stuart used to own the Smoking Roosters, a barbecue restaurant in Staunton, Va. But one night in August 2012, police pulled him over and seized $17,550, without even bothering to charge Stuart with a crime. Unable to pay his bills and rent, Stuart had to close down his small business.
On the night of the seizure, Stuart and his girlfriend were headed to Washington, D.C. for a date and to buy supplies for his restaurant, when Fairfax County Officer Kevin Palizzi pulled them over on I-66. Palizzi stopped Stuart initially for having tinted windows. During the stop, Palizzi saw the movie Flashdance was also playing in Stuart's car, which led to a $20 infraction.
A K-9 unit arrived and the dog alerted to the presence of drugs in Stuart's car. Police then searched the car and found $17,550 in cash. A more thorough investigation of the car uncovered a miniscule amount of marijuana: just 0.01 gram. Police later gave Stuart a scrap of paper as a receipt. He was never charged with any crime.
---
Crains: Hailo taxi app exits North America amid 'astronomical' costs
Hailo Network Ltd., the taxi application that competes with Uber Technologies Inc., will discontinue its operations in North America and said its co- Chief Executive Officer Jay Bregman will leave the company.
Costs to market the service in North America were "astronomical" and made "profitability for any one player almost impossible," Tom Barr, CEO and president of London-based Hailo, said in an e-mailed statement today.
Instead, the company will focus on its businesses in Europe and Asia and new products, such as a planned concierge service, Barr said. Bregman, one of the company's six founders, had spent the last 2 1/2 years in New York to ramp up the North American business, where Hailo competes with apps such as Uber, GetTaxi Inc. and Lyft Inc.
---
Crain's: Illinois fracking rules vote delayed until November
An Illinois legislative panel has put off voting on rules for high-volume oil and gas extraction until next month, as it grapples with how to ensure regulations are fair to industry while protecting the environment.
The Joint Committee on Administrative Rules has the last word on whether the rules for hydraulic fracturing, or "fracking," can take effect.
Fracking supporters say it is safe and will create thousands of Illinois jobs. Opponents worry it will cause groundwater pollution and health problems.
---
Inc: How the New HealthCare.gov Stacks up with the Old
HealthCare.gov, the website for health insurance under President Barack Obama's health care law, has been revamped as its second enrollment season approaches. But things are still complicated, since other major provisions of the Affordable Care Act are taking effect for the first time. A look at some of the website and program changes ahead:
---
TIME: Teachers Unions Are Putting Themselves On November's Ballot
While many political power brokers have quietly agreed this year's midterms are big snooze—boring, uncreative, and largely meaningless—the teachers unions stand out as a loud, insistent counterpoint.
The National Education Association (NEA), the nation's largest teachers union, is on track to spend between $40 million and $60 million this election cycle, while the smaller American Federation of Teachers (AFT) plans to pony up an additional $20 million—more than the organization has spent on any other past cycle,
While the issues at stake vary by state, a number of elections this cycle will hinge on a variety of education-related questions, including recent cuts to public schools, growing class sizes, Common Core State Standards, access to pre-K education and the availability of state-funded student loans for college. A June Rasmussen report found that 58% of total expected voters ranked education as "very important," while local polls indicate that voters in Pennsylvania, Michigan, Kansas and Illinois rank education as among the top three most important issues this cycle.
---
Daily Herald: Illinois Supreme Court expands electronic filing
The Illinois Supreme Court has said it will start giving courts a chance to electronically file criminal and traffic case documents.
The court said Tuesday that counties can request approval from the high court to start electronically filing in trial courts. Chief Justice Rita B. Garman says it will make courts more efficient, conserve environmental resources and save taxpayer money.
The decision is the latest example of the court's push to modernize the state's courtrooms. The court has approved electronic filing for civil cases in 11 counties since a pilot project was launched in 2003. Another pilot program has allowed media organizations to electronically record court proceedings in several counties.
---
Chicago Sun Times: Cook County Sheriff Office isn't only agency with missing equipment
Sneed hears the Cook County Sheriff's Office isn't the only police agency suspended from receiving federal military surplus . . . a k a guns, tanks and ordnance — for sloppy paperwork or missing equipment.
So is the Des Plaines Police Department, where guns are missing, according to the Illinois Department of Central Management Services.
Sneed is told the U.S. Defense Logistics Agency is investigating.
---
Reason: Union Lobbyists Substitute-Teach for One Day, Get $1 Million Pensions
From the Twitter feed of Michael Hewlett comes this incredible tale of union flim-flamming of Illinois taxpayers.
Writing at Forbes,OpentheBooks.com founder Adam Andrzejewski explains that in 2012, Illinois reformed its particularly loose public-pension rules specifically to squeeze out a lot of recipients who shouldn't really have qualified for taxpayer-funded retirements. The new law specifically came about after news leaked that two teachers-union lobbyists, Stephen Preckwinkle and David Piccioli, had managed to get pensions worth more than $1 million after substitute teaching for just one day apiece.
CARTOON OF THE DAY