QUOTE OF THE DAY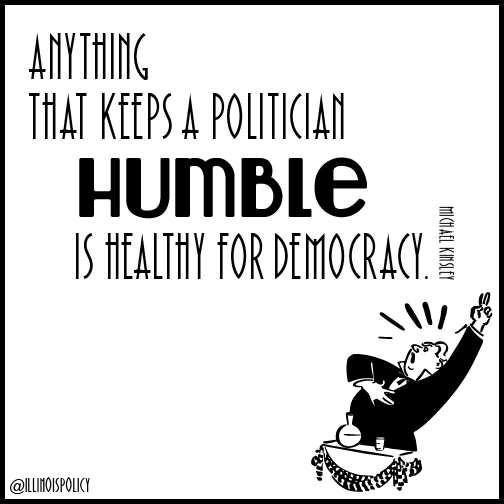 Chicago Tribune: No school Friday in Waukegan as teachers strike; no talks set
Schools in Waukegan will remain closed again Friday as the impasse continues between Waukegan District 60 and its teachers union over teacher compensation.
With the strike now forcing the cancellation of 10 school days so far, district officials claim the union has suspended contracts talks indefinitely, "refuses to negotiate" and suggested that maybe talks could resume next week.
Waukegan Teachers' Council President Kathy Schwarz countered that the union did not walk away from the table.
---
Illinois Innovation Network: Illinois' share of high-tech businesses is among the nation's top states
With almost 400,000 businesses and an employment base of more than 5.7 million.1  Illinois leads the Midwest in volume of both companies and jobs. As discussed in the April 2014 issue of the Index, high-tech employment is on the rise in Illinois. This growth is an indication of the shifting distribution of employment by industry; in the coming years, an increasing percentage of job creation will likely be in innovative sectors driven by science and technology. In Illinois, the share of establishments in high-tech industries is on the rise.
---
Pension 360: Three New Tax Hikes in Chicago As Emanuel Looks For Revenue To Pay Down Pension Debt
Chicago Mayor Rahm Emanuel is leaving no stone unturned in his search for revenue sources that could help pay down the city's unfunded pension liabilities, which total over $25 billion.
Complicating the search is the upcoming election; Emanuel has said he will not touch property, sales or fuel taxes, all of which are politically unpopular.
In the past year, Emanuel has increased the "telephone tax" and cigarette taxes. This week, he added three more tax hikes to the list. From the Chicago Tribune:
---
Real Clear Policy: Does Eminent Domain Even Raise Revenue?
Proponents of eminent domain for private development — i.e., of forcibly taking private property and giving it to another private party — claim it will generate more revenue for state and local governments. The Supreme Court even based its landmark 2005 case Kelo v. City of New London on this assertion, holding that the alleged economic benefits for communities legally justify these takings as "public use."
The claim that eminent domain leads to higher revenues has largely gone unchallenged. We recently examined the available data, and our study finds virtually no evidence that eminent-domain activity for private development is associated with higher government revenue. To the contrary, we find some evidence that eminent domain is associated with lower growth of government revenue in the future.
In other words, governments' primary justification for taking property from private owners like Susette Kelo and transferring ownership to big companies like Pfizer is based on faulty assumptions. In fact, the redevelopment plan for which Ms. Kelo's house (and those of her neighbors in New London, Conn.) was taken never happened. The land was actually used as a temporary dump for storm debris in the aftermath of Hurricane Irene in 2011.
---
Chicago Sun Times: Clout contractor got $3.1 million in CPS work after City Hall ban
Two years ago, Mayor Rahm Emanuel's administration banned Windy City Electric Co. from getting any more city business over allegations it fraudulently landed millions of dollars in contracts set aside for companies owned by women.
But the August 2012 ban didn't keep the politically connected contractor from getting more than $3 million in new work from the Chicago Public Schools.
The Chicago Board of Education voted to renew Windy City Electric's contract in October 2013 — more than a year after City Hall booted the contractor for falsely claiming to be owned and operated by women so it could get contracts set aside for women-owned businesses.
---
Civic Federation: State of Illinois Education Funding: Analyzing Trends
Whether the State of Illinois has spent more or less on education in the last five years has recently been the subject of intense debate. This blog post examines various factors that affect the calculation of education spending trends and expands on the Civic Federation's recent report on the State's enacted budget for FY2015.
The Illinois State Board of Education provides resources for elementary and secondary education based on appropriations from the Illinois General Assembly. The following table shows actual spending by the Board of Education from FY2011 through FY2013, estimated spending in FY2014 and appropriations in FY2015. It should be noted that actual spending in FY2015 could be less than the spending authority granted through appropriations—or more, if supplemental appropriations are approved later in the year.
---
Chicago Daily Observer: No Bond Dealer Left Behind: Bond Dealers Financing Illinois "Education" Referendum
Fourteen Illinois counties face higher sales taxes if referendums pass at the ballot box this fall.
The tax is called the Illinois County School Facility Occupation Tax, or County School Facility Tax (CSFT) for short. The law authorizing the tax, which passed in 2007, allows school boards representing 51 percent of a county's student population to place a sales tax hike referendum of up to 1 percent on the ballot.
---
Chicago Sun Times: Pakistan judge recommends ex-city comptroller be extradited
Judge in Pakistan has recommended that Mayor Rahm Emanuel's convicted former city comptroller be extradited to the United States, a source with close ties to the overseas case said.
Ultimately, it's up to the Pakistani government whether Amer Ahmad will be sent back and, if so, when. But Abdul Sattar Isani, a district magistrate in Islamabad, forwarded his recommendation in favor of extradition to government officials Friday following a hearing in the South Asian capital this week.
The source said he didn't think it wouldn't "take much time" for authorities to determine whether Ahmad would be returned home to face the consequences for fleeing the country to dodge prison time in an Ohio corruption case.
---
WBEZ: Are Chicago's shorter yellow lights unsafe, or just unfair?
Chicago's red light cameras are under increased scrutiny, after a Chicago Tribune investigationfound glitchy cameras may have issued thousands of tickets in error. The report also found many yellow lights are slightly short of the city standard of three seconds.
WBEZ has been looking into yellow lights too — and we've found something else. Many traffic experts say Chicago flouts industry best practices with how it programs its traffic control devices — and one engineer says it may be "entrapping" drivers into running red lights.
Should I run? Should I stop?
CARTOON OF THE DAY