Every Illinois metro area loses population for second year in a row
New census data reveals that for a second year, all 10 metro areas based primarily in Illinois experienced population decline.
Illinois suffered its sixth consecutive year of population decline in 2019, but new U.S. Census Bureau data shows that for the second year in a row those declines happened in every metropolitan area of the state.
The only other year this happened was in 2018 – meaning both instances occurred in the years following Illinois' record-breaking income tax hike in 2017.
The long view is also distressing: Cook County suffered the nation's second-highest population loss during the past decade, according to the new data released March 26. Populations fell in 93 of Illinois' 102 counties since 2010.
There are 384 Metropolitan Statistical Areas, or MSAs, nationwide. Illinois is the primary home of 10 of them: Bloomington, Carbondale-Marion, Champaign-Urbana, Chicago-Naperville-Elgin, Danville, Decatur, Kankakee, Peoria, Rockford and Springfield. All 10 saw population loss from July 2018 to July 2019.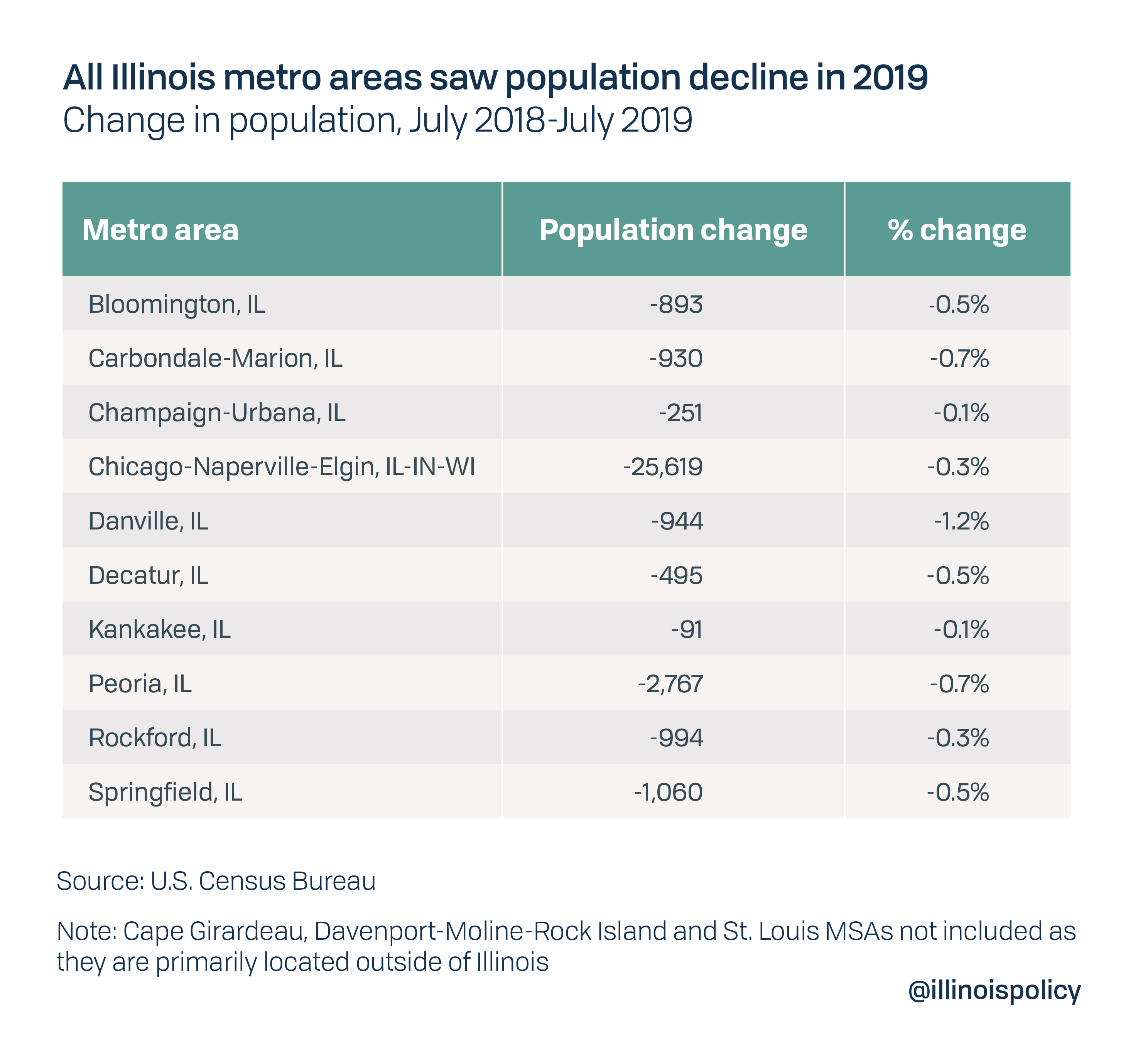 The Chicago MSA, which includes Cook and 13 surrounding counties, saw the third largest raw decline in population of any metro area in the nation during the year, shrinking by more than 25,000 residents.
Three MSAs – Cape Girardeau, St. Louis and Davenport-Moline-Rock Island – include parts of Illinois but are based in Missouri and Iowa. Cape Girardeau saw a decrease of 103 residents while St. Louis saw a decline of 730 residents. Davenport-Moline-Rock Island lost 872 during the year.
The population decline across Illinois' metro areas was caused almost entirely by Illinoisans moving to other states.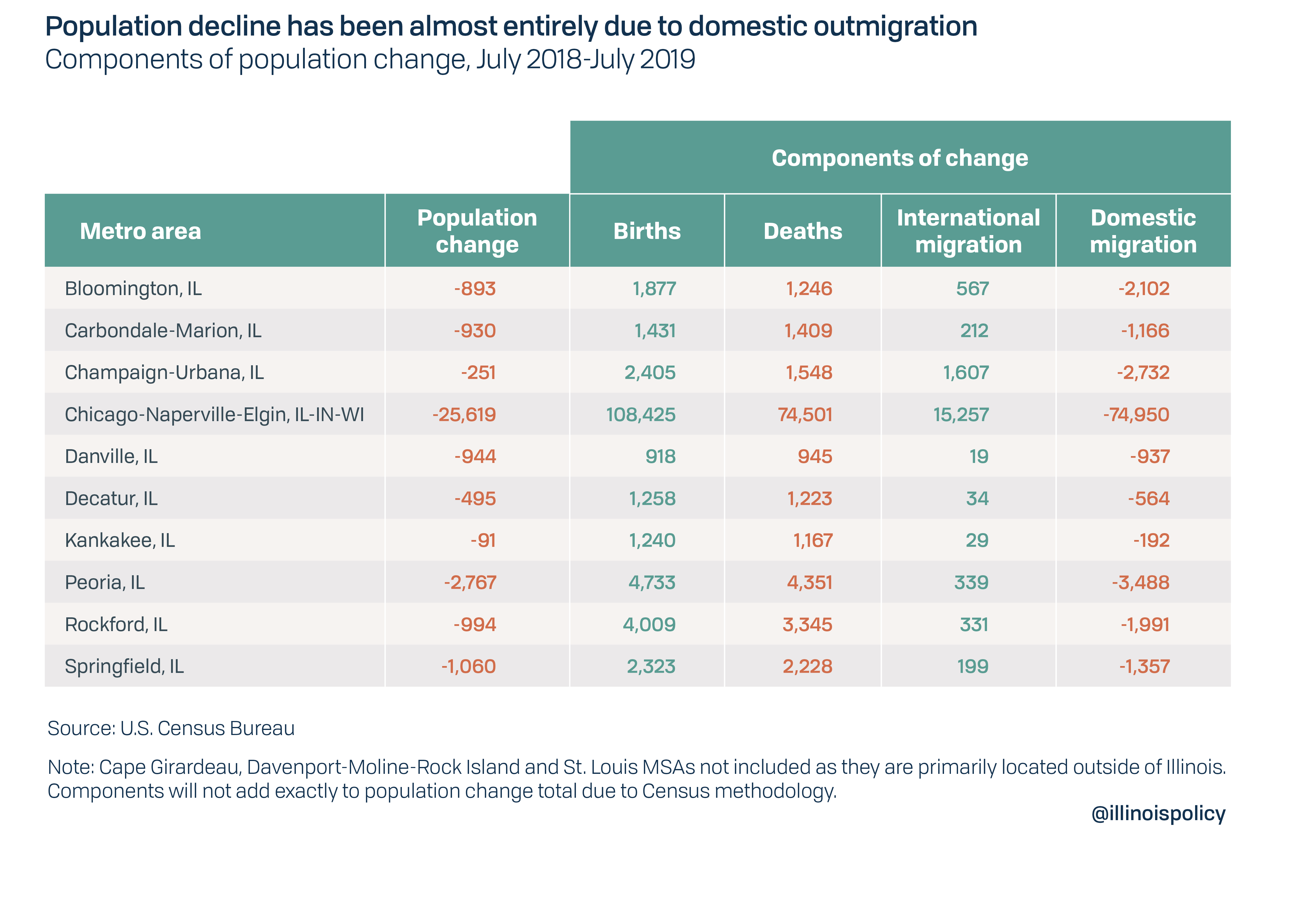 Population growth since the end of the Great Recession has been alarmingly weak across Illinois' metro areas, with all of them seeing below-average growth compared with metro areas nationwide. Danville lost 7.2% of its population and Decatur lost 6.1%, ranking both among the 10 worst metro areas in the nation for population growth since 2010.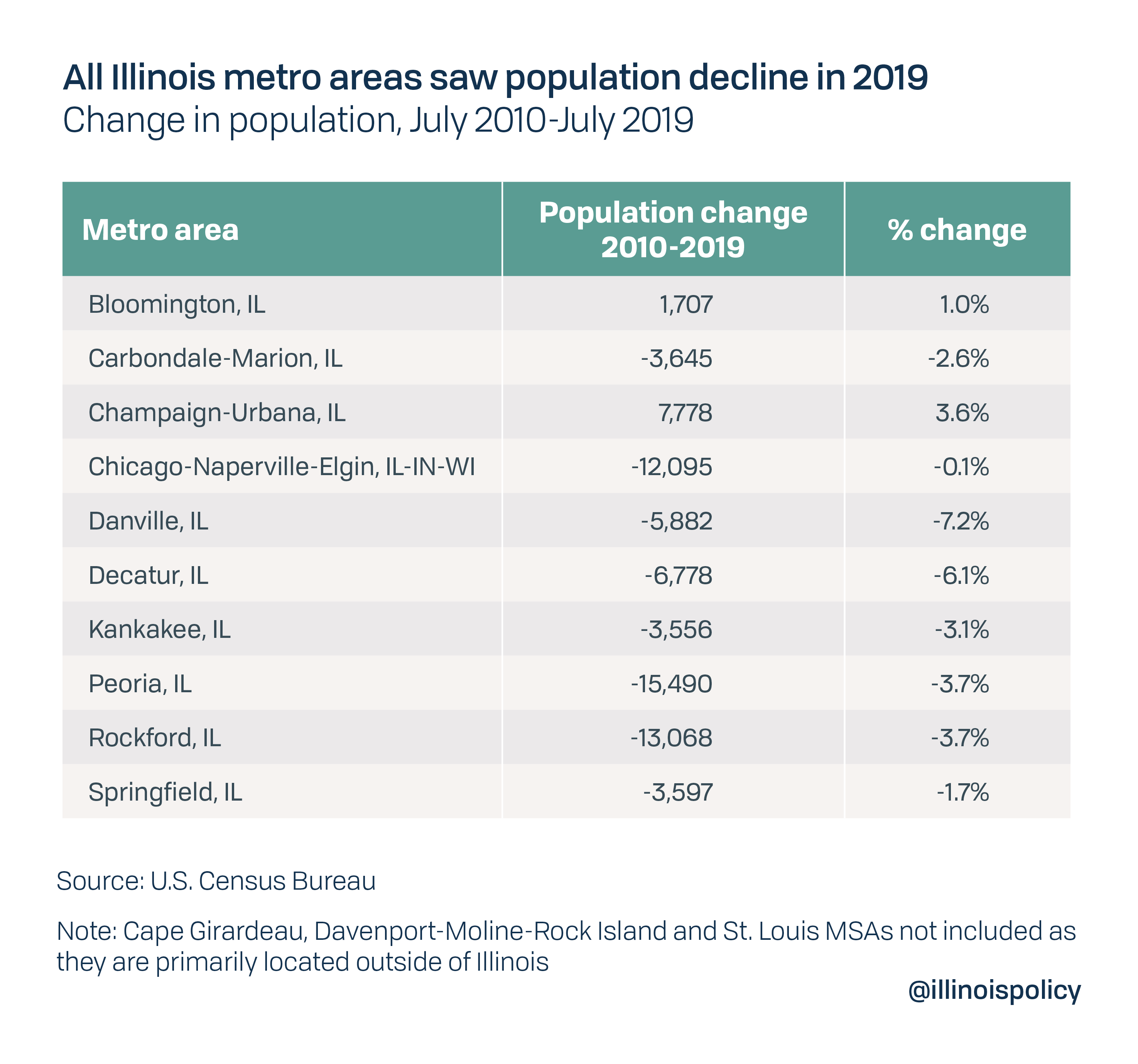 How are other U.S. metro areas faring?
Many areas in the U.S. are doing well, with some of the largest and fastest growth coming from parts of Texas, Arizona, Florida, North Carolina, South Carolina, Utah and Colorado.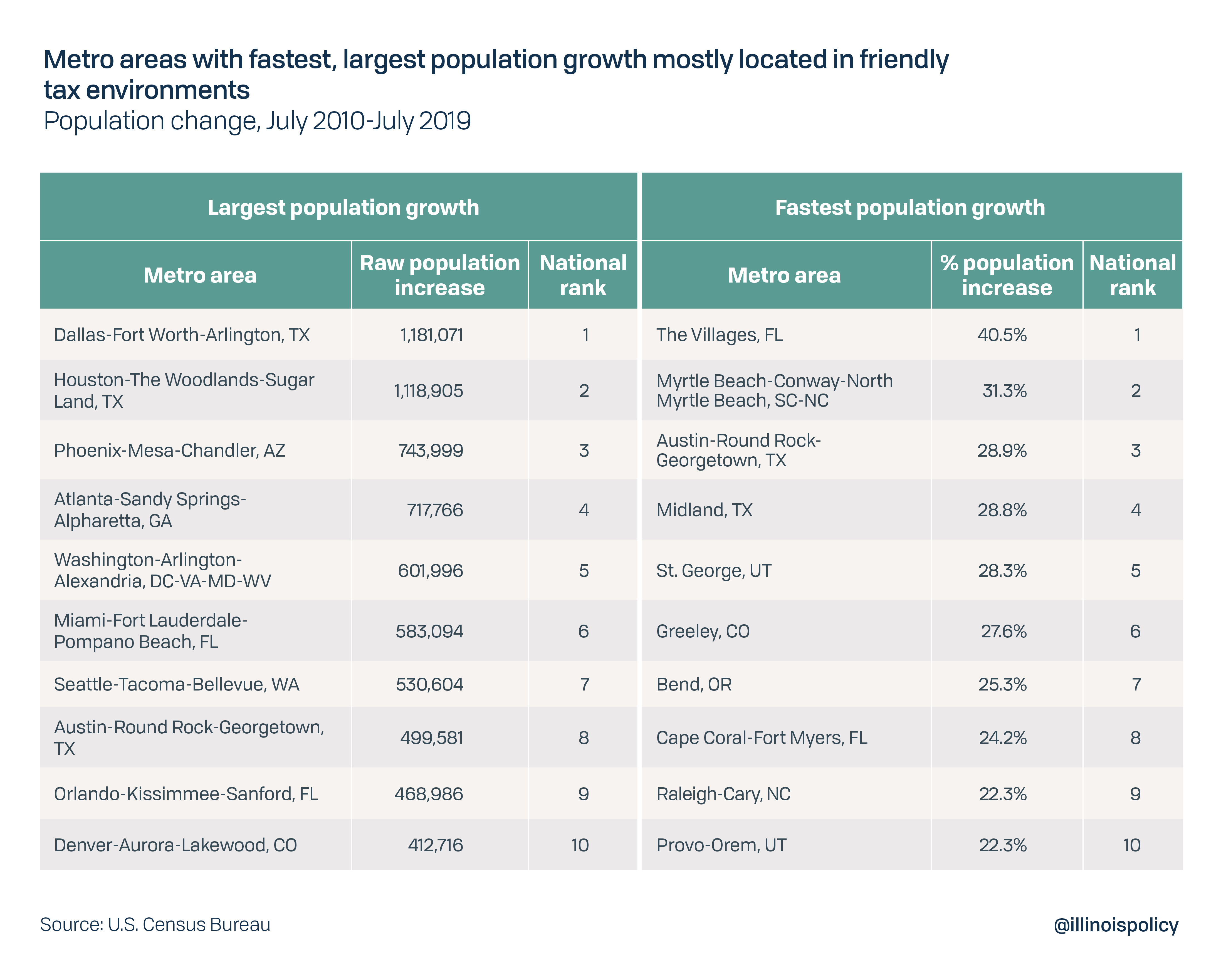 While many urban areas are growing – some at a rapid pace – there are areas of the nation that are struggling. Manufacturing centers such as Illinois, Ohio and Pennsylvania have witnessed population decline. At the same time, the nation's largest urban areas are the ones seeing the largest population decline. Chicago, New York and Los Angeles experienced the largest population decline of all MSAs.
The main difference between growing and shrinking areas is domestic migration. The MSA-level results come as no surprise, as the areas that are growing the most tend to be in states experiencing strong jobs growth while the areas shrinking the most tend to be located in states where labor markets have faltered.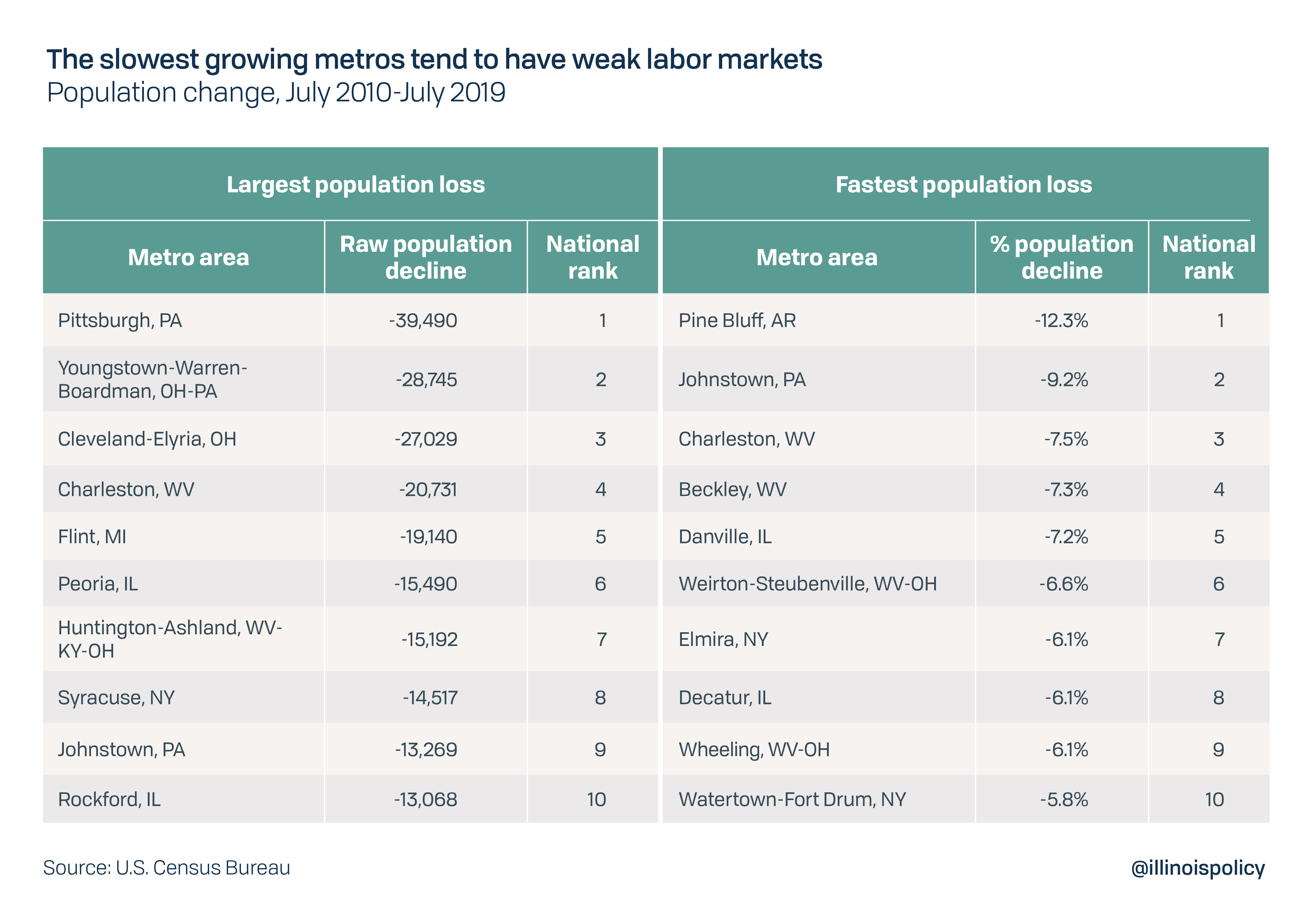 However, Illinois' people problem isn't just confined to metropolitan areas. In 2019, 92 of Illinois' 102 counties experienced population decline. Cook County once again experienced one of the largest population declines of any county in the nation, losing nearly 22,000 people from July 2018 to July 2019.
The picture gets even worse when comparing counties to what they looked like at the end of the Great Recession. Since 2010, 93 of Illinois' 102 counties have experienced population decline. Cook County lost 48,783 people for the nation's second-worst raw loss during the decade.
Reversing the trend
Given the crisis posed by COVID-19, state lawmakers must focus their immediate attention on key public health measures, as well as preventing more job losses and small business closures during the economic freeze.
But when the public health threat subsides, Illinois must ensure it is in the best possible position to recover. Pursuing policies that attract and retain residents, rather than driving them away, will be crucial.
Taxes and correspondingly weak labor and  housing markets have been the primary reasons Illinois has struggled to attract and retain people.
These are the challenges Illinois leaders must address in the long term.
Unfortunately, lawmakers are considering raising taxes on the last few growing regions of the state, threatening population growth in these areas and likely encouraging outmigration. Further, those tax hikes would potentially take effect just as the state starts its recovery from the current, severe market downturn.
Specifically, lawmakers are asking Illinoisans to approve a $3.7 billion progressive income tax hike on Nov. 3. Very few areas of Illinois have experienced population growth in the past decade, but the few that have would see aggregate income tax hikes should that plan take effect.
Kane, Will and DuPage counties have seen some of the largest population increases in the state during the past decade. They are also the counties where many residents who would face a progressive income tax hike reside. Lake County would send 35% more in income tax revenue to Springfield should voters approve the plan, followed by DuPage (21% net tax increase), Kane (12%), McHenry (10%) and Will (9%).
The state's immediate future is unclear, as leaders work to address an unprecedented public health crisis. But in the long term, Illinois must do everything possible to alleviate tax burdens – and the uncertainty that comes with tax hikes – for individuals and businesses struggling to recover.