Fired Chicago Police superintendent receiving nearly $200K pension
Eddie Johnson was fired before his scheduled retirement after he was found asleep behind the wheel. He blamed medication. Video showed him drinking.
The former superintendent of the Chicago Police Department is receiving a pension of about $190,000 annually, even though he was fired from his post for lying to the mayor about being found asleep at an intersection in his city-issued SUV.
Eddie Johnson is receiving a monthly pension of $15,800, according to information obtained by the Chicago Tribune through Freedom of Information Act requests. The money comes from the Policemen's Annuity and Benefit Fund of Chicago.
Johnson was fired in December after revelations about the night officers found him slumped over in his vehicle. Officers responding to a 911 call about a man asleep at the wheel found Johnson and allowed him to drive away after he flashed his superintendent's badge. Since the incident, reports have surfaced that officers helped to cover for Johnson.
Originally, Johnson told Mayor Lori Lightfoot and the public that his drowsiness was because of medication. But later in the fall, the city inspector general's office was given video of Johnson on the same night at a café in the Loop. Johnson was seen drinking and kissing a female member of his security detail.
Upon seeing the video, Lightfoot immediately moved to fire Johnson in the beginning of December from his post as superintendent before his scheduled retirement in January. A visibly angered Lightfoot said she choose to fire Johnson for lying to her, for engaging in unethical conduct and for lying to the public about why he was asleep in his SUV.
"I saw things that were inconsistent with what Mr. Johnson had told me personally and what he revealed to members of the public," Lightfoot said.
Former mayor Rahm Emanuel hired Johnson in March 2016. He was praised by Lightfoot just weeks before being fired for his work leading the department in the wake of the Laquan McDonald shooting. The black teen's killing by a white officer in 2014 was caught on video, leading to reforms in the police department and prison time for the officer.
Chicago police pensions are calculated based on the highest average salary of an office during their peak four years. For those with the department over 29 years, officers are entitled to receive 75% of their peak salary as their pension. For the 59-year-old Johnson who served with the CPD for 31 years, the $190,000 pension is 75% of his average salary of $253,000 during his final four years with the department.
Johnson will be eligible to receive a cost of living adjustment of over $5,600 in 2021.
Pensions are a massive liability to Chicago. The city itself has more pension debt than 44 states, totaling over $46 billion.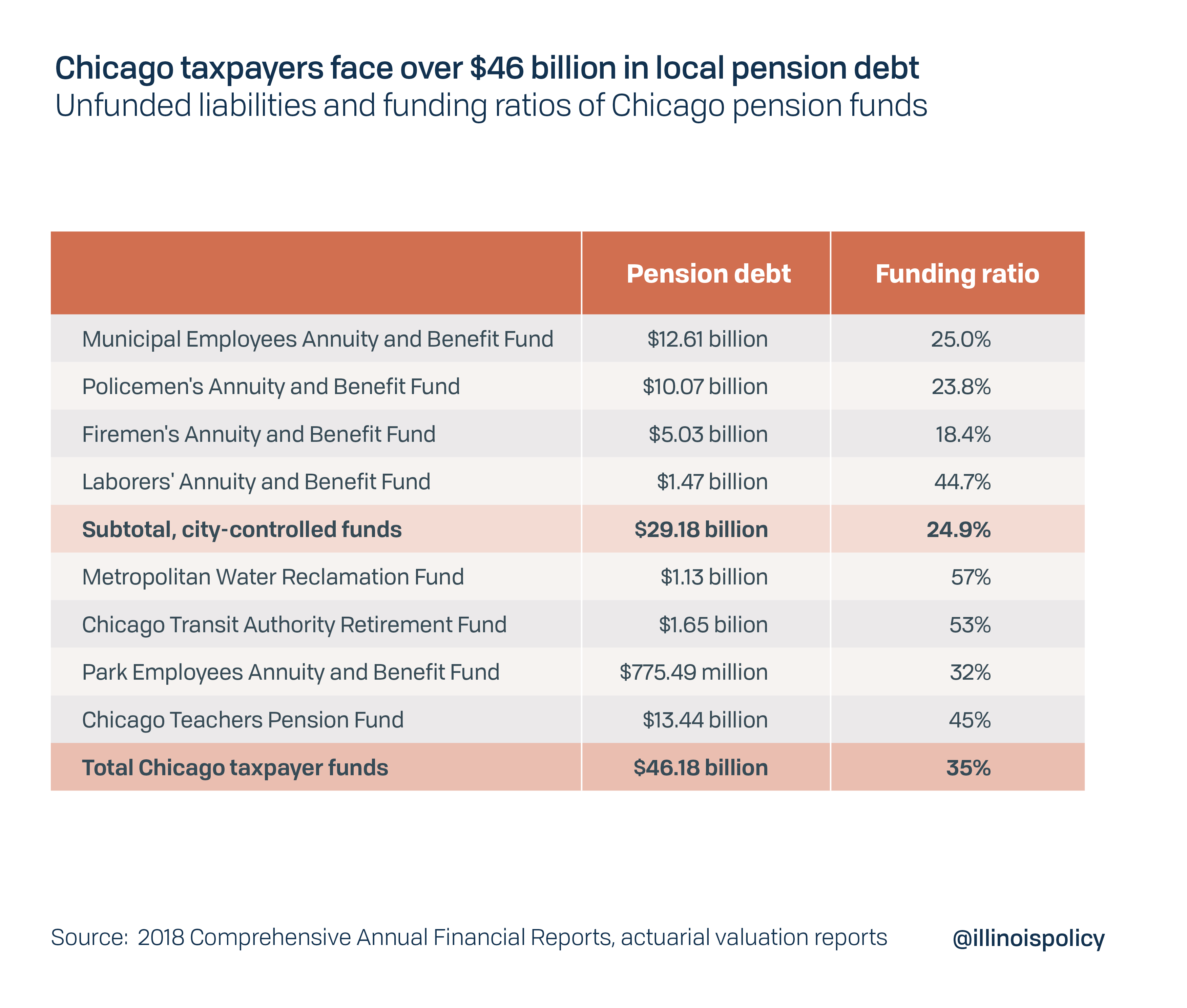 Funding for pensions in Chicago is only at 35%. Without reform, city services face cuts, including to the police department. Chicago taxpayers are expected to contribute $1 billion more to the underfunded pension system during the next four years. Under Emanuel, taxpayers were asked to pay $864 million more in taxes, which were supposed to help the city's pension crisis.
This high tax burden has contributed to four straight years of population loss for the city. Chicago taxpayers bear the highest total debt burden among the country's 10 largest cities, an astounding $119,000 per taxpayer, according to Truth in Accounting.
Lightfoot has begged state lawmakers in Springfield for help in raising revenue so she is not forced to raise property taxes on Chicagoans again. The better path would be the one Emanuel took as he was leaving office: Lightfoot, too, should should support a constitution amendment that protects pension benefits already earned but allows changes to the future growth rate of benefits.
Neither the city nor the state can tax their way out of their massive pension debts, but they can gain control relatively quickly with a constitutional pension amendment.