Growth in tollway revenue shows Illinois never planned on keeping its 'freeway' promise
Illinois drivers were supposed to be 'toll free in '73.' But in 2019, state leaders still show no sign of abandoning tollway revenue.
During the past 10 years, the Illinois Tollway has hiked toll fares four times. Today, tolls sit at $1.50, up from $0.80 a decade earlier.
The Illinois Tollway's budget for fiscal year 2019 was $1.5 billion. That's more than double the $680 million budgeted for the Tollway a decade ago in 2009. But what many have forgotten, or never knew, is that Illinois' tollways were supposed to be "freeways" by 1973, a year that came and went without politicians living up to their promises.
A look at the tollway's revenues during the past decade, adjusted for inflation, shows just how costly the now permanent agency has become for Illinois drivers. Revenues collected from tolls and fines for missed tolls have gone up 90% in just 10 years.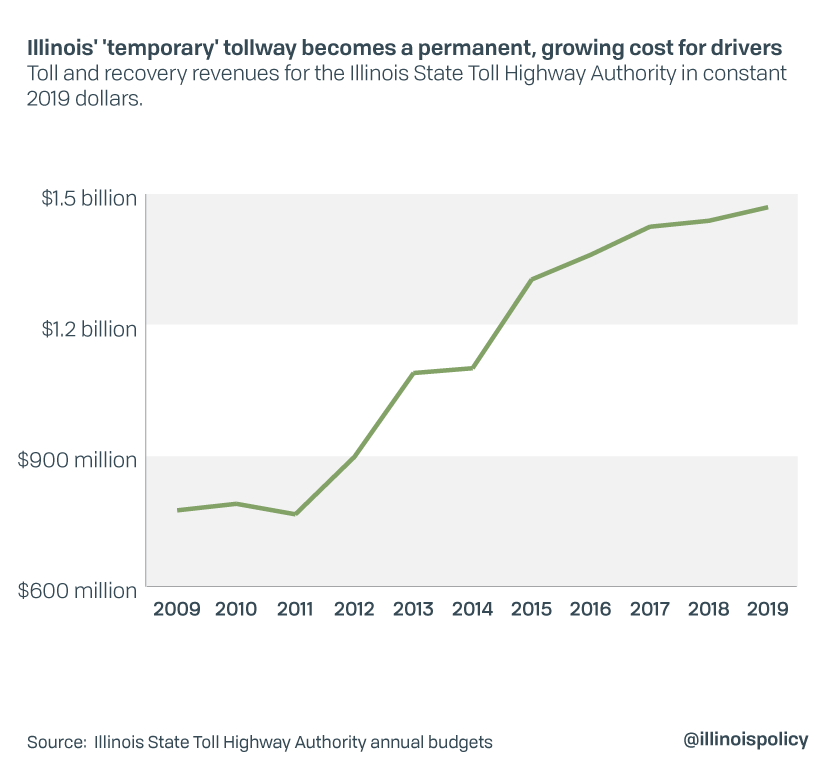 "Toll free in 73" was a popular slogan decades ago in Illinois, according to an ABC 7 Intelligence Report from 2011. But today, drivers in Illinois are still paying those tolls – the same drivers who also just saw the state's gas tax double in July.
When the Illinois General Assembly created the Illinois State Toll Highway Commission in 1953, lawmakers at first used the revenue to pay for the original bonding needed to build 186 miles of interstate highways.
Revenues exceeded expectations and the original bonds were eventually paid off, but the tolls still remained on Illinois roadways. Nevertheless, lawmakers made the commission permanent in 1968, creating the Illinois State Toll Highway Authority that exists today.
Former Gov. George Ryan proposed finally eliminating the tolls in 1999, according to ABC, an idea that faded with his governorship in 2003.
Today, every toll paid serves as a reminder of Illinois political leaders' long history of broken promises.