Illinois K-12 school districts losing students, gaining administrators
Despite shrinking populations of students and teachers, Illinois school districts have continued to grow their administrative bodies.
Illinois is facing a shortage of students – and a surplus of school district administrators.
From 2014 to 2018, student enrollment at Illinois K-12 public school districts fell by 2%, reflected by a nearly identical percentage drop in those districts' total teachers during that time.
Despite Illinois school districts losing both students and teachers, their administrators grew 1.5% during the four-year period.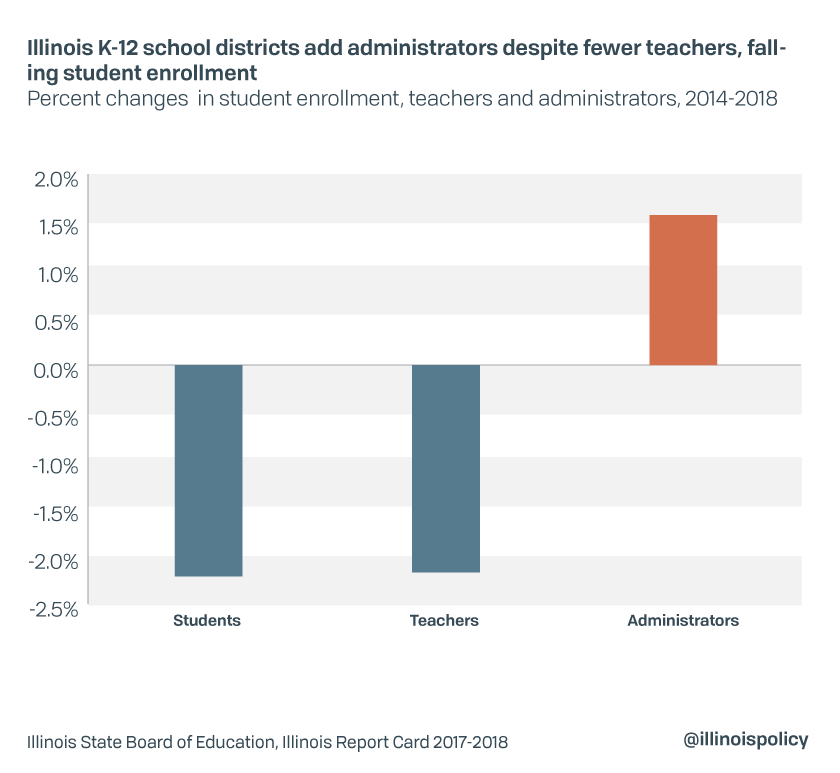 In other words, while school districts' student and teacher populations are thinning, the bureaucratic layer at the top only gets thicker.
Illinois spends more than any neighboring state and nearly double the national average on "general administration" costs, according to data from the U.S. Census Bureau. Meanwhile, Illinois students' test scores trail those of many neighboring states, as too many education funding dollars get trapped in the bureaucracy before reaching the classroom.
Administrative bloat comes at no small cost to Illinois families: Illinois has 852 school districts, which together consume nearly two-thirds of property taxes collected in Illinois.
On average, school districts in Illinois spend $581 per pupil on school district administration, or more than 2.5 times the national average of $230 per student. If Illinois spent the same as the national average on district administration, it would save $708 million on unnecessary bureaucratic spending that could be reinvested in classrooms or returned to property taxpayers.
Instead of perpetuating the same cycle of mismanagement and excess spending, Illinois school districts need to rein in administrative costs and put their students' needs first.