Illinois one of few states limiting freedom to choose fireworks on Independence Day
Illinois residents are denied the legal celebration of at least one freedom on July 4, but take their fireworks dollars to every border state to ignore the law.
Americans will celebrate Independence Day with parades down Main Street before barbecue and fireworks in their own backyards – except in Illinois and three other states.
Illinois is one of just four states that ban residents from using or purchasing fireworks other than novelty items such as sparklers, small noisemakers and smoke bombs.
Firework users in the Land of Lincoln can expect hefty penalties if caught. Possession, transportation, or use of illegal fireworks is a class A misdemeanor with fines up to $2,500 or 1 year in prison, although law enforcement often ignores violators unless they really annoy the neighbors.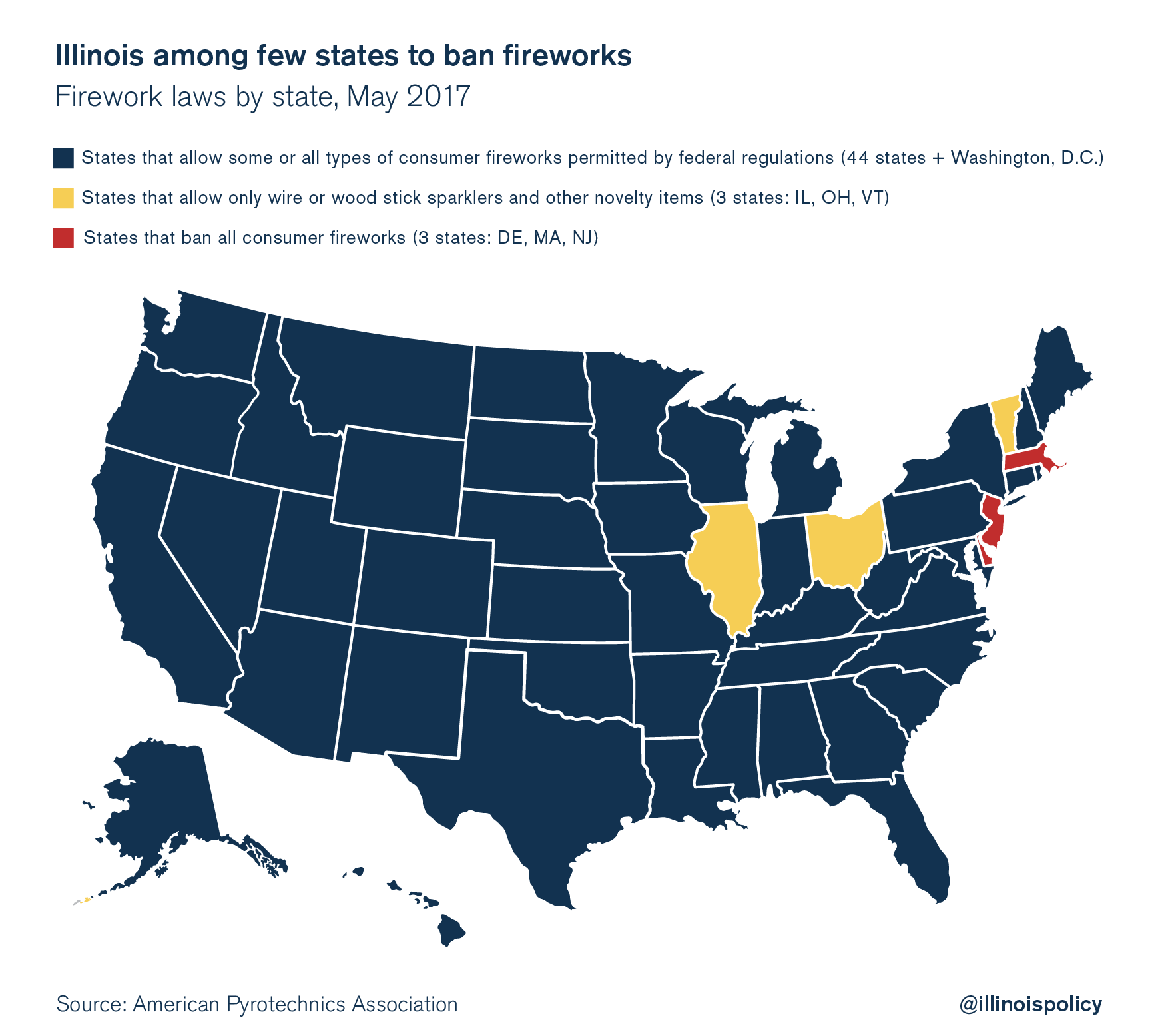 Massachusetts, Vermont and Ohio are the only other states that impose severe pyrotechnic restrictions. Ohioans are allowed to purchase fireworks but may not light them off. Massachusetts residents may not use any pyrotechnic device, including sparkers.
It all started in 1942 when state Rep. William G. Thon, R-Chicago, drafted a bill to ban the use of fireworks in Illinois. By this point, fireworks were already illegal in Chicago. When Thon died 40 years later, the fireworks ban was listed as his most notable achievement.
Thanks to this nearly 80-year-old law, Illinois is losing out on business and tax dollars. Residents who drive to neighboring states know some of the first businesses they pass are fireworks retailers. Illinoisans flock to these stores to stock up for Independence Day celebrations. Drive through any Illinois neighborhood around July 4 to quickly see and hear how little regard residents have for the fireworks law.
Iowa was the first state to ban fireworks in 1938, but it recently legalized them again, along with New Jersey and Pennsylvania. Ohio last year considered repealing its ban. Driving across state lines to purchase fireworks is an easy option for many Illinois residents.
Indiana brings in $2.5 million each year in tax revenues from firework sales. Illinois is watching tax dollars and summer jobs leave the state because of strict firework laws.
On July 2, Rep. Allen Skillicorn, R-East Dundee, filed House Bill 3852, which would amend the state's Firework Regulation Act by legalizing firecrackers, sky rockets and Roman candles.
Earlier this year, state Rep. Dave Severin, R-Marion, also attempted to legalize fireworks in Illinois. House Bill 2481 would repeal the Pyrotechnic Use Act, which took away Independence Day fun for Illinoisans. Severin's proposal would allow consumer fireworks to be purchased and used in the state, while display fireworks could be sold with a permit. Appropriate uses and permits would be determined by state and local fire marshals. The bill has remained in the Rules Committee since March, however.
Opponents of firework legalization cite safety concerns and severe injuries that can be caused by large commercial grade fireworks. However, a 2017 report from the U.S. Consumer Safety Commission says "there is not a statistically significant trend in estimated emergency department-treated, fireworks-related injuries from 2002 to 2017."
The report also said there were over 12,000 fireworks-related injuries in 2017, which was less than the number of injuries resulting from tipped furniture and children's toys. Illinois had 349 individuals injured by fireworks. Plus, the nation's leading cause of fireworks injuries is from one of the few devices Illinois allows: sparklers.
Illinois leaders certainly want every tax dollar they can get and more summer jobs would be great, but the most important reason to stop playing nanny is to allow people the freedom to decide for themselves, especially on Independence Day, whether they want to see the rocket's red glare. As a state, Illinois was the first to ratify the 13th Amendment. And just this year, Gov. J.B. Pritzker gave residents the freedom to choose whether to gamble or to smoke marijuana.
When it comes to celebrating freedom on Independence Day, Illinois has its limits.