Illinois state lawmakers 4th-highest paid in nation
The budget signed into law by Gov. J.B. Pritzker included a $1,600 pay raise for the Illinois General Assembly – which already collects the nation's 4th-highest base salary for state lawmakers.
As Illinoisans are watching their taxes go up, the state lawmakers who made it happen are taking home raises.
A doubling of the state's gas tax took effect July 1, the same day lawmakers received a $1,600 cost-of-living increase as part of Gov. J.B. Pritzker's record $40 billion budget.
The budget raised state lawmakers' base salary from $67,836 to $69,464, an increase of 2.4%.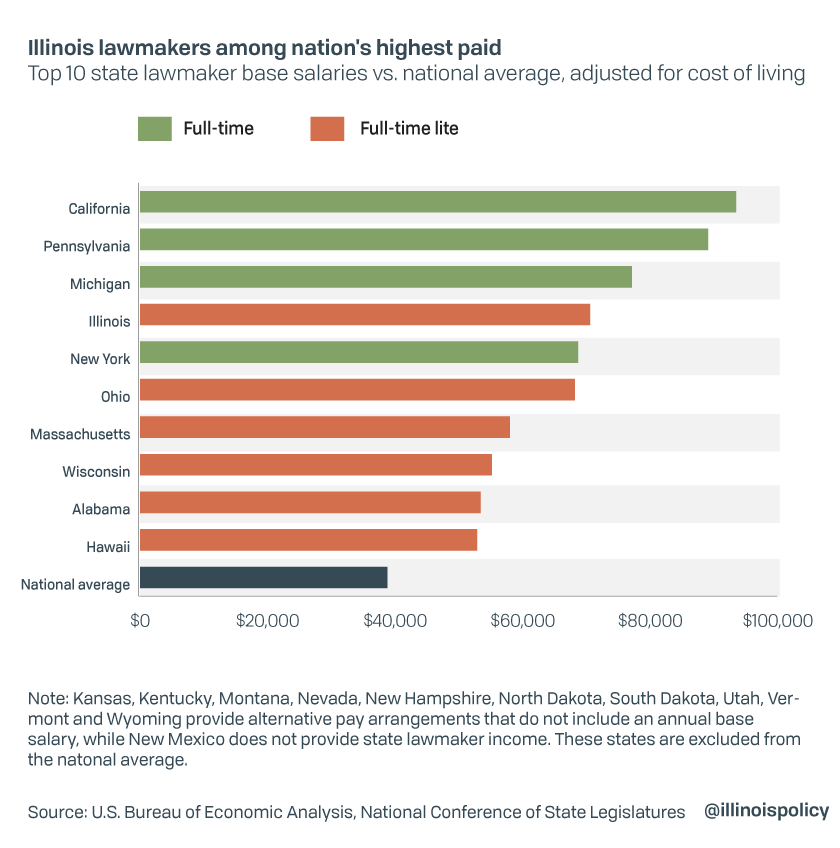 Even prior to that salary spike, Illinois state lawmakers were taking home the fourth-highest salary in the nation, adjusted for cost of living.
The Illinois General Assembly collects the highest salary among those not considered "full-time," and higher than New York's full-time legislature, when accounting for differences in cost of living.
The National Conference of State Legislatures classifies Illinois as "full-time lite," meaning they serve smaller districts and work shorter sessions than full-time lawmakers, but are highly paid, employ large staffs and perform legislative work for at least 80% of their jobs. Lawmakers are in session for about 70 days a year.
In addition to their base salary, state lawmakers in Illinois can receive $10,000 committee chairmanship stipends, per diems, mileage reimbursements and other perks. Those leadership stipends also spiked by 2.4% under the new state budget.
States where lawmakers make more than Illinois – California, Pennsylvania and Michigan – all have full-time legislatures.
While it's true lawmakers had "frozen" their annual pay raises each year since 2009, it is irresponsible to accept pay hikes when the state remains deeply in debt. Illinois still faces a structural budget deficit, massive pension debt and billions in unpaid bills.
As they brace for 20 new or higher taxes and fees, Illinois' overburdened taxpayers are justified in their frustration with a Statehouse that rewards itself while demanding more of them.