Illinois' struggling unemployment program to run out of money in May
As new claims overwhelm an unprepared and inefficient system, the state has been pre-approved for a $5 billion loan from the federal government to ensure benefits continue to be paid.
Illinois' unemployment insurance program has been overwhelmed by economic fallout from COVID-19 and is likely to run out of money before the end of May. More than 1 million Illinoisans have applied for unemployment benefits since the start of the crisis.
The state's unemployment system has been a problem for years, being slow to react to claims and making financial errors. It sent out $142 million erroneously last year, recovering less than $1 out of every $5 after mistakes were discovered. It also just exposed private data for some self-employed workers who on May 11 became eligible for benefits.
A Tax Foundation analysis at the beginning of April found Illinois would only be able to pay unemployment benefits for 11 weeks based on its trust fund balance and number of claims at the time. But as new weekly claims continued at unprecedented levels throughout April, an updated analysis at the beginning of May found the state had just two weeks' worth of cash.
To keep benefits flowing, Illinois will need to rely on federal loans that it will later have to repay with interest.
As of May 7, nine states plus the Virgin Islands have received advanced authorization for loans from the federal government to backstop their unemployment insurance trust funds. According to Politico, Illinois' $11 billion request for May and June was the largest among states. The U.S. Treasury Department has already approved $5 billion of Illinois' request for the current month.
Relying on federal loans to backstop state unemployment funds is not uncommon during severe recessions. After the Great Recession beginning in 2008, 35 states and the Virgin Islands borrowed from the federal unemployment trust fund, according to Crain's Chicago Business.
However, some unemployment insurance issues are especially severe in Illinois and contribute to the state's failure to adequately support out-of-work residents during the current crisis.
The Prairie State's unemployment program has been plagued by waste and mismanagement for years and was unprepared for the flood of new claims from shuttering many businesses. Gov. J.B. Pritzker failed to address these long-standing issues before the pandemic hit in March, more than a year after he took office.
Illinois overpaid more than $142 million in improper unemployment benefits in federal fiscal year 2019, three quarters of which were under Pritzker's tenure. Illinois also ranked 7th worst among states at recovering improperly paid benefits during that time.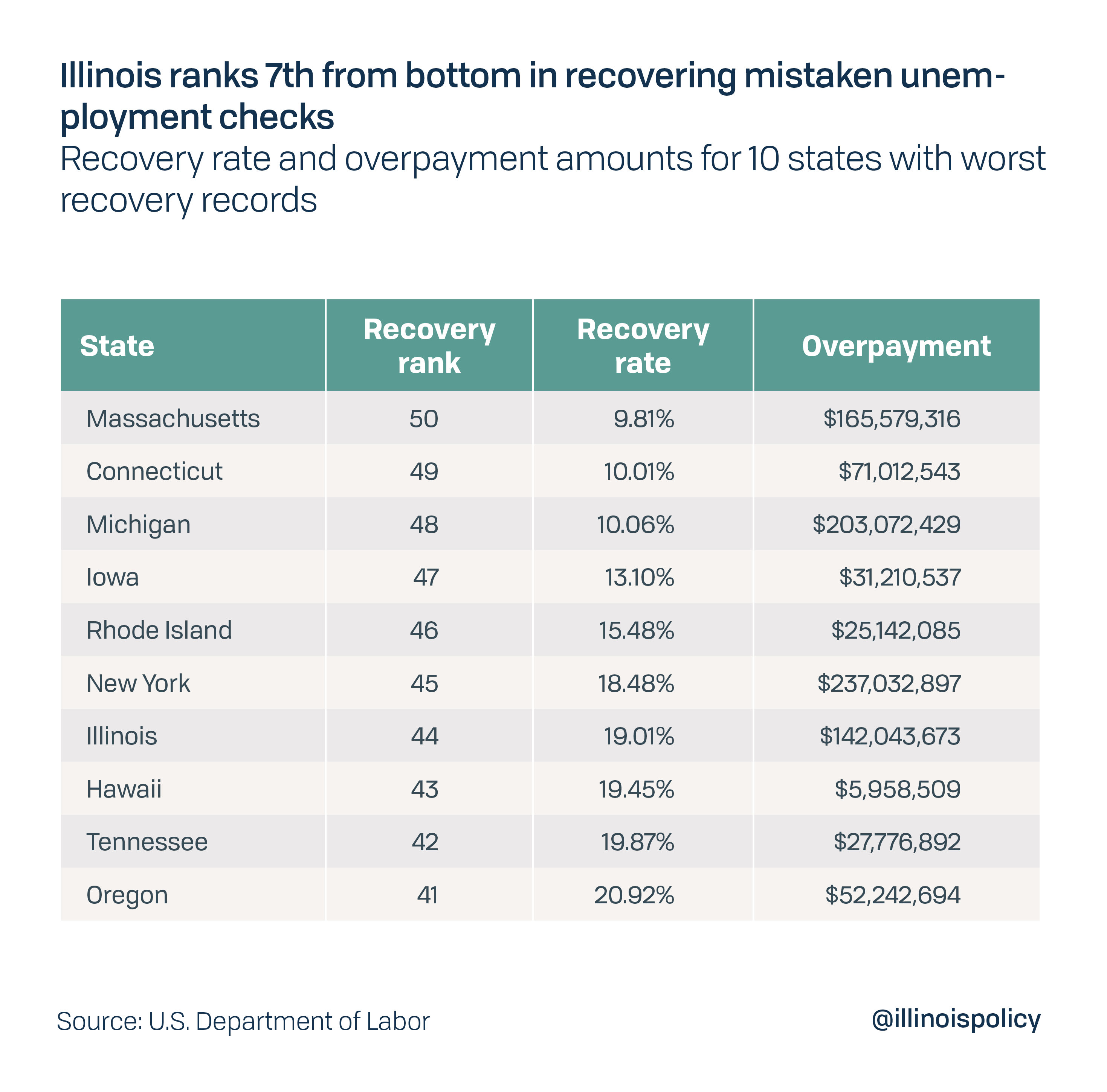 Overpayments occur when money goes to those who are ineligible or when eligible recipients are paid more than they are owed. Illinois never recovered $115 million in overpayments from last year.
Improper benefit payments and poor recovery rates are not a new problem for the state. From 2012 to 2016 Illinois collected just $264 million of $714 million in overpayments, according to the Chicago Tribune. The problem was bad enough that the federal government stepped in to help with management and record keeping.
The state agency responsible for the unemployment program, the Illinois Department of Employment Security (IDES), has failed to properly protect taxpayer funds in a number of ways, according to reports from the Illinois Auditor General.
In a 2019 financial audit, IDES received a total of five audit findings, three of which were in the most serious category. Among the findings were that the agency did not accurately track money owed to the department or money the department owed to others, sometimes resulting in improper accounting write-offs or overpayments. Similar issues were found in the 2018 financial audit.
Perhaps even more concerning to Illinoisans currently waiting for their unemployment benefits, a 2017 compliance audit – which checks to see if state agencies are meeting standards set by law – found IDES regularly failed to determine applicants' eligibility within the allowable 21 days.  Determinations were late in nearly a third of the cases examined by the auditor. Some claimants had to wait up to a month and a half beyond the initial three-week window before IDES even told them if they were eligible for benefits.
IDES has failed to determine eligibility in a timely manner since 2009, according to state auditors.
Timeliness is even more of a problem for independent contractors and the self-employed during the current economic shutdown. Congress expanded eligibility to include workers who are usually not eligible for unemployment and will pick up the cost, but Pritzker's administration failed to get the system up and running as quickly as other states.
Illinois' failure left some of the state's most vulnerable workers without any help until May 11, when IDES began accepting their applications and saw 44,000 on the first day.
Then on May 16 the governor's office admitted that new system for self-employed workers publicly exposed Social Security numbers and other private information from applicants. An investigation into the "glitch" is underway.
Mismanagement and waste are unfortunately not uncommon features of Illinois' government. But with unprecedented joblessness spreading across the state, in large part due to the government's own actions to combat COVID-19, residents deserve better.