Illinois unemployment rate hits low despite tepid jobs growth
Illinois' unemployment rate hit 3.9% in September – the first time in decades that the jobless rate went under 4%, according to data from the U.S. Bureau of Labor Statistics.
Illinois' unemployment rate hit 3.9% in September – the first time in decades that the jobless rate went under 4%, according to data from the U.S. Bureau of Labor Statistics.
Illinois' jobless rate has remained higher than the national average but followed the national trend. The national jobless rate was 3.5% in September, continuing to hit multi-decade lows after falling consistently during the past decade.
Illinois added 4,800 payroll jobs in September, according to data from the BLS. The September gain was offset by a 4,400-job downward revision for the month of August. The original August report showed a loss of 1,400 jobs, but the revision bumped the month's losses to 5,800 jobs.
Payroll jobs survey
Illinois' job gains and losses across 11 industrial sectors add up to give the total change of 4,800 jobs on the month, driven primarily by a pickup of 3,700 jobs in the Trade, Transportation and Utilities sector. Professional and Business Services gained 800 jobs. The largest sector of loss was 1,000 jobs in Manufacturing followed by 900 jobs in Education and Health Services.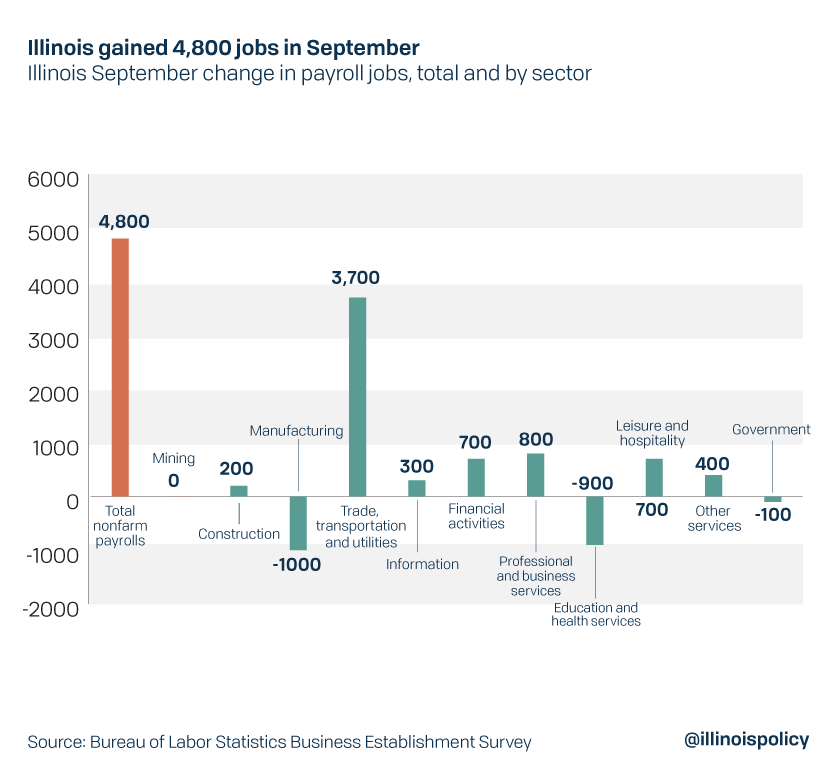 Household employment survey
Illinois' unemployment rate fell from 4% to 3.9% in September as a result of more Illinoisans finding work. The number of people working in Illinois grew by 7,978 while the number of people describing themselves as unemployed fell by 6,540. Overall, this means the labor force expanded mildly on the month by 1,438 people, while the composition of the labor force improved to have more people working and fewer people counting themselves as unemployed.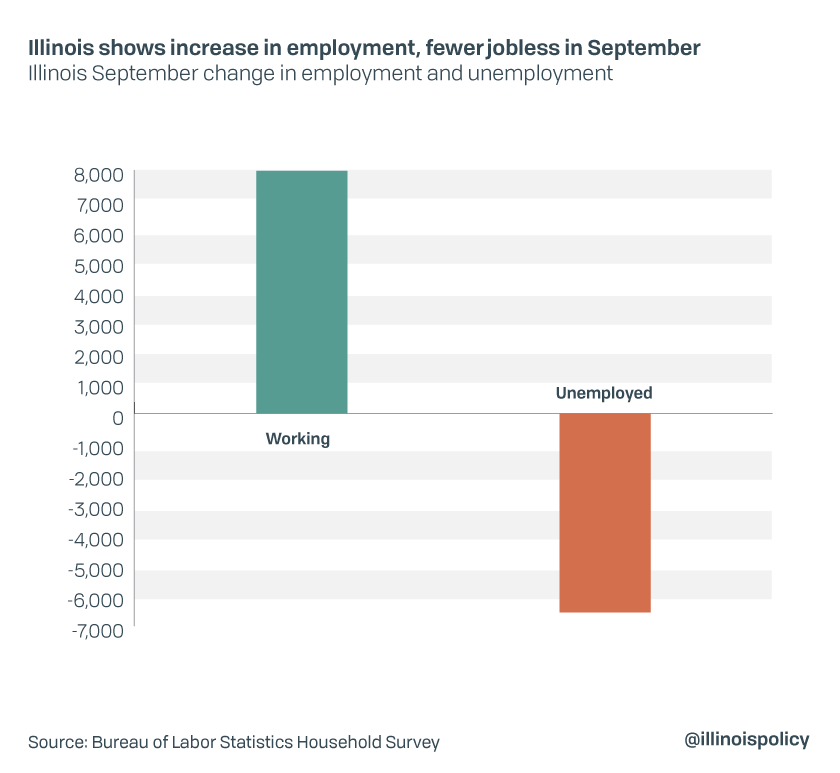 Trends
Illinois' labor force has shown consistent growth for a year, expanding by 42,800 people since September 2018. However, the undeniable multi-year trend is that Illinois' labor force has been shrinking. The Great Recession kicked off a decline in Illinois' labor force more than a decade ago. Even after Illinois' recovery began, the labor force never really bounced back and has instead continued in a mild downtrend.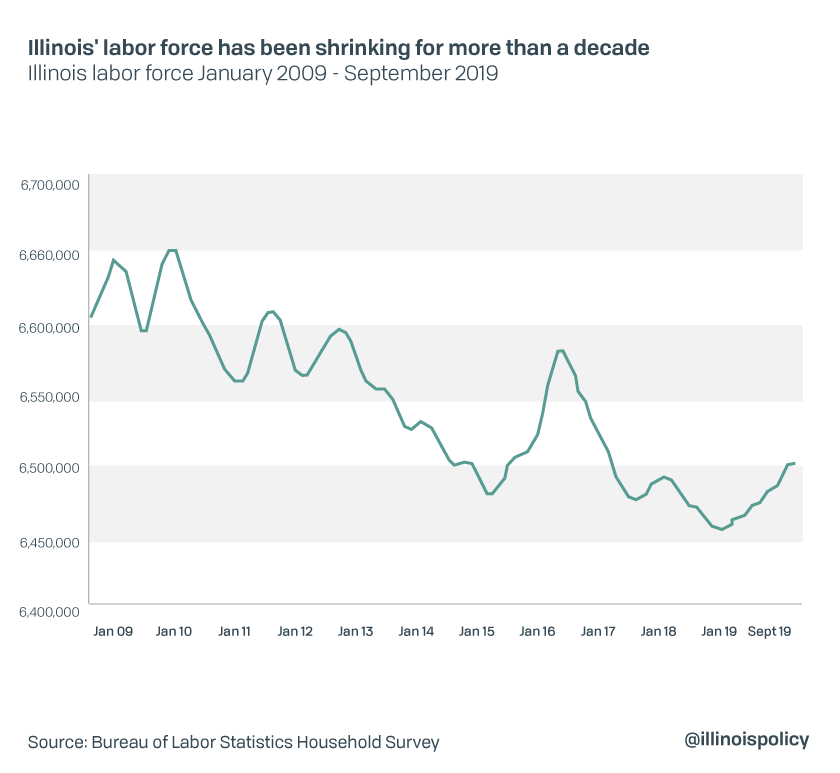 This trend concerns Illinois policymakers, and undoubtedly reflects the disturbing trend of working-age Illinoisans leaving the state for a new job and not being replaced by enough workers moving into the state. Illinois has failed to achieve broad-based economic growth to keep the labor force growing, and this trend is likely to continue as Illinois' relative economic weakness continues to sap the vigor of the state's labor force. Illinois is unique among Midwest states for its consistently shrinking labor force.
Another trend unfolding in Illinois is uneven growth between different job sectors, as white-collar sectors achieve better job growth while blue collar sectors have seen relative job stagnation.
For example, in September the state economy shed 1,000 Manufacturing sector jobs while adding 800 jobs in the Professional and Business Services sector. In this case, this one-month snapshot is reflective of the longer-term trend. During the course of the Great Recession, Illinois lost roughly 120,000 Manufacturing jobs and 90,000 Professional and Business Services jobs. Since the recession hit bottom nearly a decade ago, Illinois has added only 38,000 Manufacturing jobs while adding 186,000 Professional and Business Services jobs.
Another contrast is to look at Manufacturing jobs versus jobs in Leisure and Hospitality. Manufacturing has been surpassed by Leisure and Hospitality during the past decade for providing more jobs for the economy. This sector shift is driven to a national trend that has also been exacerbated by weakness in Illinois' manufacturing jobs recovery.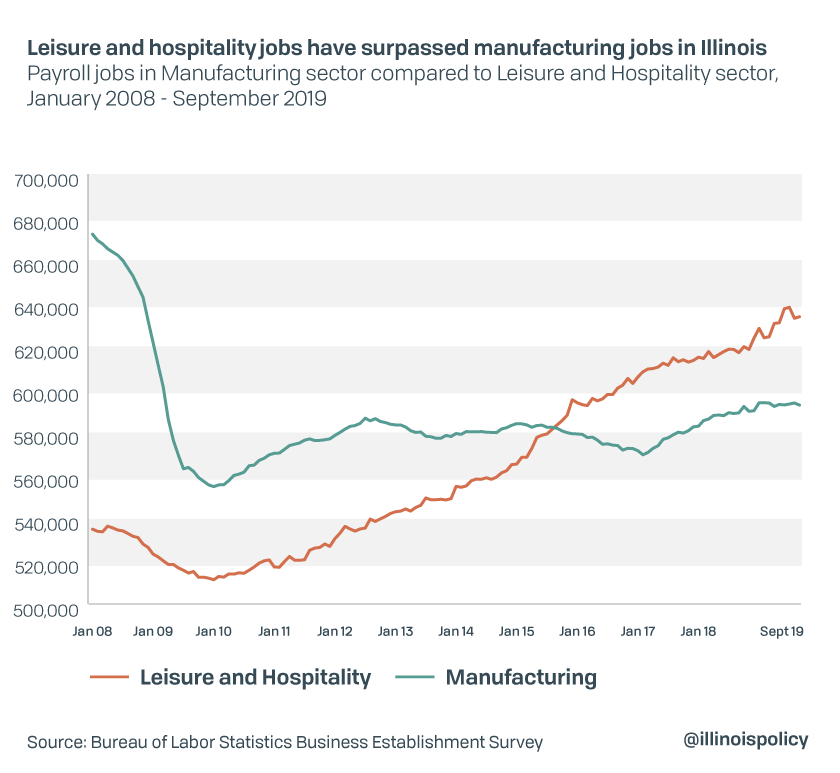 This trend is playing out across the country as a greater proportion of people work in desk jobs while a smaller proportion work in factory jobs. However, Illinois' trend is undoubtedly worse than normal for the region, as the state's tax and regulatory policies can acutely hamper hiring in the industrial economy.
The trend is not Illinois' friend on the jobs and growth front. There are pockets of strength in Illinois, in particular Chicago's attractive and booming downtown. However, these pockets of strength need to be leveraged into an economy that allows for broader-based growth.
America's global cities and urban cores have benefited from a strong period of secular growth in the age of globalization. That secular growth, particularly benefiting Chicago, has helped cover up some of Illinois' stagnation in other areas. Illinois' public finances, tax climate, and regulatory policies are a strong deterrent to the investment the state needs to achieve broad-based growth.
Rather than allowing this deterioration to continue, Illinois policy leaders should reverse another trend: that of passing into law more taxes and regulations that will stunt local hiring. The state's tax and economic policies should be oriented towards more economic growth rather than less, so Illinoisans can see more job opportunities and earn success closer to home.