Memorial Day brings extra pain at Illinois gas pumps
Millions of motorists will hit the road this Memorial Day weekend, an unfriendly reminder of skyrocketing gas prices. Illinoisans specifically pay the most for gas in the Midwest.
AAA's travel forecast estimates 39 million people will hit the road for Memorial Day weekend, 8% more than 2021, even though gas prices are more than $1.50 higher this year than in 2021.
Motorists traveling this weekend should keep on eye on gas price signs, particularly the drop once you cross into a state neighboring Illinois.
The average price of gas in Illinois us up to $4.97 – 37 cents higher than the national average of $4.60. The average cost of gas in every state neighboring Illinois sits below the national average. Missouri is 80 cents cheaper than Illinois' average.
Gas prices are boosted by Illinois' second-highest motor fuel tax in the nation. To fund Gov. J.B Pritzker's $45 billion capital plan, the gas tax doubled to 38 from 19 cents a gallon in 2019 and automatically increases every year.
Pritzker's election-year tax "relief" includes a six-month delay in the July 1 automatic gas tax increase. That means Illinois drivers face two tax hikes in 2013 – one on Jan. 1 and another on July 1 – expected to hit 45.2 cents per gallon a little more than a year from now.
The state gas tax is not the only tax and fee applied to fuel in Illinois. Chicago residents pay even more – $1.18 in taxes and fees – which is why gas that would retail for $4.22 a gallon costs $5.40.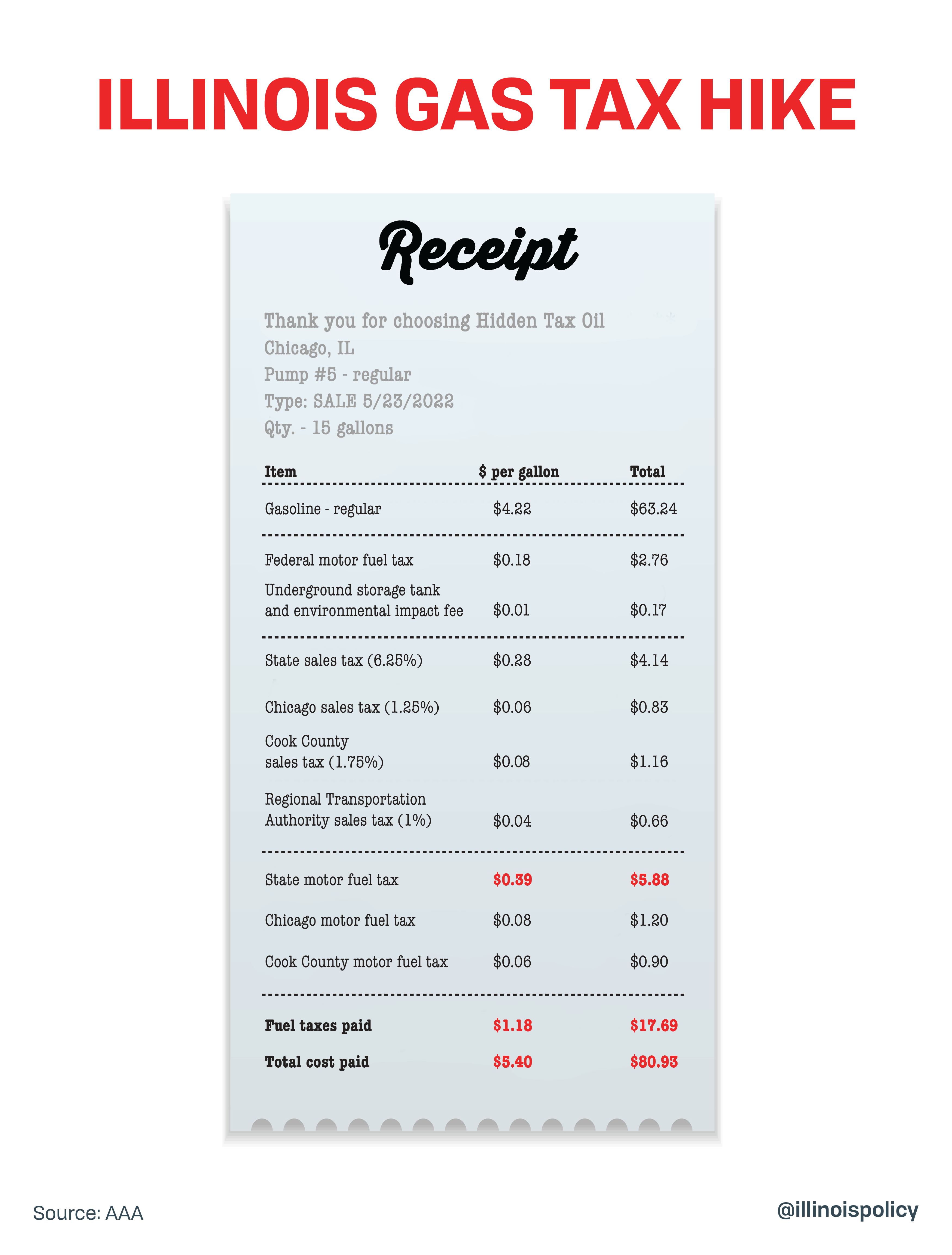 If you have enough in the tank to make it across state lines, filling up outside of Illinois will spare you some extra cash for the holiday weekend. It will also send a message to state politicians that you object to them squeezing cash from your car – especially atop record prices.
Sign the petition
Stop Pritzker's automatic gas tax hikes
Sign our petition to put an end to Gov. Pritzker's annual gas tax hikes – and pledge to vote in the 2022 election.
Learn More >