The Policy Shop: Where have all the (ex-)Illinoisans gone?
The Policy Shop: Where have all the (ex-)Illinoisans gone?
This week's The Policy Shop is by Bryce Hill, director of fiscal and economic research for the Illinois Policy Institute.
We all know someone who's left Illinois … or talks about it. What's shocking is how deep the negative outlook on the state of Illinois runs. New polling shows 51% of Illinoisans want to leave, with high taxes as the No. 1 reason.
These aren't empty threats. Census data show Illinois' population declined by a record 104,437 residents from July 2021-July 2022, driven entirely by people leaving Illinois for other states. Illinois' population declined for the ninth consecutive year in 2022. That same new data shows just 41% of Illinoisans polled said they'd stay in Illinois.
Something's gotta give if we want to fix Illinois' people problem.
The breakdown. When asked to give an open-ended answer on why they would leave, 36% of the people who said they'd move if given the opportunity cited high taxes as the reason, followed by 17% who cited crime and public safety, and 12% who cited the cost of living. Just 10% cited weather, so the sometimes-dreary Midwestern weather isn't to blame. Traditionally, the major reasons Illinoisans are choosing to leave the state have been for better housing and employment opportunities, both of which have been made worse by poor public policy in Illinois.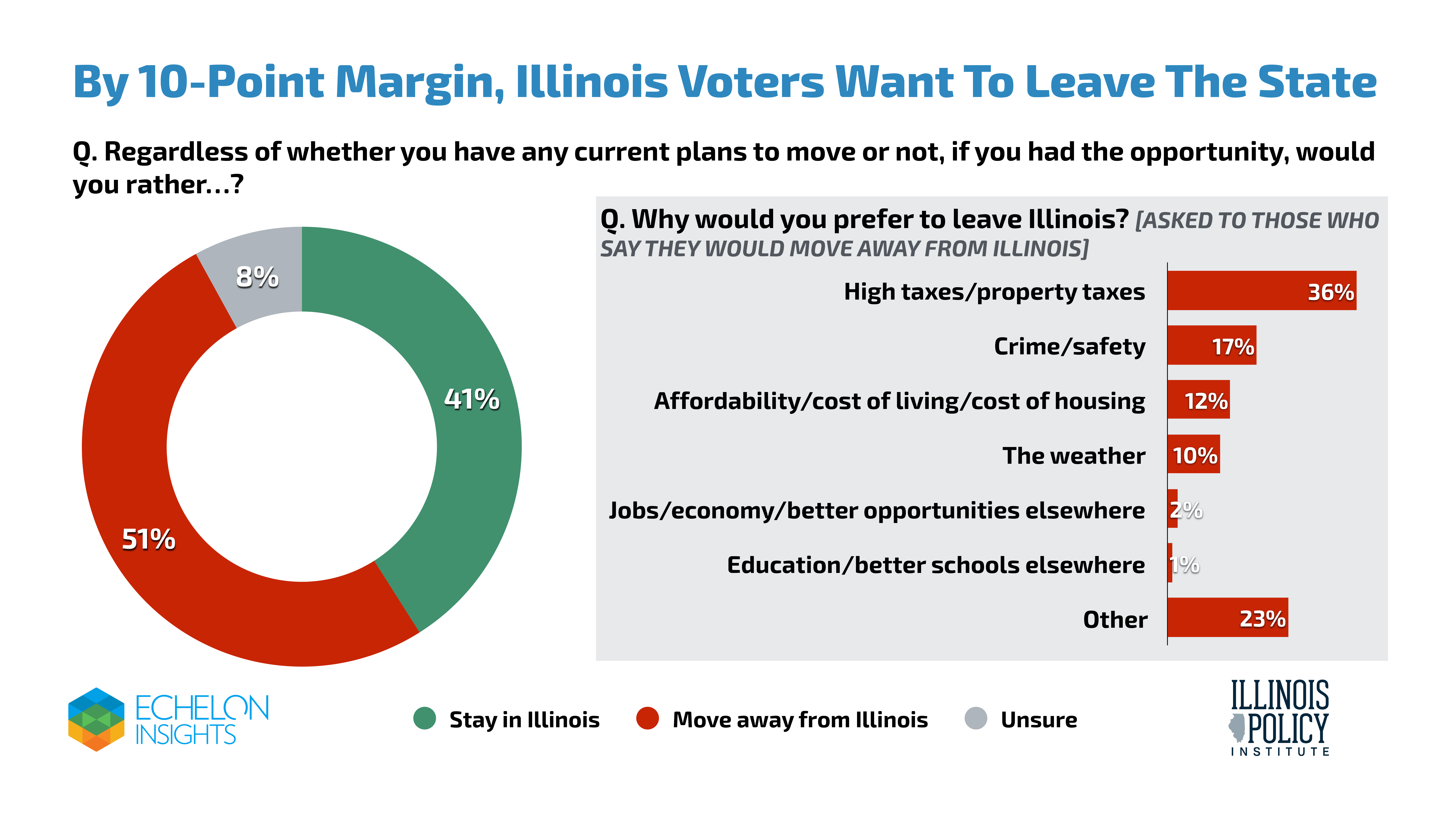 The top five states that drew new residents each had total effective tax rates of 9.9% or lower. Illinois state and local governments took 12.9% of all the money made during 2022 in the state as taxes.
The breakdown of the breakdown. Desire to leave Illinois varies across demographics.
Location: Most people who would leave live outside of Chicago: 57% of non-Chicagoans would leave. Only 30% of Chicagoans would leave.
Age: Illinoisans ages 40-49 are the likeliest to want to leave
Income: Across incomes, more people said they'd leave Illinois than stay, with the only exception being people from households earning $50,000-$74,000 per year. Those earning $75,000 to $99,000 want to leave the state at a 2-1 ratio.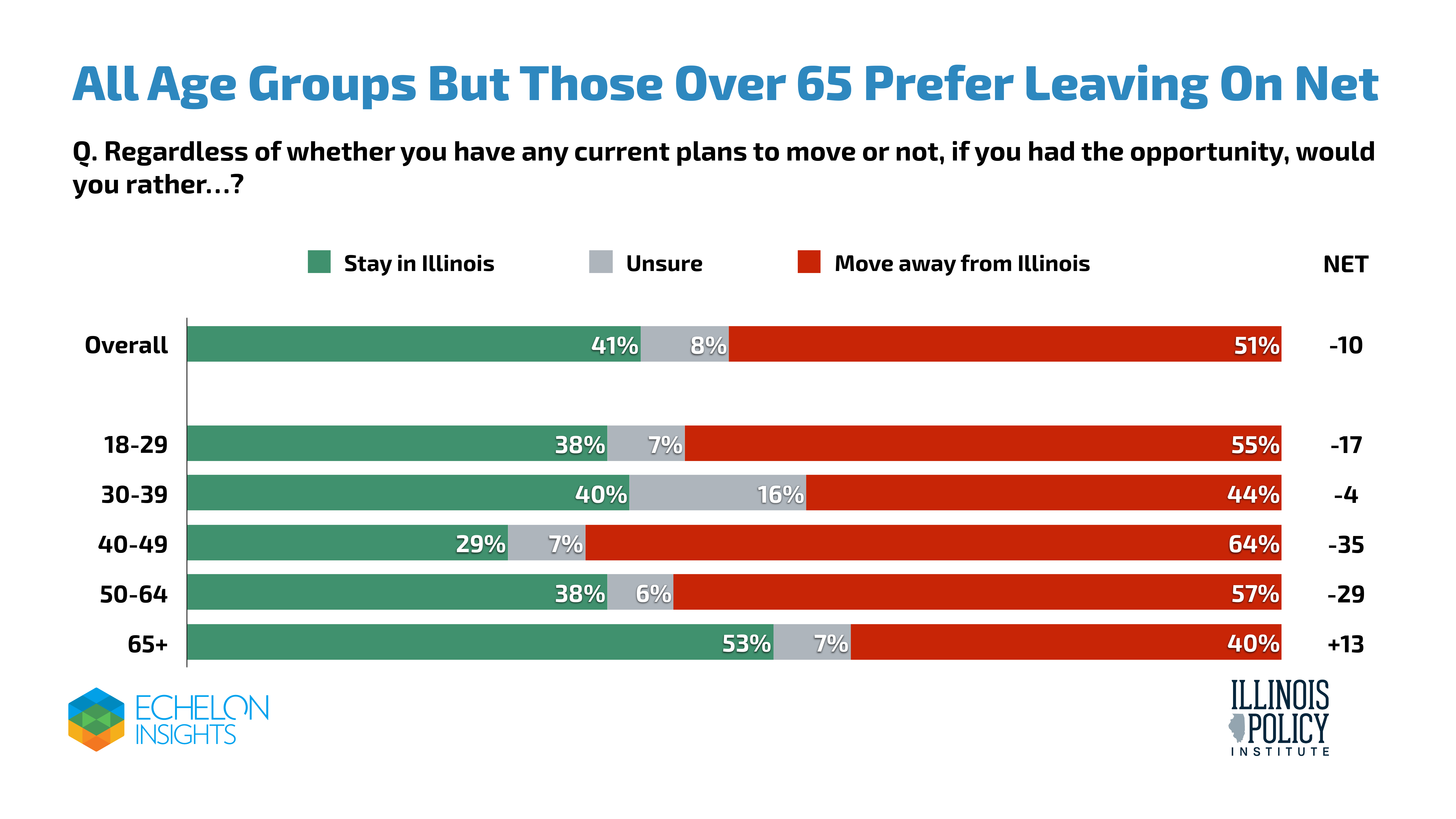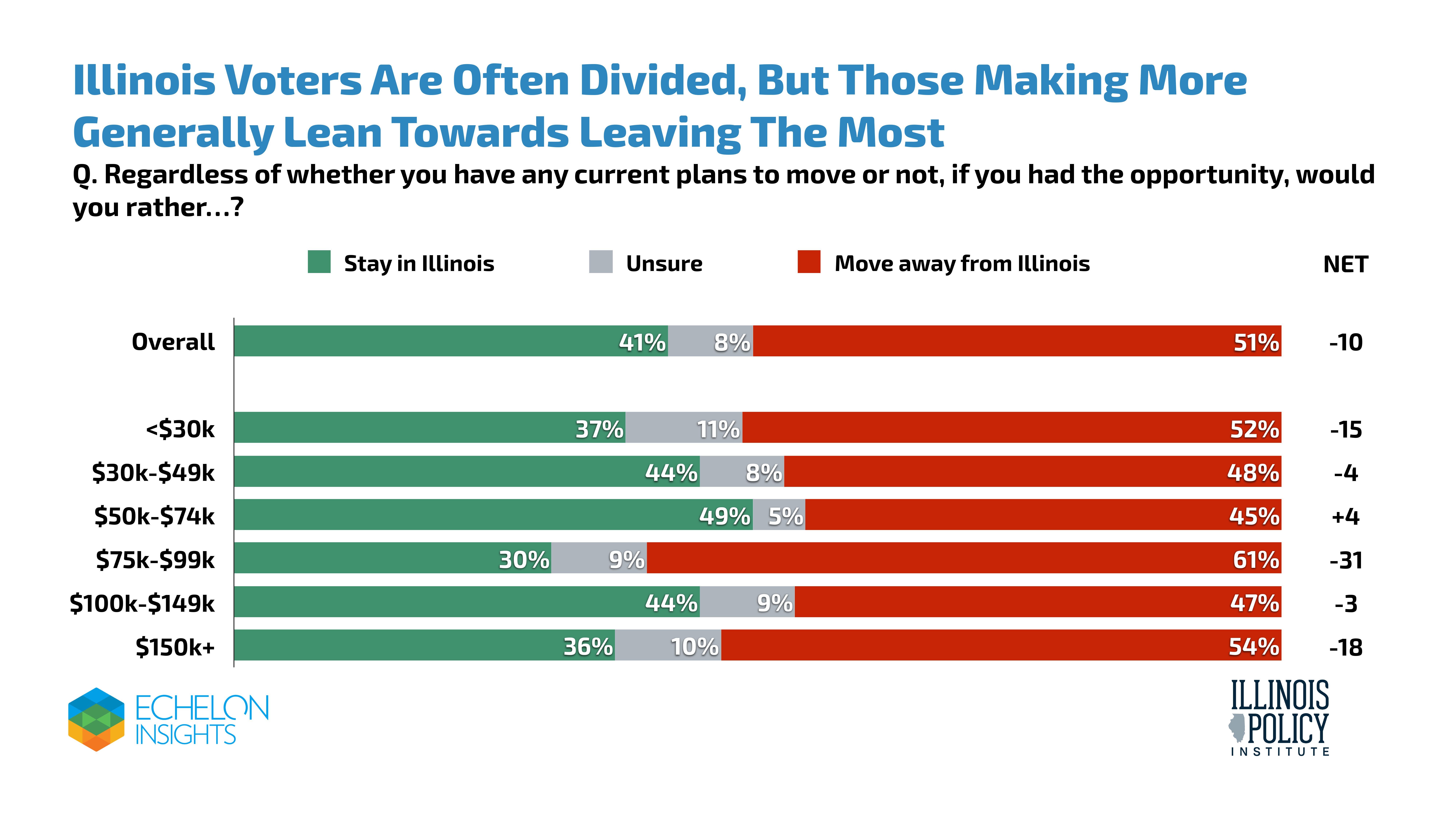 The consequences. Illinoisans' lack of confidence in their home state is incredibly concerning, and it's a trend state leaders need to take seriously. When the largest group of folks saying they want to leave is made up of prime, working-age adults, that's bad for our workforce and our economy. This should be a wake-up call to the state's leaders, who refuse to adopt policies that would make it easier for residents to stay in Illinois. Reforms that would ease Illinoisans' tax burden or reduce arduous business regulations are needed to make the state more affordable and stop the departures.