The Policy Shop: Who'll be Chicago's next mayor?
The Policy Shop: Who'll be Chicago's next mayor?
This week's The Policy Shop is by the Illinois Policy Institute's Bryce Hill, director of fiscal and economic research, and Mailee Smith, senior director of labor policy and staff attorney.
In this episode of "Choose Chicago's Next Mayor," a runoff election April 4 raises major concerns about the future of the city. Stay tuned to see the answers to all your pressing questions such as: Will the economy sink or swim? Will public education continue its downward spiral, or will we finally get our acts together for Chicago students? And … what about property taxes?!
Although it may feel like a bad reality show sometimes, it's no joke the quality of life for many in Chicago is far below where it could be. That's why voters need to head into the runoff election with eyes wide open about Chicago.
The economy: More than 25% of potential voters said the economy is a top issue mayoral candidates should be addressing. Chicago's budget is facing huge deficits. Most recently, the city reported a $127.9 million budget deficit for this year, which it closed through fund sweeps, increased revenue projections and additional one-time revenue enhancements. Still, despite closing the 2023 budget gap, the city's most recent budget projections forecast budget deficits up to $1 billion in fiscal years 2024 and 2025. Even under the most optimistic projections, the city projects large deficits of $266 million to $306
Pension debt: The city of Chicago had more pension debt than 41 other states as of July 2022. Its growing debt has led to serious spikes in city property taxes in recent years, while straining the city budget. Public-sector unions have poured millions into the mayoral race. Over 95% – more than $7.2 million as of March 14 – of Brandon Johnson's funding is from 15 unions, with the majority coming from teachers unions.
Taxes: Chicagoans already pay some of the highest taxes in the nation. Among the 15 most populous cities in America, Chicago's 911 surcharge, wireless taxes, amusement tax, soft drink tax, bottled water tax, cigarette tax, parking tax, ridesharing fees and homesharing fees were the highest in the country as recently as 2018. Chicago's total combined state and local sales tax rate is second highest in the nation. Property taxes have ballooned for homeowners and businesses. During the past 10 years, Chicago's property tax levy has doubled, growing from $860 million to more than $1.7 billion in 2023.
No wonder 70% of Chicagoans support a property tax freeze, and 52% of city residents polled said they want to lower business taxes.
Education: Chicago students are struggling to read and do math. Nearly 80% of Chicago 11th graders could not read or perform math at grade level, according to state data from 2022. Nearly half of Chicago Public Schools students are chronically absent. Illinois' statewide average SAT scores declined by 10 points in reading and 13 points in math from 2021 to 2022.  Since 2019, before the pandemic, the average statewide SAT score in Illinois has dropped 11 points in reading and 23 in math.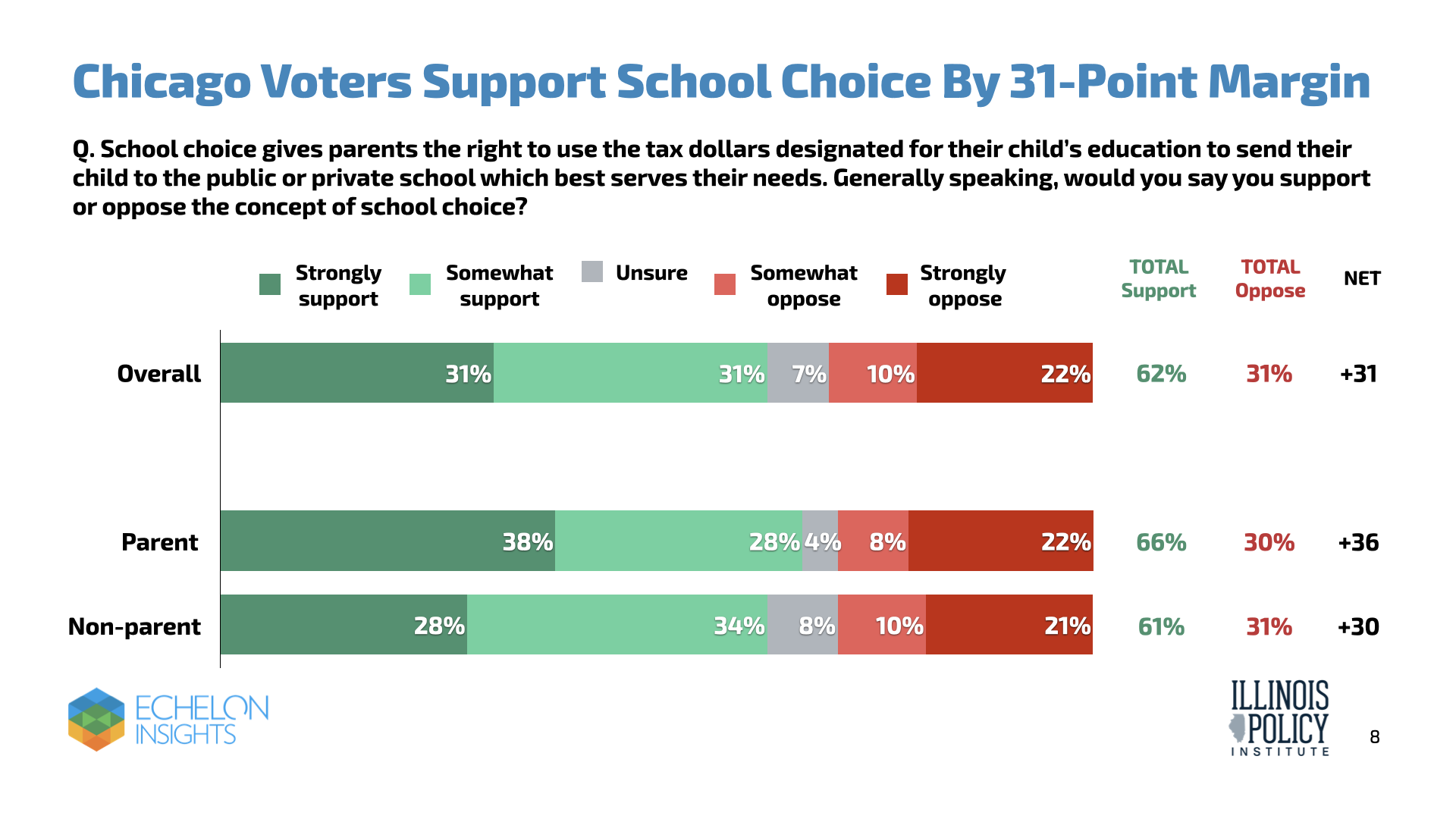 Just 33% of Chicagoans are satisfied with public education in Chicago. Meanwhile, 62% of Chicagoans support school choice.
Crime: Another Chicago stereotype that is nothing to laugh about is the crime rate. It is causing city dwellers to leave.
Chicago failed to find itself among the Top 10 in a recent analysis of the most dangerous cities in the nation, but crime still tops the list of concerns facing voters, according to a recent poll. Crime in Chicago overall has increased during the past five years by nearly 20%, according to a report by the Chicago Police Department. The year-over-year change in crime was even greater last year. Between 2021 and 2022, overall crime in Chicago increased by 41%, after crime had decreased each year in 2019 and 2020 and slightly increased in 2021.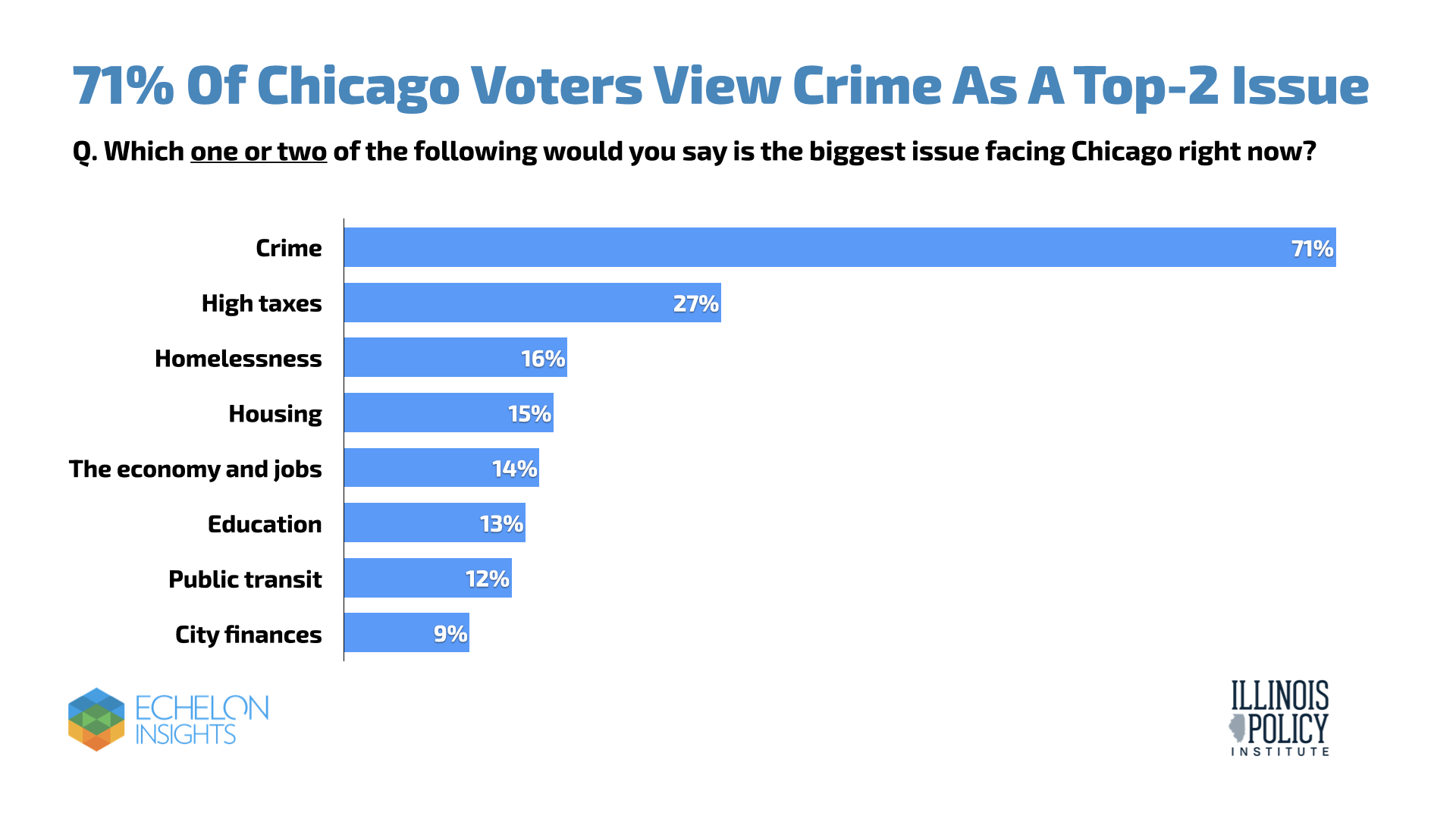 Whatever issue is your top concern as a voter, make sure you have all the information you need to determine where candidates will make an impact with their policies for Chicago.