Illinois has only recovered 2% of jobs lost by black workers and 1% of jobs lost by Hispanic workers while white workers saw 13% of jobs return
PRESS RELEASE from the
ILLINOIS POLICY INSTITUTE
MEDIA CONTACT: Rachel Wittel (312) 607-4977
Black, Hispanic workers saw far weaker employment rebound despite suffering heaviest job losses
Illinois has only recovered 2% of jobs lost by black workers and 1% of jobs lost by Hispanic workers while white workers saw 13% of jobs return
CHICAGO (June 18, 2020) – Gov. J.B. Pritzker's prolonged state-mandated lockdown is hitting minorities the hardest. While Illinois saw 62,200 people return to work in May, or a 1.2% increase in employment, black and Hispanic workers are experiencing the weakest jobs rebound in the state.According to Illinois Policy Institute analysis, black and Hispanic workers in Illinois have only recovered 2% and 1%, respectively, of all job losses from the pandemic's economic fallout, even after suffering the worst unemployment rates. White workers have regained 13% of all COVID-19 induced job losses.
Analysis shows the state's raw jobless claims remain four times higher than normal each week, as Illinois' leisure and hospitality sector suffers the heaviest losses. The leisure and hospitality industry has lost 287,300, or 46%, of their total payrolls since February.
U.S. Department of Labor data shows 44,639 Illinoisans filed for unemployment in the week ending June 13, bringing the total new jobless claims to 1.29 million since COVID-19 started impacting Illinois' economy.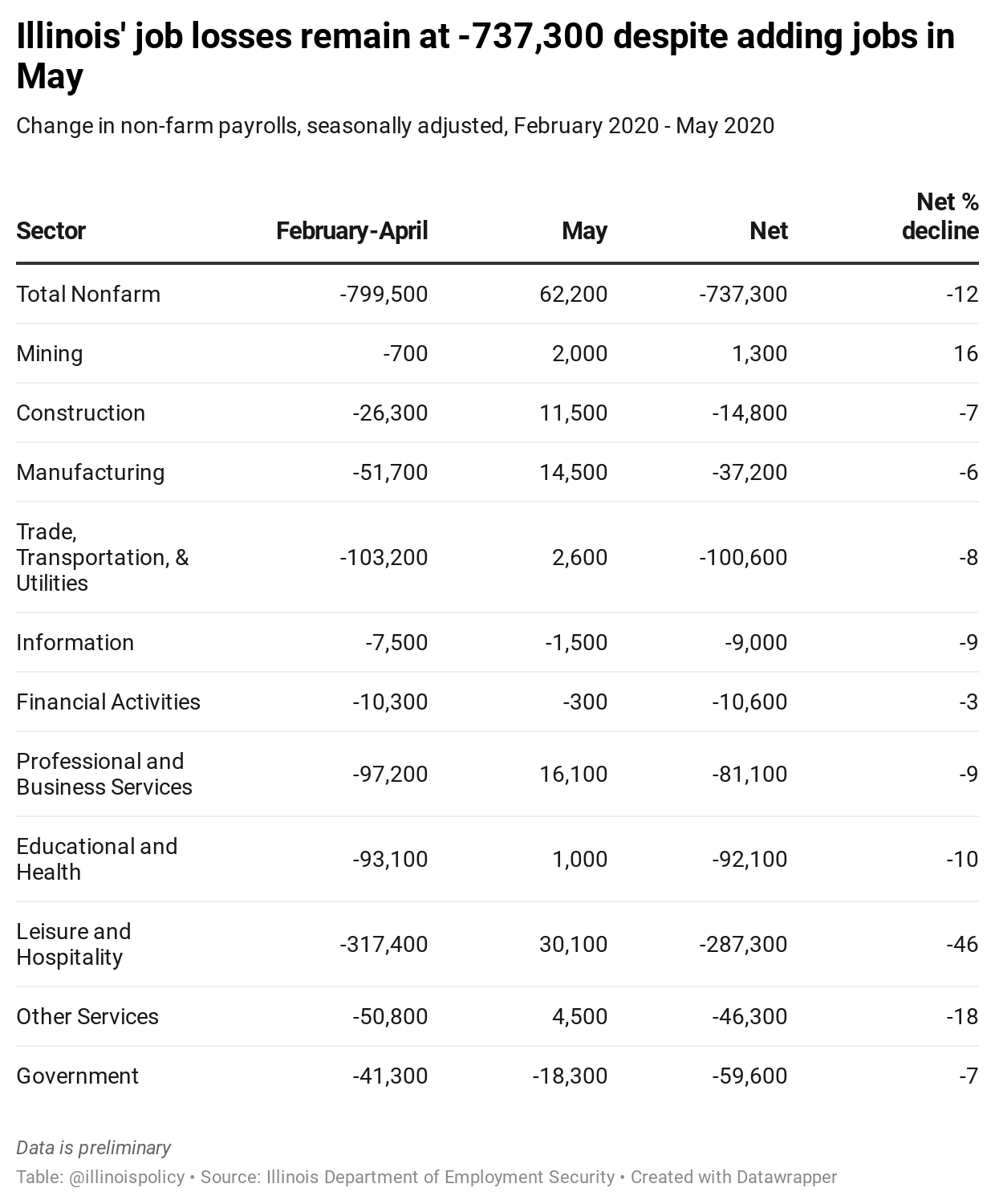 Orphe Divounguy, chief economist at the nonpartisan Illinois Policy Institute, offered the following statement:  
"Despite a small rebound in employment, Illinois' prolonged lockdown means that a large majority of the job losses could become permanent. Black and Hispanic residents have suffered more severe job losses, and many of those jobs aren't coming back.
"As many Illinoisans begin to fall behind on housing and other monthly costs, they need a governor who will put their needs first – that means working with local governments to provide property tax relief to homeowners and businesses. It also means not raising the income tax on small businesses, Illinois' engine for job creation."
For bookings or interviews, contact media@illinoispolicy.org or (312) 607-4977.