Illinoisans cite public safety, high taxes as biggest issues facing Illinois, according to new poll
PRESS RELEASE from the
ILLINOIS POLICY INSTITUTE
CONTACT: Micky Horstman (312) 607-4977
Illinois Policy Institute announces Lincoln Poll to gauge pulse on key voter issues 
Illinoisans cite public safety, high taxes as biggest issues facing Illinois, according to new poll
CHICAGO (July 19, 2023) – As part of its work advocating on behalf of taxpayers across the state, the Illinois Policy Institute has introduced the Lincoln Poll, a recurring survey identifying key issues in Illinois and monitoring what residents care about.
In the latest poll, conducted June 26-29 by Echelon Insights, voters ranked crime and public safety as their chief concern, followed by high taxes, housing affordability and government corruption.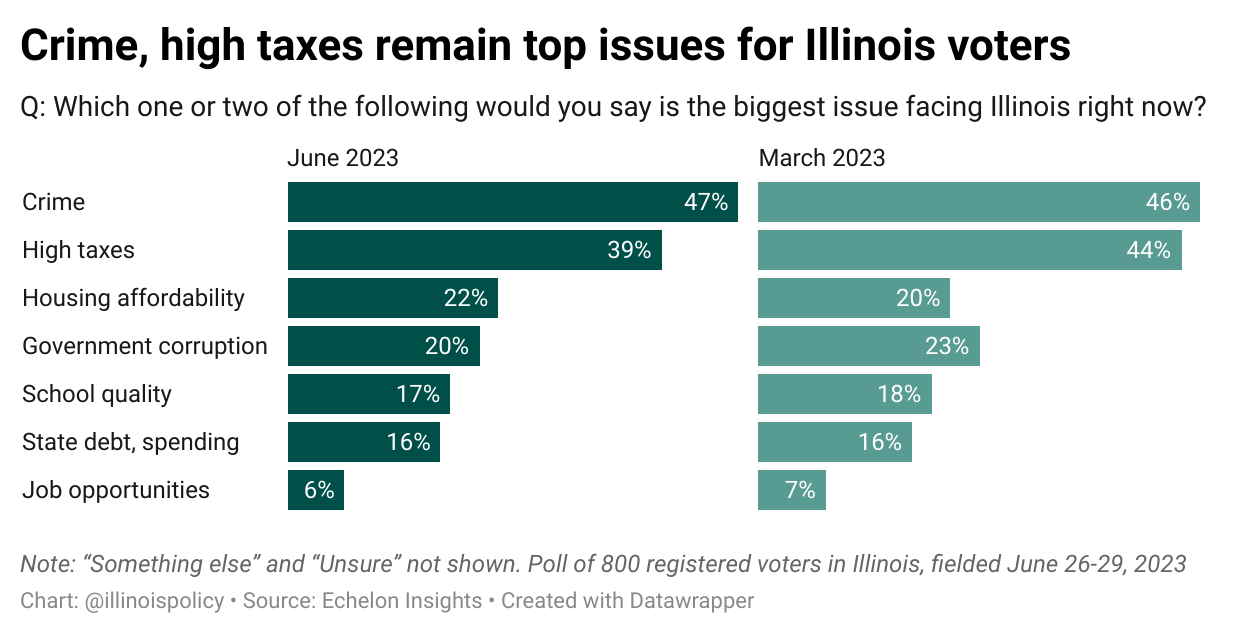 "Public policy and lawmaking should reflect Illinoisans' concerns. The Lincoln Poll will ensure lawmakers and state leaders have a clearer picture of where voters stand on issues and how policy is affecting ordinary people," said Amy Korte, executive vice president at the Illinois Policy Institute. "It's clear public safety is a major theme among Illinoisans today. And our polling reveals high taxes and affordability are also key areas of concern."
When asked about the grocery tax, which resumed July 1 after a one-year suspension, 70% of respondents support repealing the tax. Illinois is one of just 13 states to impose a grocery tax.
Similarly, for every Illinoisan who supports the state's annual gas tax increase, more than three oppose it. 76% of low-income (under $30,000) Illinoisans support eliminating the annual gas tax increase.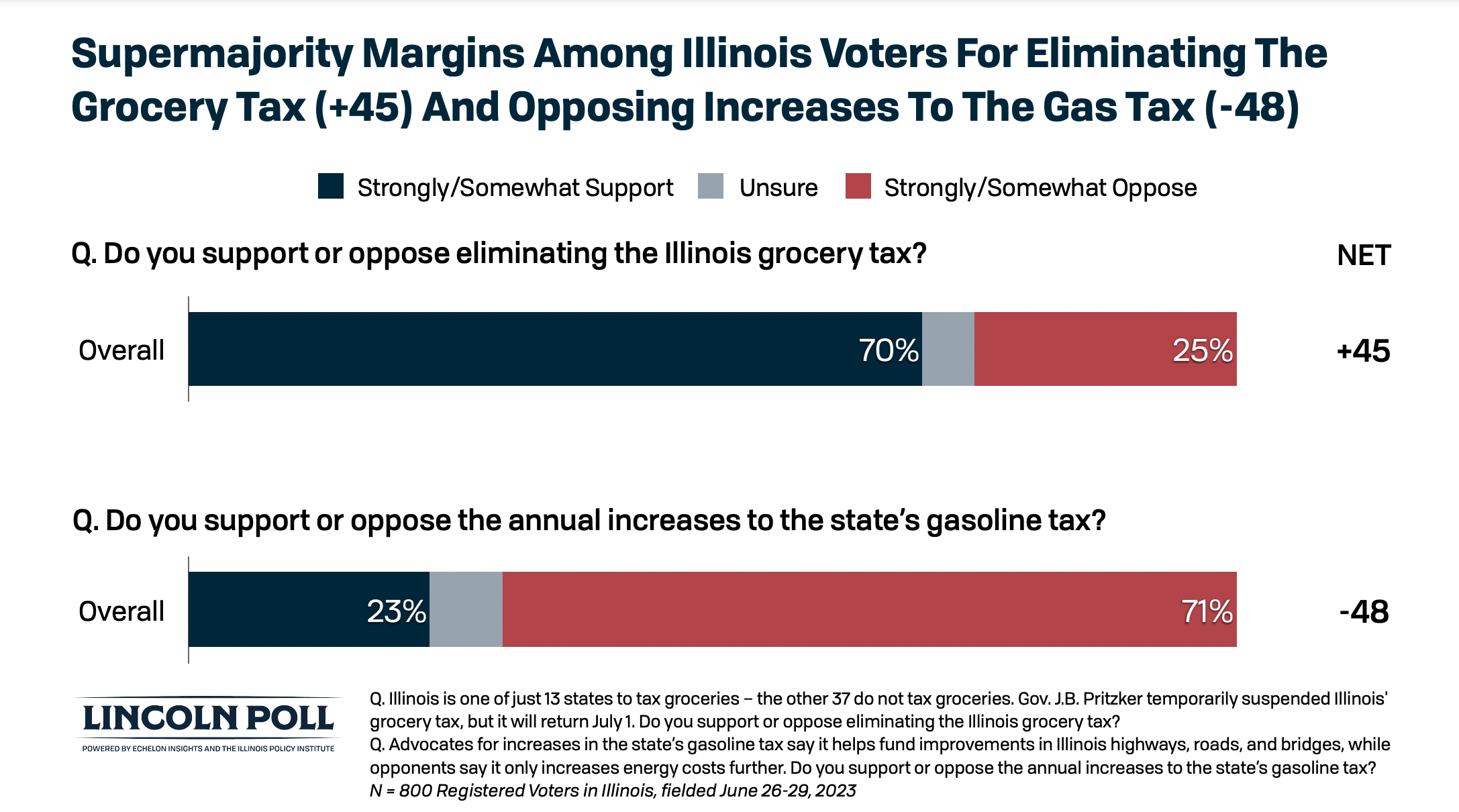 "To address Illinois residents' top concerns, state and local lawmakers need to implement comprehensive solutions for public safety and ease the growing tax burden on struggling residents," Korte said.
Top Lincoln Poll findings include:
Overall
69% of state residents are worried about the possibility of a recession in the next 12 months.
Concerns about crime, high taxes and government corruption remain high.
Education
Support for school choice remains high in Illinois with 64% of Illinoisans supporting it.
63% specifically support the Invest in Kids scholarship program for low-income students, which has bipartisan appeal. The scholarship program is set to expire at the end of 2023, unless lawmakers renew it.
Echelon Insights surveyed 800 registered voters in Illinois between June 26-29, 2023, with a 4.6% margin of error.
Poll toplines are available here.
Poll crosstabs are available here.
For interviews or interviews, contact media@illinoispolicy.org or (312) 607-4977.