Chicagoans cite public safety, high taxes and homelessness as biggest issues facing the city
PRESS RELEASE from the
ILLINOIS POLICY INSTITUTE
CONTACT: Micky Horstman (312) 607-4977
Lincoln Poll: Chicago Mayor Johnson favorability very low 6 months into term
Chicagoans cite public safety, high taxes and homelessness as biggest issues facing the city
CHICAGO (Nov. 15, 2023) – In the first polling since Mayor Brandon Johnson's inauguration six months ago, responses indicate his administration is off to a rocky start. The Illinois Policy Institute's newest Lincoln Poll, released today, found Johnson's approval rating sits at just 28%, while 50% of polled Chicago voters disapprove of his actions so far.
Johnson has the lowest approval rating for a new mayor. Only three times since 1979 has a Chicago mayor's approval rating fallen below 30%: Mayor Rahm Emanuel following the Laquan McDonald scandal, former Mayor Lori Lightfoot in the same month she placed third in the mayoral election and Brandon Johnson six months into his term.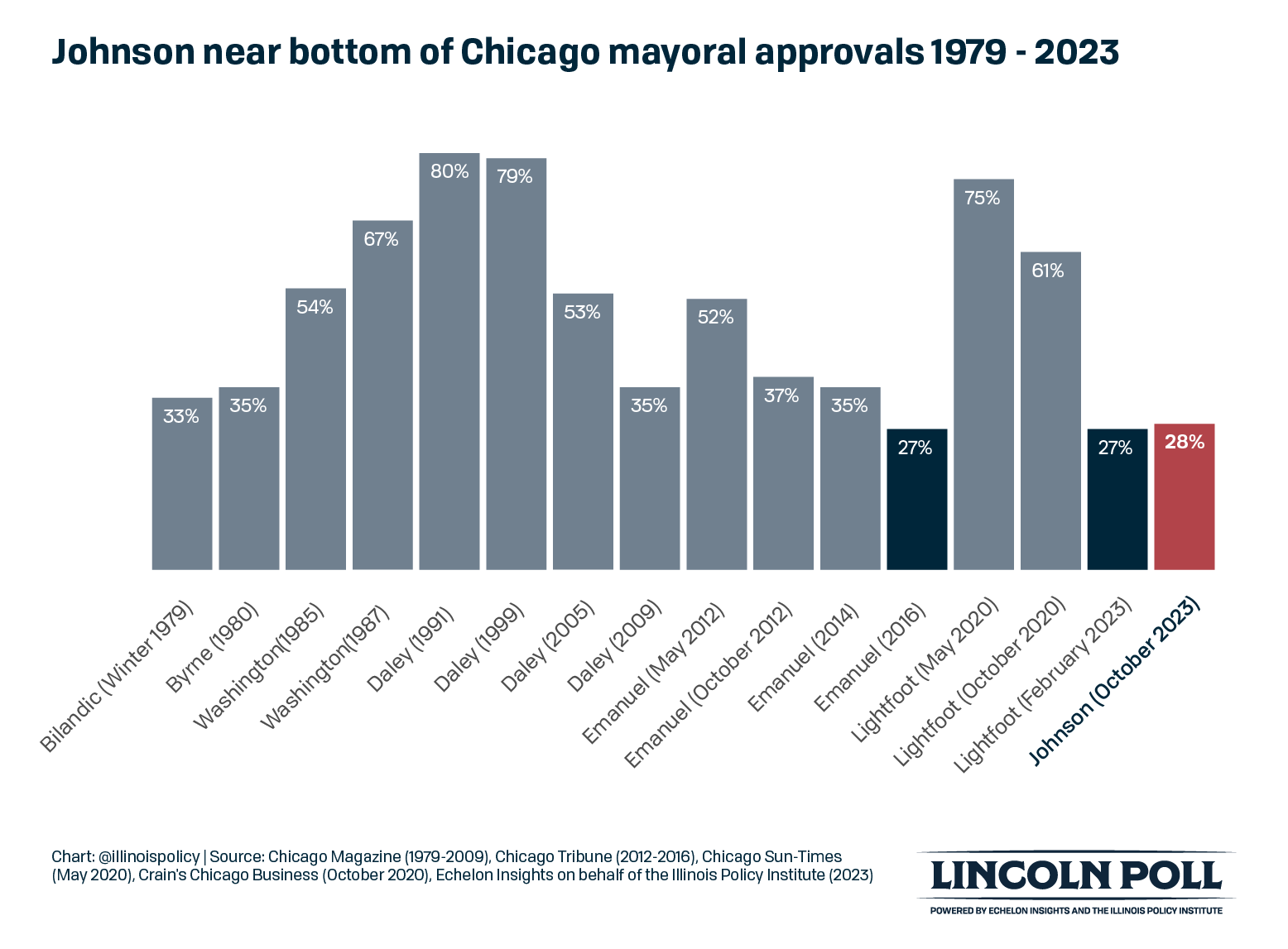 "Six months into the new administration, these poll results are a call from Chicagoans to Mayor Johnson to change course. Chicago is a world-class city, and the mayor's office has a great opportunity to solve issues that would make it more appealing to live here," said Josh Bandoch, head of policy for the Illinois Policy Institute. "Fortunately, Chicagoans are also pointing the way forward for the mayor. Mayor Johnson can regain popular support by focusing on lowering crime, lowering taxes and making the city more attractive for businesses."
In the latest poll, voters ranked crime as their primary concern, followed by high taxes, homelessness and housing.
Lincoln Poll findings: 
69% of respondents said crime was the biggest issue facing the city, with 52% of Chicagoans strongly disapproving of Johnson's approach to crime.
6 in 1 voters support a larger police presence than what currently exists. Johnson and his administration haven't taken any actionable steps to fill the over 1,000 police vacancies that have piled up.
Chicagoans oppose the real estate tax hike on the March ballot on net 46%-42%.
63% of Chicagoans polled oppose Johnson's plan to shelter homeless migrants in heated tents for the winter.
The Lincoln Poll was conducted for the Illinois Policy Institute by Echelon Insights, which surveyed 800 registered voters in Illinois between Oct. 18-22, 2023, with a 4.4% margin of error.
Poll toplines are available here.
Poll crosstabs are available here.
For interviews or interviews, contact media@illinoispolicy.org or (312) 607-4977.