Pritzker 'fair tax' would drop Illinois business climate to 48th in nation
Illinois' business tax climate would rank ahead of only California and New Jersey under a progressive tax. Hurt small businesses, and you hurt the jobs market.
Under Illinois Gov. J.B. Pritzker's progressive tax proposal, Illinois' business tax climate ranking would plummet to 48th in the nation, beating out only California and New Jersey on the nonpartisan Tax Foundation's State Business Tax Climate Index.
That index measures state tax competitiveness and structure. It is especially concerning for Illinoisans seeking work, given that small businesses create nearly two-thirds of the state's new jobs.
"Were Pritzker's proposal adopted, Illinois would trail its peers in just about every aspect of its tax code," the Tax Foundation wrote. Illinois ranks 36th for its business tax climate without the progressive tax.
Pritzker campaigned on a pledge to amend the Illinois Constitution to allow a progressive income tax. He recently released proposed rates that top out at 7.95 percent for individuals and 10.45 percent for businesses.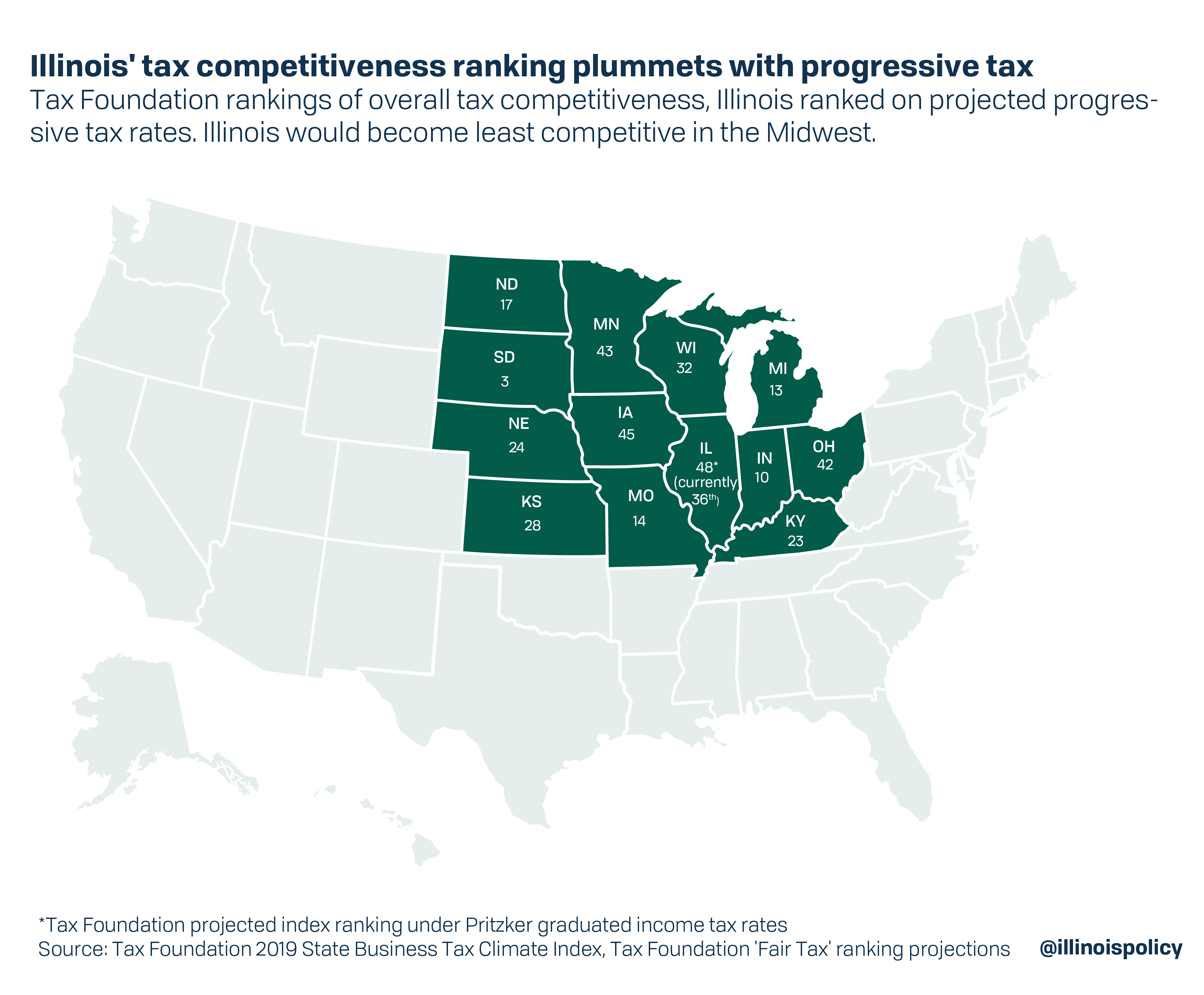 The individual income tax ranking component of the index would see the largest decline in ranking under Pritzker's plan. According to the Tax Foundation, the current individual flat income tax – ranked 13th in the nation – is one of the state's "few saving graces." Pritzker's progressive tax proposal would see it decline to 44th in the nation.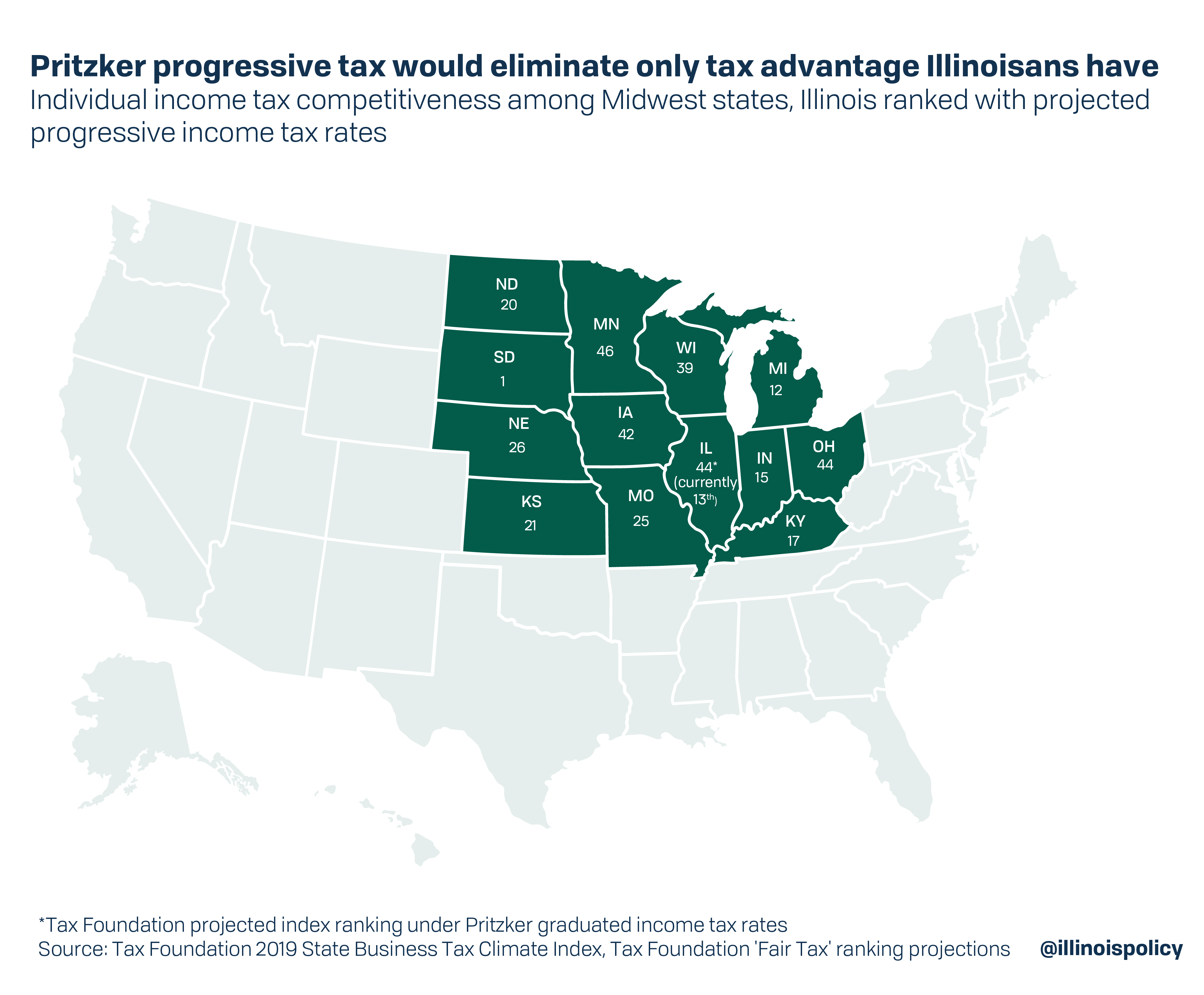 Additionally, the state's already poor corporate income tax ranking would decline from 39th to 42nd under the proposed progressive tax structure.
The Prairie State's private sector job growth was less than 1 percent in 2018, ranking it at 46th out of 50 states. Nationwide, labor markets picked up steam throughout 2018, but Illinois lagged in jobs growth. The rest of the nation added private sector jobs at more than double the rate of Illinois.
The state's weak labor market has been the primary reason for people moving away since 2006, accounting for 57 percent of Illinois' net migration losses to other states.
As neighboring states continue moving toward more attractive tax rate structures, the push toward a progressive tax in Illinois is also prodding business owners to ponder a move across state lines. "As soon as it increases … there's no reason to have our corporate headquarters in Illinois," said Matt Schrimpf, owner of Piasa Motor Fuels LLC, headquartered near Alton, Illinois. "That's not sustainable. It's my job, it's any business owner's job, to give the company and the employees the best chance of sustainability."
Despite being marketed as a magic bullet solution, Pritzker's progressive tax would depress already lackluster job growth and exacerbate the outmigration crisis – without meaningfully helping the state's finances. The Tax Foundation warns, "If businesses and individuals are leaving the state now, these policies can only make the problem worse."
Sign the petition
Stop the progressive income tax
Sign the petition today to tell your lawmaker to oppose the progressive income tax.
Learn More >