Pritzker gas tax hike would cost average driver $100 more per year
Illinoisans would end up paying more at the pump under Gov. J.B. Pritzker's proposed capital plan.
Gov. J.B. Pritzker is proposing a capital plan that would double the state' gas tax to 38 cents from 19 cents per gallon, amounting to an estimated $1.2 billion tax hike.
The average driver in Illinois drives 12,921 miles each year, and the average vehicle nationwide consumes one gallon of gasoline for every 24.7 miles traveled. As of May 28, the average gas price in Illinois was $2.96 per gallon, 14 cents higher than the national average, according to the American Automobile Association.
Based on those numbers, Illinoisans would pay $100 more a year under a 38-cents-per-gallon state gas tax.
A draft of Pritzker's proposed capital plan claims Illinois has "one of the lowest motor fuel taxes in the nation." This is misleading. When adding up the layers of taxes and fees Illinoisans pay on gas, Illinois drivers pay the 10th-highest total gas tax burden in the nation, according to the Tax Foundation.
One reason for this is that Illinois is one of just seven states where drivers pay layers of both gas taxes and general sales taxes at the state and local levels.
For example, Chicagoans get hosed with gas taxes imposed by the city, state and Cook County, in addition to each layer of sales taxes and other special fees.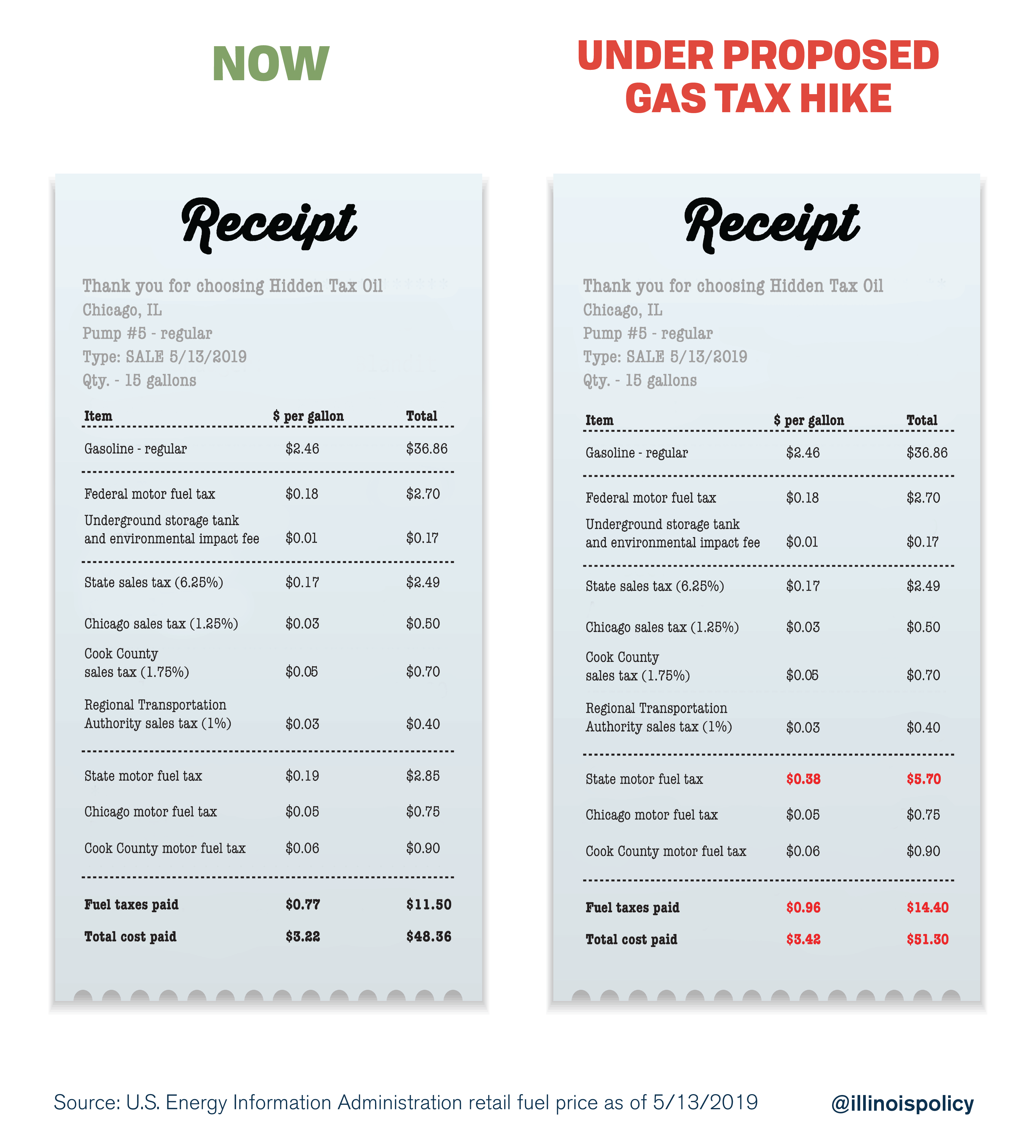 Residents of DuPage, Kane, and McHenry counties impose a four-cent gas tax atop the state's tax and any municipal gas taxes. Cities and villages such as Decatur, Highland Park, Belvidere, Niles, Schaumburg and Bloomington also impose their own taxes and fees on gas, the latter of which recently doubled its local motor fuel tax. All Illinois drivers pay sales taxes on top of their gas taxes.
A doubled gas tax would only worsen Illinois drivers' already-high gas tax burden. Illinoisans simply cannot afford the series of new and increased taxes and fees included in Pritzker's proposal.
State leaders would be wise to instead consider a an alternative, $10 billion capital plan released by the Illinois Policy Institute, which would enable the state to fix its roads, trim waste on pork projects and avoid taking a penny more from drivers at the pump.
Illinois motorists deserve improved roads and bridges without enduring another steep tax hike.