Southwestern Illinois loses big chunk of population, with one exception
One Illinois county in the greater St. Louis area is losing so many residents it ranks No. 5 nationwide for population loss. Its neighboring county was one of the few in Illinois to grow.
Bob Elmore lives in one of the few Illinois counties that is growing. Some of his new neighbors are coming from the bordering county, which is losing residents so fast that it ranks fifth nationally for population loss.
"We've had 30 families move into my area. Half of them are from out of state. Before Christmas, we had six move in from Missouri," said Elmore, who lives in Waterloo, Illinois, and is chairman of the Monroe County Board of Commissioners. "A lot of people moved in from St. Clair County."
Illinois is shedding population, with 93 of its 102 counties losing population between July 2010 and July 2018, according to new U.S. Census Bureau estimates. Monroe County was the only Illinois county in the St. Louis area to grow, adding 1,338 residents during that period for a total population of 34,335.
Next door is St. Clair County, which ranks No. 5 in the U.S. for percentage of population lost among counties with over 250,000 residents. Its population shrank by 3.4% since 2010, for a total of nearly 9,300 people.
What's the difference?
"We have very low crime, although we do have some drug activity. We have very good schools, and folks like the small-town atmosphere," Elmore said. "Still, we're close to St. Louis and all the big-city amenities."
That includes jobs, and easy access to them in Missouri. Monroe County is just across the Mississippi River from St. Louis, and is linked by Interstate 255 and the Jefferson Barracks Bridge.
"You can see the line of cars across the bridge every morning and evening," Elmore said.
St. Clair County is even closer to downtown St. Louis and has lots of bridge capacity, but is losing residents at a national pace. Madison County also borders St. Louis and has multiple bridges to Missouri. Since 2010, Madison County lost nearly 4,900 people, or 1.8% of its population, ranking 15th among large counties for percentage of population decline.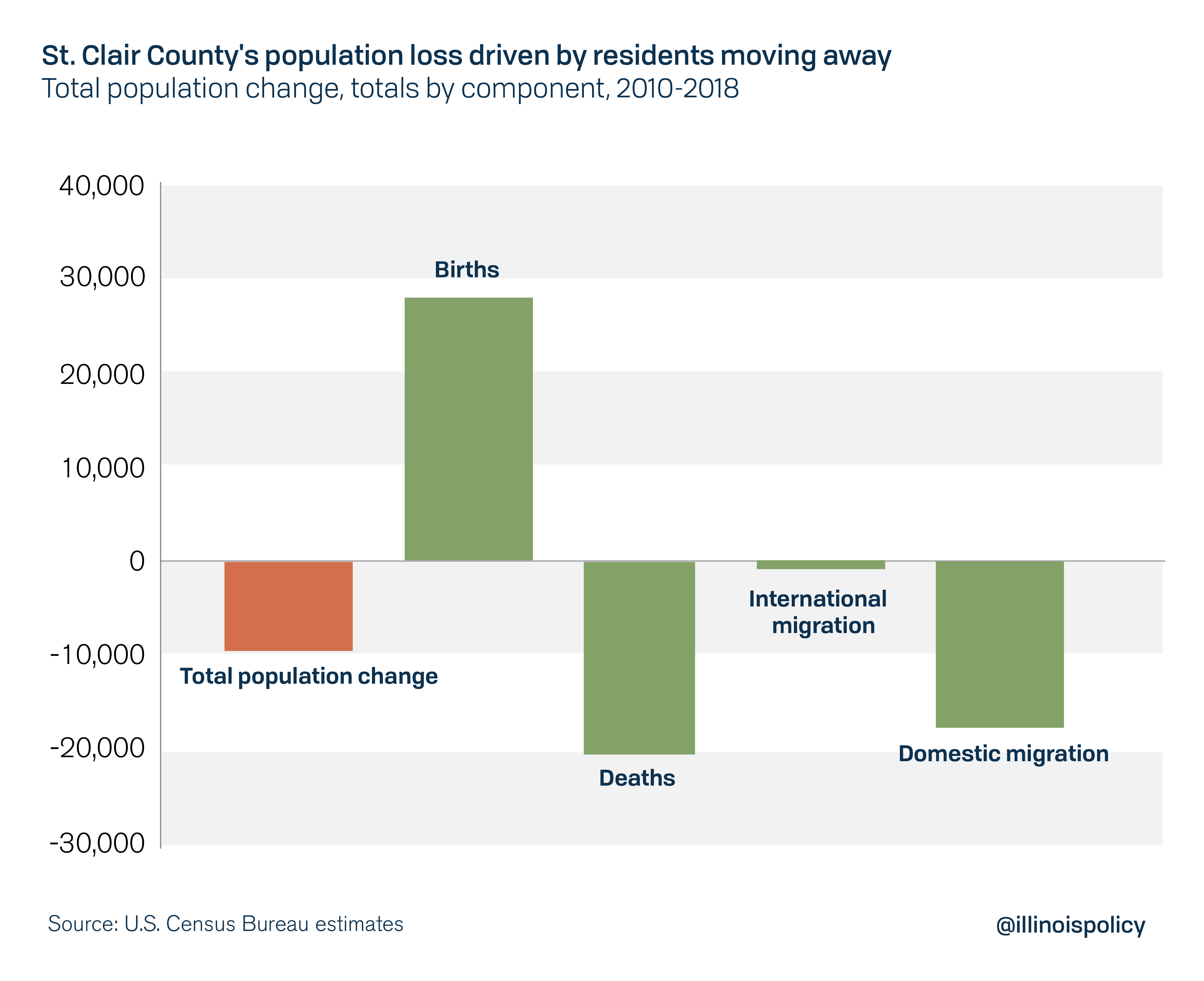 So it's not necessarily location, location, location. Instead, it might be taxation, taxation, taxation.
When asked, Illinois residents consistently cite high taxes as the No. 1 reason they consider moving out.
Overall, Illinoisans pay the second-highest property taxes in the nation, as a percentage of home value, according to a recent ATTOM Data Solutions report. Illinois' average effective property tax rate of 2.22% was close to double the 1.16% U.S. average, according to ATTOM.
Elmore said Monroe County residents complain about property taxes, too, but the taxes are lower than the Illinois average in his county. Residents are seeing taxes go to public services they value.
Monroe County residents in 2018 on average paid 1.96% of their home value in property taxes. The average bill was $3,818 for the county's average single-family home worth just under $195,200, according to ATTOM.
Madison County property taxes were slightly below the state average, with residents paying 2.12% of their home value, or $2,937 in taxes on homes averaging $138,268.
If state and county leaders want to stop the exodus that has made Illinois the only state to lose population five years in a row, they must acknowledge the reason residents are moving out. High taxes crush jobs, and a lack of jobs causes working-age residents to move.
April 24 was Tax Freedom Day in Illinois, when Illinoisans finished working to pay all their federal, state and local taxes. That's eight days longer than the national average and only six rankings from the bottom. As bad as Illinois taxation is now, it could get worse.
Gov. J.B. Pritzker pledged to remove the Illinois Constitution's protection of a flat state income tax. It doesn't take a poll or estimate or study to forecast what will happen next: Illinoisans will wave goodbye to their neighbors, and those who stay behind will say "hello" to a growing tax burden.