Suspending state energy assistance opens door for reform in Illinois
With the right reforms, Illinois can provide energy assistance to people who need it without using scarce state dollars.
After Illinois politicians passed a state budget that's nearly $4 billion out of balance, Gov. Bruce Rauner announced a series of program changes designed to better manage the state's fiscal affairs.
Among those changes is the suspension of the State Low Income Home Energy Assistance Program, or SLIHEAP. This program provides assistance to help low-income persons pay their heating or cooling utility bills, and also funds weatherization to help low-income households better insulate their homes to reduce energy costs.
The state funding suspension would free up about $100 million in annual revenue, plus an estimated unobligated fund balance of about $65 million. Money from the corresponding federal energy assistance program would continue to flow to Illinoisans in need of help.
This reform is a good one for a few reasons: First, Illinois is an assistance outlier, meaning that its offerings are quite generous compared to most other states. Second, the program is in desperate need of reform, particularly to root out waste, fraud and abuse. Furthermore, utility providers have indicated a willingness to provide additional relief to needy customers.
With the right reforms, Illinois can move toward providing energy assistance to people who need it without using scare state taxpayer dollars.
Program background
Revenue for the State Low Income Home Energy Assistance Program, or SLIHEAP, is derived from charges assessed on public utility companies and is used to supplement funding of the federal Low Income Home Energy Assistance Program, or LIHEAP. The governor's budget book estimates federal revenue of $330 million for fiscal year 2016, meaning the program will continue despite suspending the state money.
Because the assessments are passed through to utility customers and are earmarked for LIHEAP, it will be necessary for the Illinois General Assembly to pass legislation transferring the balance to the General Revenue Fund. Once the state gets its spending under control, the General Assembly may consider repealing the tax because – as deeper analysis reveals – the state program is largely unnecessary.
The Department of Commerce and Economic Opportunity, or DCEO, farms out administration of the program to 35 community action agencies, or CAAs. The DCEO allocates the money among the CAAs, which handle the intake of applications using instructions and procedures prescribed by the department.
Hardly any other state augments LIHEAP to the same degree
All states participate in LIHEAP, but hardly any other state augments the program the way Illinois does.
A survey of state programs on the LIHEAP Clearinghouse – a federal website of the U.S. Department of the Health and Human Services – shows 42 states have no LIHEAP supplement at all. Those 42 states rely on the federal program, general assistance, local programs, utility ratepayer assistance and charitable programs in varying combinations. Two of those states – New York and Virginia – use sales-tax exemptions: New York recipients of public assistance are exempt from paying sales tax on utility bills, and fuel deliveries in Virginia are exempt from the state sales tax for those individuals qualifying for LIHEAP.
Of the remaining seven states that do augment the federal program, Nevada's program most closely resembles what Illinois has. It imposes a tax on gas and electric utility customers that raises about $10 million annually, 75 percent of which is targeted to supplement LIHEAP by providing grants to help ratepayers pay their utility bills.
Connecticut also comes close. It supplements LIHEAP but uses its state money to assist households with income above the threshold of the federal program, which Connecticut sets at 60 percent of the state median income.
Colorado, Florida and Wyoming also supplement the federal program, but unlike Illinois, they limit the state program to seniors and those with disabilities. New Jersey also limits its program to seniors and individuals with disabilities but also has a universal service fund to lower bills for households with incomes less than 175 percent of the federal poverty level. This universal service fund is similar to Ohio's program, which mandates utility companies provide lower electric and gas bills to households with incomes less than 150 percent of the poverty level. Finally, North Dakota limits its state program for vouchers up to $300 for the purchase of fans and window air conditioner units.
Illinois is particularly generous compared to neighbors
Data from the LIHEAP Clearinghouse show Illinois has one of the more generous programs when it comes assistance in paying utility bills. When compared to its neighboring states – Indiana, Kentucky, Missouri, Iowa and Wisconsin – only Wisconsin exceeds Illinois in generosity. The table below shows the maximum benefits for these states.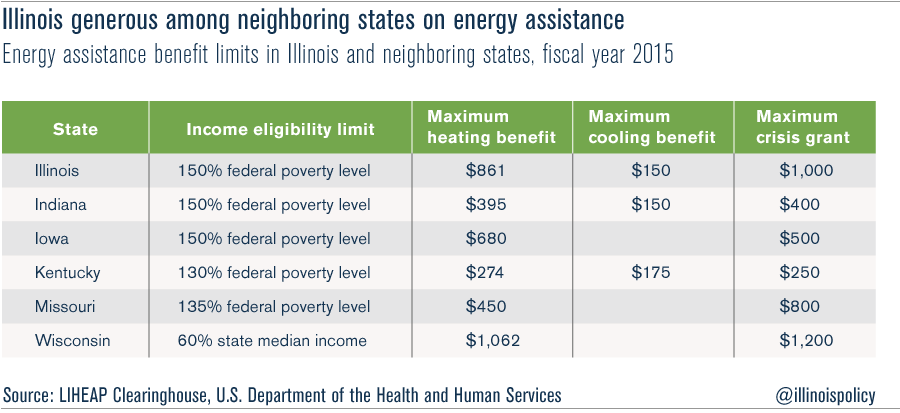 Illinois' energy assistance program is ripe for reform
Illinois' DCEO is failing to utilize control measures necessary to prevent fraud. A 2010 audit from the U.S. Government Accountability Office, or GAO, shows Illinois does not conduct adequately the following measures:
Validating applicant and household member information with the Social Security Administration
Checking death record files
Checking for incarcerated individuals
Verifying reported income using outside sources
Checking for long-term care patients
The GAO identified a number of instances where Illinois households that did not qualify for the program, either because the recipient was dead or made too much money, received hundreds of dollars in benefits.
In 2011 and 2012, audits by the Illinois auditor general found the LIHEAP program had an inadequate process to follow up on monitoring findings. Also in 2011, LIHEAP had inaccurate financial-status reports and failed to report sub-awards. In 2013, the Illinois auditor general found LIHEAP had inaccurate reporting of federal expenditures.
In response to the GAO report, the U.S. Department of Health and Human Services has taken steps to interject program integrity into LIHEAP programs, and as required, the DCEO has filed program-integrity supplements to its state plan. But despite efforts made by the department to improve its procedures, it's not clear whether the problems have been fixed. Improving program integrity should be a priority of both the new administration and the legislature.
SLIHEAP alternatives available
Alternatives to state energy assistance already exist in Illinois, such as utility ratepayer assistance and charitable programs.
Utility companies have several different programs that provide assistance to ratepayers.
First, there is the percentage-of-income payment plan that allows customers to pay based on a percentage of their income and also receive reductions in payments for on-time payments. In addition, utility companies have residential hardship funds where customers can receive grants to help with utility bills. The Good Samaritan Initiative — which is run by the Department of Healthcare and Family Services — allows restoration of service by paying only 20 percent or $250 of the remaining balance. ComEd has programs for households with military deployment and disabled veterans and also a hardship program for nonprofit organizations. Springfield City Water, Light & Power has a senior-citizen discount.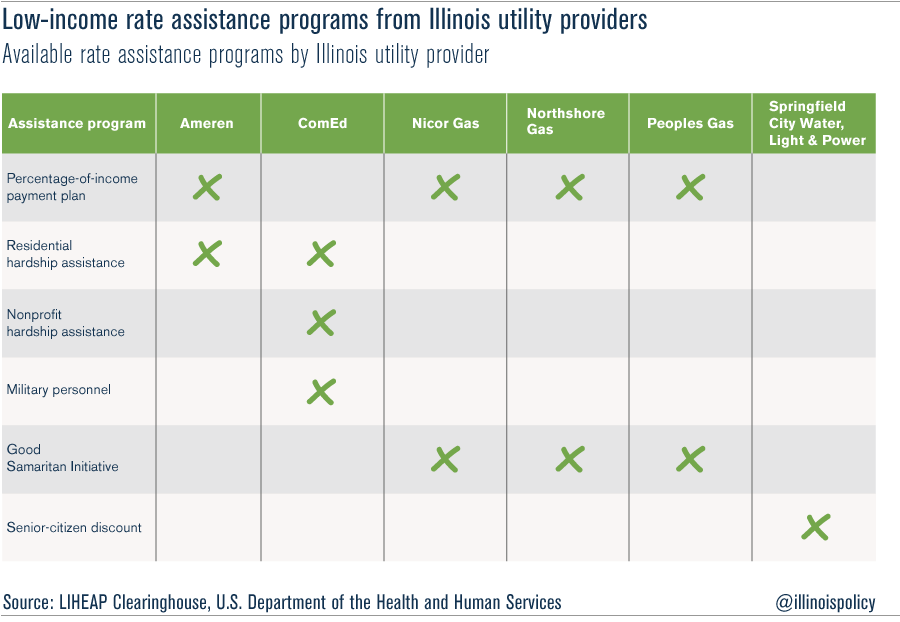 Utility companies also have programs that provide emergency charitable assistance. The following companies have such programs:
Ameren
Atmos Energy
Mid-American Energy Company
Nicor Gas
Northshore Gas
Peoples Gas
Springfield City Water, Light & Power
Wayne-White Counties Electric Cooperative
A consequence of decades of bad budgeting
The governor made the right call in moving to pare back the state's supplementation of the federal LIHEAP program. With the right reforms, Illinois can provide energy assistance to people who need it without a massive state injection of funds.
Hardly any other state augments the federal program to the degree that Illinois does. Illinois's LIHEAP program is the second-most generous when compared to its neighboring states. Poor practices have allowed fraudulent activities within the program, and wealthy persons have qualified for LIHEAP because Illinois lacks an asset test. Utility companies have ratepayer assistance and charitable programs that mitigate the need for state funds to augment the federal money.
While it would have been far more preferable to implement these changes with plenty of advance notice to affected individuals, the General Assembly's decision to not pass a balanced budget on time means the changes will likely be more disruptive than they could have been. The responsibility for that lies squarely with the leaders of the General Assembly.