Taxpayer support for southwestern Illinois airport hits $104.3 million
Each year St. Clair County, Illinois, taxpayers must add money to keep MidAmerica St. Louis Airport open. While passenger traffic is increasing, so are expenses.
MidAmerica St. Louis Airport in southwestern Illinois has now topped the $100 million mark for the taxpayer support needed to keep its doors open.
St. Clair County funneled $6.3 million in taxpayer funds to prop up the airport's finances in 2018, according to the county's annual audit. All told, St. Clair County has spent $104.3 million keeping the airport open since 2002, the oldest year on record detailing the tax subsidy.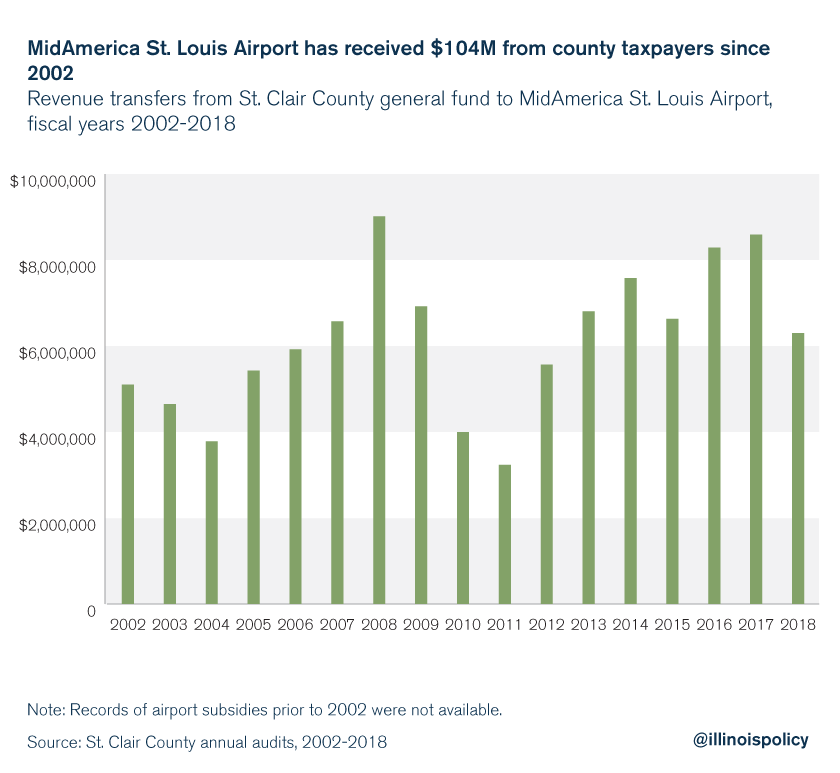 St. Clair County homeowners should be concerned that scarce resources are flowing to a project unable to turn a profit or boost home values.
From 2007-2017, St. Clair County home values fell by 23% after adjusting for inflation, according to data from the Bureau of Economic Analysis. At the same time, Illinois Department of Revenue data show that property tax bills in St. Clair County grew 5%, after adjusting for inflation.
Shortly after the airport opened in 1997, it was the subject of a segment on NBC News' "The Fleecing of America." NBC returned in 2010 and again in 2015 to find the airport in sad shape. In the 22 years since it opened, the airport has suffered a string of failed passenger carriers and unsuccessful attempts to build its cargo business, earning monikers such as the "Gateway to Nowhere" and "Glass Palace on the Prairie."
County leaders have said increases in passenger traffic will improve the airport's finances. Traffic did increase by over 20% last year, and with it came $77,000 more in passenger fees as well as $669,000 in new money from the decision to start charging for airport parking. Still, a nearly $1.1 million increase in revenue could not keep up with $1.2 million in increased expenses, the audit states.
County leaders predicted 150,000 passengers would board a plane at MidAmerica in 2018, and they were correct. The 2018 passenger count was 152,296, according to Federal Aviation Administration data.
Allegiant Air is the only regular passenger service at the airport, offering 10 destinations. It recently cut its year-round service from MidAmerica to Las Vegas and will resume flights in February. It added service to Sarasota, which became its eighth Florida destination.
Interest paid on airport debt was $4.3 million in 2018, which continues to be a major expense. The aging airport also depreciated by $6.1 million. That drove the airport's $3.9 million reduction in net position, which is similar to net worth.
The airport originally cost $300 million. In 2015, St. Clair County leaders decided to refinance the remaining $40 million in construction debt and stretch out repayment to 2045, a move that increased taxpayers' debt burden to $88 million.
Federal dollars to the airport last year included $1.4 million for airport improvements and equipment. The airport's master plan update received another $348,000 from the FAA.
The master plan is looking at the airport's needs in the coming years, including potential for more cargo flights and general and corporate aviation. The main thrust is the aging terminal and public roads leading to it: "The Passenger Terminal Building was originally designed and opened prior to September 11, 2001. The master plan will define modern design efficiencies to reduce normal day to day costs for the Airport."
While more passengers seems like a positive, more traffic brought more expenses. Now the airport is planning to spend even more to accommodate those increases and modernize a facility that is nearly 25 years old. The question seems to be: How much more success can St. Clair County taxpayers afford?