23 of Illinois' 29 largest cities are shrinking, Chicago sees 2nd-biggest population decline in U.S.
In the majority of Illinois' large cities, the number of people moving to another part of the country is greater than the combined gains from more births than deaths and international immigration.
The majority of Illinois' large cities are shrinking, according to new data released May 19 by the U.S. Census Bureau. The census data consider all American cities with populations over 50,000 and show how much those cities grow or shrink year-over-year, comparing July 2014 to July 2015.
Chicago topped Illinois' list for population decline – the city lost 2,890 people on net, the second-worst population decline in the country. Only Detroit's decline of 3,107 people was worse.
There are 758 American cities that have populations greater than 50,000. Of these cities, 629 grew, and 129 shrank. Illinois has 29 cities with populations greater than 50,000, and of these, six grew and 23 shrank.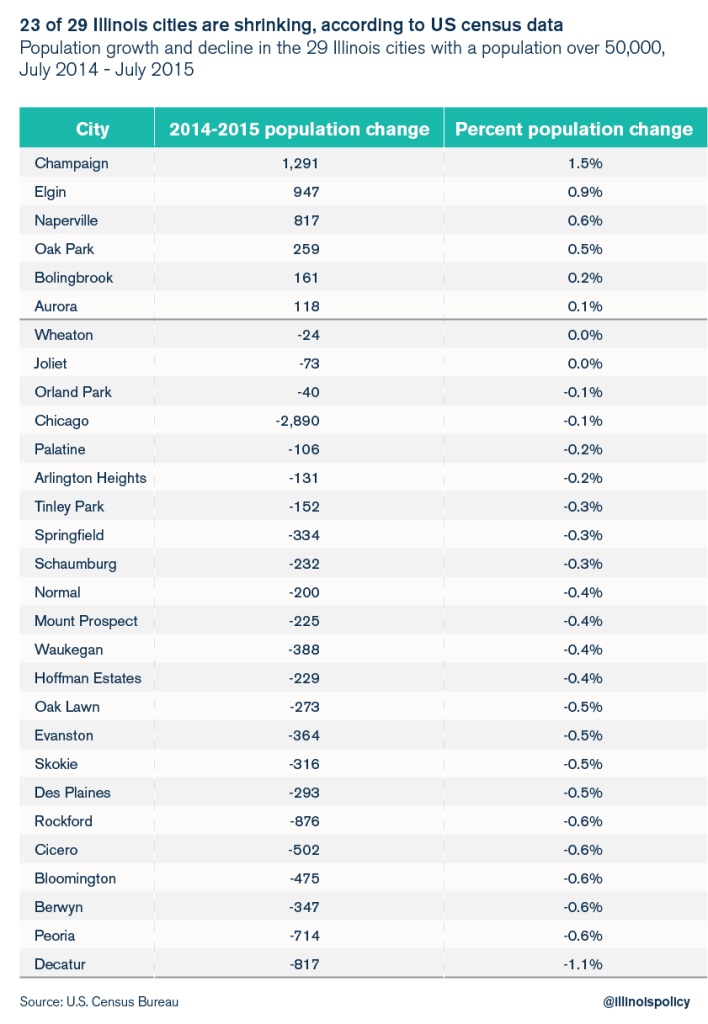 If these trends continue it's likely Houston, which saw the second-largest increase among major cities, could surpass Chicago in a decade as America's third-largest city.
Why are so many Illinois cities shrinking? Many Illinoisans are leaving for other states, and these residents are not being replaced by people moving in from other states and other countries. Most cities grow before factoring in migration, because they have more births than deaths. However, when a city has a significant amount of out-migration, it can cause the city population to shrink, even if there are more births than deaths.
For example, census data on the Chicago Metropolitan Statistical Area, or MSA (not the city proper) show that births outnumbered deaths by nearly 50,000 in the MSA, and that Chicago had net gains from international immigration. However, the Chicago MSA's population loss to other parts of the country was so great that it wiped out the gains from births and international immigration. This is happening in the majority of Illinois' large cities: The population that moves away to another part of the country is greater than the combined gains from more births than deaths and international immigration.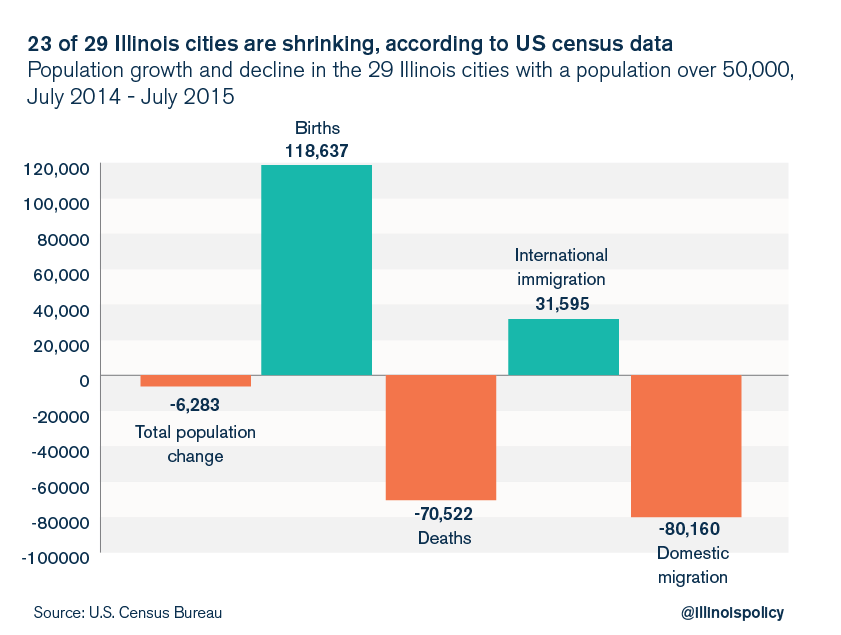 Judged by growth rate, 24 of Illinois' 29 large cities fell in the bottom 20 percent of large cities across the country. The majority of Illinois' large cities (17 of 29) fell in the bottom 10 percent, while Illinois' 10 fastest-shrinking cities fell in the bottom 5 percent of large U.S. cities. Downstate communities that have suffered significant industrial losses showed the fastest rates of decline, including industrial towns such as Decatur, Peoria and Rockford.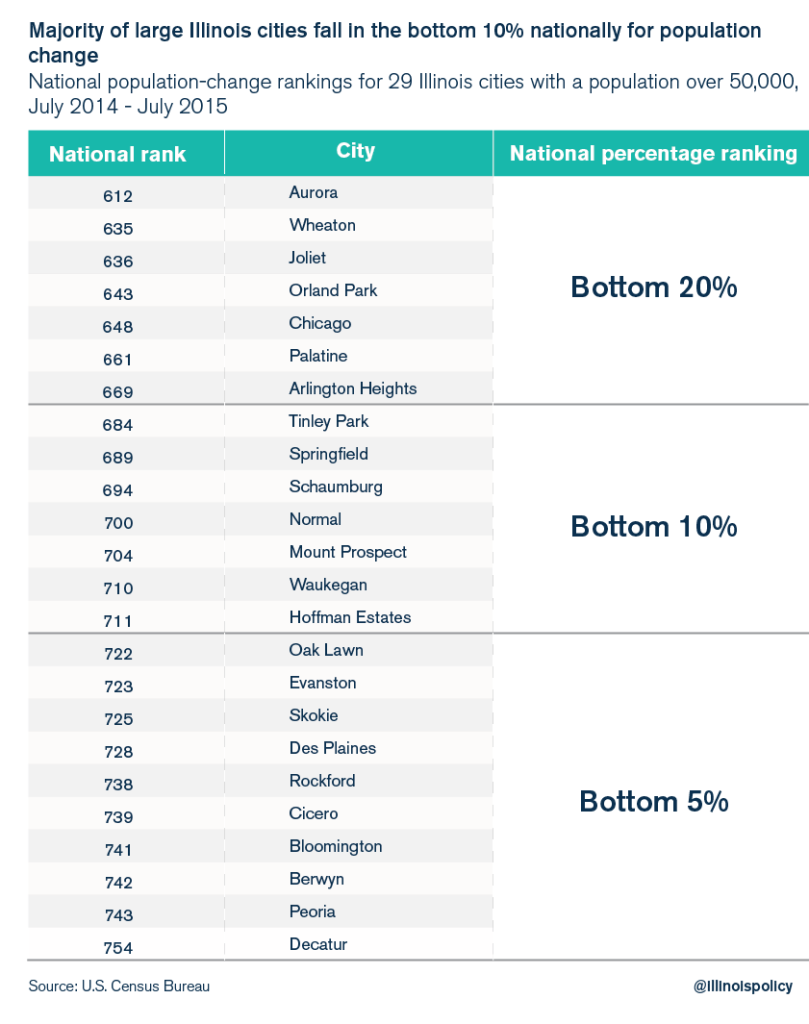 Illinois was the only state of its five neighbors to have more shrinking large cities than growing cities. Ten of Indiana's 17 large cities grew; all of Iowa's and Kentucky's large cities grew; 9 of Missouri's 13 large cities grew; and 6 of Wisconsin's 12 large cities grew.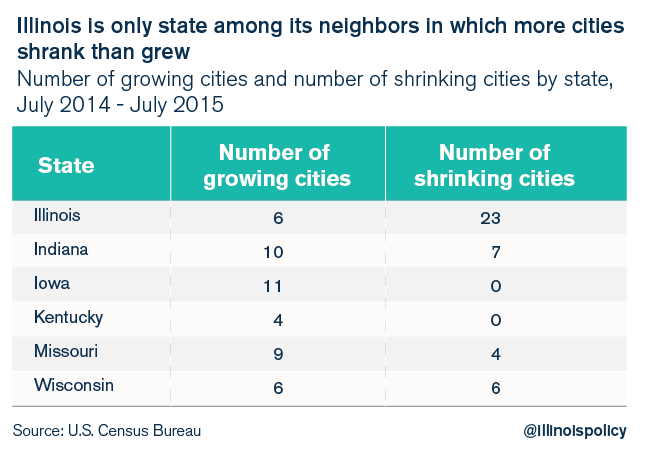 A number of municipalities across Illinois are already fiscally unstable due to heavy pension debts that cannot be carried by shrinking population bases. Illinois needs economic growth and government restructuring.
Growth policies include workers' compensation reform, Right-to-Work policies, lawsuit reform, a property-tax freeze, and an overhaul of the state's licensing and regulatory apparatus.
Government restructuring includes consolidating Illinois' 7,000 units of government, repealing the Illinois Constitution's pension-protection clause, exempting public projects from prevailing-wage requirements, and allowing local governments to change their collective bargaining agreements. Furthermore, Illinois municipalities should have the ability to file bankruptcy. It would be less disruptive for municipalities to obtain authority to restructure debt through bankruptcy now, rather than in the midst of a full-blown crisis.
Illinois' stark out-migration problem demands attention from the General Assembly, and a policy agenda that will help industrial towns grow and heavily indebted towns to lower their costs and restructure their debts through the bankruptcy process.