As health care premiums soar in Illinois, AFSCME demands additional $3B in raises, health care
As Illinois taxpayers struggle under Obamacare's skyrocketing health insurance costs, AFSCME has called for tax hikes to fund an additional $3 billion in pay and benefits for state workers.
Soaring health costs under Obamacare are increasingly forcing Illinoisans to choose between health care and other family needs. And the situation will only worsen as premiums rise: Illinoisans will pay nearly twice as much in premiums in 2017 as in 2016. Blue Cross Blue Shield estimates the cheapest bronze-level plans in Illinois will go up 44 percent, premiums for silver-level plans will increase 45 percent, and premiums for gold-level plans will shoot up 55 percent.
Yet, despite skyrocketing health care costs in a state where household incomes have remained virtually stagnant, the American Federation of State, County and Municipal Employees wants to extract still more from Illinois taxpayers. In contract negotiations with the state, AFSCME, the state's largest government-worker union, has made salary and benefit demands that will cost the state an additional $3 billion – including continued platinum-level health care, which is already much more generous than most Illinoisans enjoy.
But Illinois state workers are already the highest-paid state workers in the nation when adjusted for cost of living. AFSCME members enjoy generous benefits and many perks nearly unheard of in the private sector. A look at these benefits, AFSCME's demands and Gov. Bruce Rauner's last contract offer demonstrates just how out of touch AFSCME leadership is in light of the economic realities facing most Illinoisans.
AFSCME's current benefits: Higher wages, better health care
Illinois state workers already are the highest-paid state workers in the nation when adjusted for cost of living. When the most recent AFSCME contract expired in 2015, the median AFSCME salary was $63,660 – compared with just under $32,000 in the private sector. In fact, according to the U.S. Census Bureau, the median income for an individual AFSCME worker is higher than the median income for an entire household in the private sector (just under $58,000 in 2014).
But on top of that, AFSCME workers get platinum-level health insurance – a level of coverage not even available to Illinoisans on the state's insurance exchange, let alone at the rock-bottom price state employees pay. Taxpayers subsidize a whopping 77 percent of the average AFSCME worker's health care, which costs taxpayers $14,880 a year per worker.
Most AFSCME employees also receive free health insurance at retirement, simply by working 20 or more years. This benefit alone costs taxpayers $200,000 to $500,000 per employee.
In addition, state retirees on average receive $1.6 million in pension benefits, in addition to social security.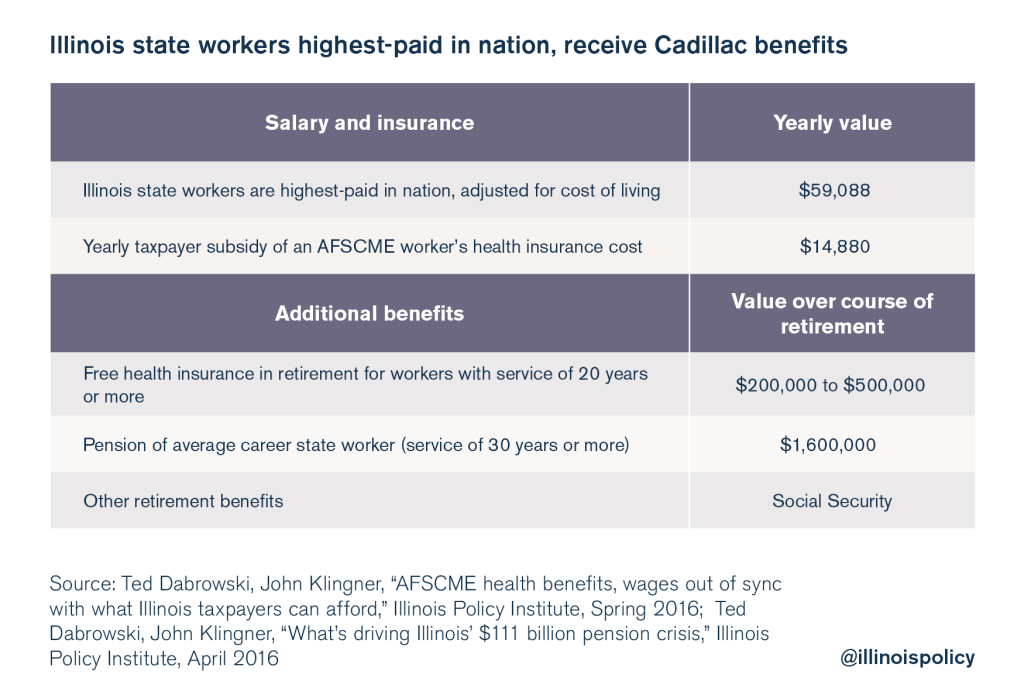 AFSCME's demands
But that isn't enough for AFSCME leadership, which is demanding wage increases of 11.5 to 29 percent by 2019, continued platinum-level health insurance at little cost to workers and a workweek with overtime for workers after just 37.5 hours. In a letter to state employees, Rauner explained that the wage-increase demands alone would cost the state nearly $1 billion.
Rauner's offer
Rauner, on the other hand, is trying to bring union costs in line with what Illinoisans can afford, while avoiding widespread state worker layoffs.
To ease the financial burden on taxpayers, Rauner's proposal to the union includes a temporary four-year wage freeze on AFSCME salaries. At least 19 other unions have already ratified contracts with the state that include provisions similar to those offered to AFSCME. Both the Teamsters and the Illinois Federation of Teachers have agreed to a temporary four-year wage freeze.
And instead of continuing to provide platinum-level health insurance at bronze-level prices, the governor is asking AFSCME workers to pay 40 percent of their health care premiums – up from the 23 percent they pay now. This means state taxpayers will continue subsidizing 60 percent of an AFSCME employee's health care, at $11,6000 per worker annually – still a significant amount by any standard.
The governor also has requested a 40-hour workweek, as opposed to a 37.5-hour week, before covered state employees are eligible for overtime.
The governor's proposal also includes many provisions that would benefit AFSCME workers. For example, Rauner's offer maintains workers' current salary levels.
In addition, the governor has proposed over $200 million in additional compensation in the form of bonuses when employees meet simple, objective standards – such as not having unexcused absences. Also known as merit pay, this performance-based incentive would reward good employees with bonuses above and beyond normal salary.
And, while Rauner has left AFSCME's 15-plus leaves of absence in place in his proposed contract, he has also added bereavement leave. Under the expired contract, if an AFSCME member needs time off because he or she lost a child, that worker has to take vacation or personal days, or some other leave of absence. Under the governor's proposal, if a state worker's son, daughter, stepson or stepdaughter dies, that worker would be entitled to three days' bereavement leave, with pay, in addition to any other time off the employee would like to utilize.
And many other lavish perks – such as lax disciplinary rules allowing workers up to 10 unauthorized absences without repercussions – would continue under Rauner's last offer.
AFSCME has been offered a fair contract, but AFSCME leadership refuses to compromise. AFSCME rejected the governor's proposals on salary, health insurance, merit pay, bereavement leave and more. Instead, it wants the state to raise taxes to meet the union's excessive salary and benefit demands.
The increasing cost of Obamacare is already forcing families to make hard choices between obtaining health insurance and providing for other life necessities. Raising taxes to hike salaries and increase benefits for state workers would squeeze Illinois families even more. AFSCME's push for tax increases demonstrates the union's contempt for Illinois taxpayers and its obliviousness to the economic realities facing the state.