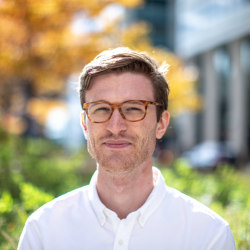 Austin Berg | Vice President of Marketing
Vice President of Marketing
---
Austin Berg is the Vice President of Marketing for the Illinois Policy Institute.
He and his work have been featured in the Economist, Washington Post, Chicago Tribune, Chicago Sun-Times, ABC 7 Chicago and WTTW. He is the winner of two Peter Lisagor Awards from the Chicago Headline Club for his photojournalism work, and was honored as one of Chicago's "20 in their 20s" by Crain's Chicago Business.
Austin is the co-author of "The New Chicago Way: Lessons from Other Big Cities," published in 2019 by Southern Illinois University Press. He is also the writer of the 2016 documentary film, "Madigan: Power. Privilege. Politics."
He is a graduate of Tufts University.