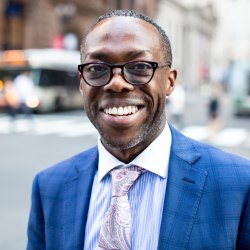 Orphe Divounguy | Chief Economist
Chief Economist
---
Dr. Orphe Divounguy is is a Ph.D. economist whose work has been published in CNN Business, USA Today, the Washington Examiner, the Chicago Tribune, Crain's Chicago Business, The Wall Street Journal and Newsday. Divounguy has also appeared on ABC 7 Chicago, the city's top TV news station, and numerous radio outlets across the nation.
Divounguy is the chief economist at the Illinois Policy Institute in Chicago. Prior to this role, Divounguy made important contributions at the start of the Buckeye Institute's Economic Research Center in Columbus, Ohio.
Divounguy earned a doctorate in economics from England's University of Southampton. After earning his degree, he served as a teaching and research fellow. His research emphases were tax policy and the role of expected labor market outcomes for job search and migration decisions. During that time, he also worked on crime prevention by using theory and evidence to inform police "stop-and-frisk" strategies with members of the Hampshire Constabulary in England. He also worked with ICAO staff as an economic consultant to highlight the costs and benefits of air transportation infrastructure for landlocked Malawi.
Before his time in higher education, Divounguy interned at the United Nations Department of Economic and Social Affairs in New York, and Cato Institute in Washington, D.C. His work at the United Nations focused on financing for development and poverty eradication.