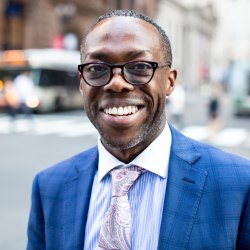 Orphe Divounguy | Chief Economist
Chief Economist
---
Orphe Divounguy is the chief economist at the Illinois Policy Institute in Chicago.
Divounguy's columns and articles cover fiscal policy, labor economics, and quantitative methods for program and policy evaluation.
Divounguy's columns have appeared in The Wall Street Journal, CNN Business, USA Today, the Chicago Tribune, Crain's Chicago Business, and other major publications. Divounguy is also a frequent television and radio guest with appearances on CBS, ABC, Fox and other stations across the nation.
Divounguy earned a doctorate in economics from England's University of Southampton.
Before his time in higher education, Divounguy interned at the United Nations Department of Economic and Social Affairs in New York, and Cato Institute in Washington, D.C. His work at the United Nations focused on financing for development and poverty eradication.