Bipartisan anti-corruption bill bottled up in Illinois Senate
After unanimous approval from the Illinois House of Representatives, the Illinois Senate has remained conspicuously silent on a bill meant to address one man's dominance of a little-known network of government authorities.
Andrew Hamilton has made millions through an obscure economic development tool that has flown under the radar of Illinois government watchdogs for years.
Recent actions by Gov. Bruce Rauner, the Illinois House of Representatives and Kane County officials suggested that cash flow could soon come to an end. But the Illinois Senate appears to be sitting on its hands – a concerning response to an official under fire for profiting from public influence.
Suspicious side business                                                                                    
Illinois is home to 10 regional development authorities, or RDAs. These little-known agencies are spread across the state, located in regions determined to need special economic development assistance. RDAs can secure longer-term financing at a lower interest rate on behalf of private businesses, and can help establish enterprise zones, which come with their own subsidies and tax perks.
Hamilton is listed as the executive director of eight of the state's 10 RDAs. At the same time, he runs a closely related side business called Opportunity Alliance. The company's website, which was taken down following an Illinois Policy Institute investigation but is accessible via the Internet Archive, boasted its ability to secure state enterprise zones and tax abatements, as well as other "government access services."
The Institute was first to report on Hamilton's private company and control of multiple RDAs.
One of the RDAs in question is the Upper Illinois River Valley Development Authority, or UIRVDA. As executive director of UIRVDA, Hamilton has collected nearly $1 million since 2010 in executive pay ($537,499); reimbursements ($291,859); and payments to Opportunity Alliance LLC ($128,314).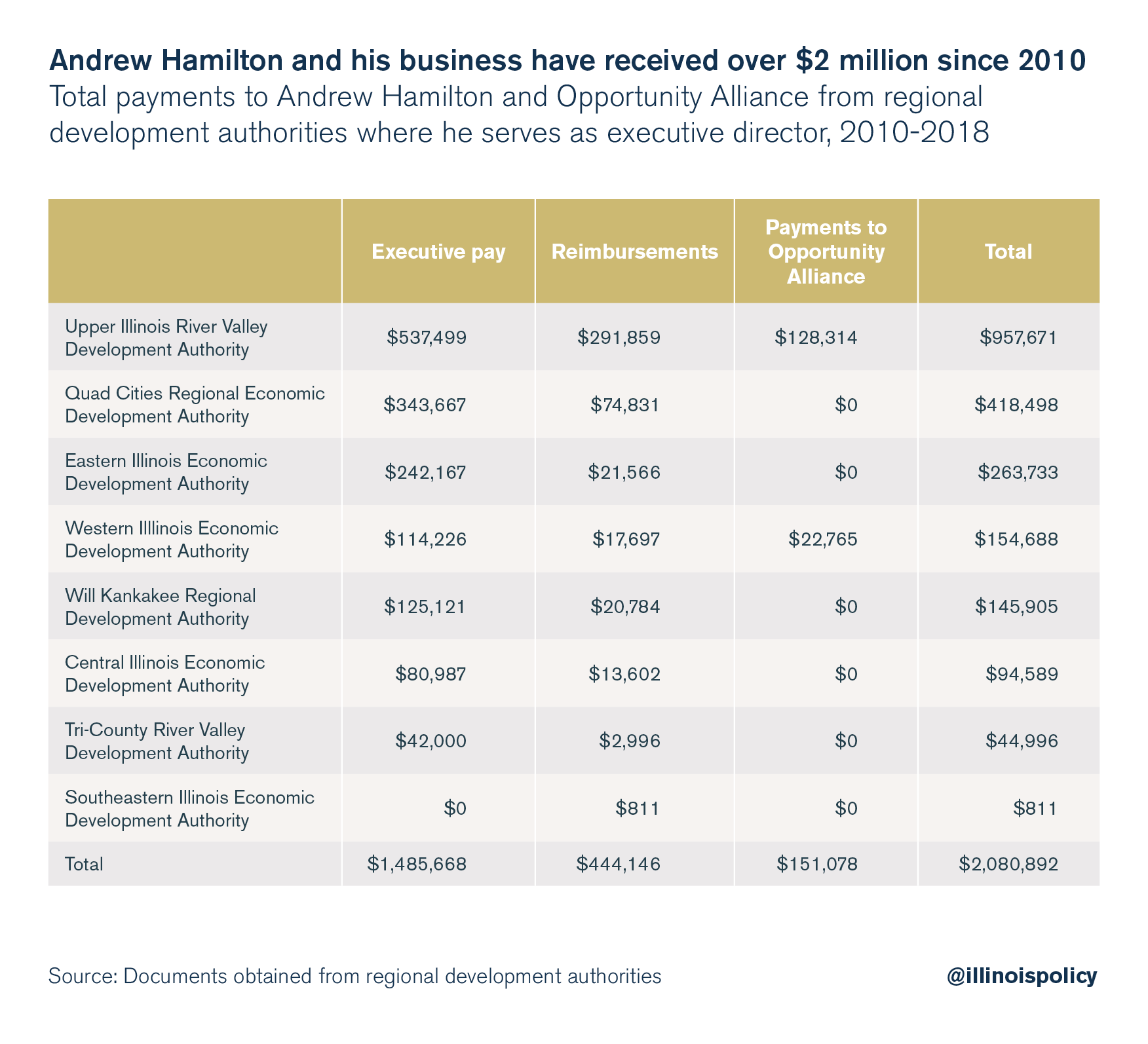 In the wake of the Institute's investigation, UIRVDA discontinued its $1,000 monthly retainer agreement with Opportunity Alliance. "This firm is no longer being utilized by the authority to avoid any appearance of a conflict of interest," Hamilton told the Daily Herald.
At the same time, Kane County officials began a public investigation of UIRVDA.
Solutions
Reform efforts pushed by Rauner to strengthen the integrity of RDAs garnered massive bipartisan support in the Illinois House of Representatives.
In early May, Rauner's office sent a letter to the Illinois Department of Commerce and Economic Opportunity requesting the agency stop approving any enterprise zone applications brought by RDAs until state lawmakers pass a series of reform measures.
Some of Rauner's requested changes included:
"[T]hat no person with any form of financial interest or business relationship, formal or informal, in any economic development consulting, lobbying, or advising business may serve as an RDA executive."
"[T]hat no person serve as the Executive Director of any more than a single RDA."
"[T]hat the executive director of each RDA have his/her primary residence in one of the counties covered by the RDA."
The governor's requests were largely reflected in an amendment to Senate Bill 2367.
"I would say the governor's reform proposals are excellent," said state Rep. Barbara Flynn Currie, D-Chicago, on the House floor May 31, "and the idea that there should be no conflict of interest within these agencies, that they should have to report their activities, that people know what kind of financing they're arranging, I think that makes excellent sense."
The House passed the measure unanimously the same day.
But with just a few days left in legislative session this year, the Illinois Senate has still not moved the bill out of the Assignments Committee.
Failing to even hold a hearing on this bill is an insult to Illinoisans seeking a more transparent government that's less vulnerable to corruption. State senators should demand its movement and passage.