BLS report reveals Illinois lags on jobs and wage growth
On national, regional and county-level comparisons, the report was negative for Illinois.
In Illinois, high business-establishment growth from December 2013 to December 2014 came coupled with weak job creation and extremely poor wage growth.
A new report from the Bureau of Labor Statistics, or BLS, has ignited a discussion on Illinois' business climate. One interpretation of the report highlights that Illinois ranked 2nd nationally for percentage growth in new business establishments. This is an unusually narrow interpretation of the report, given the research within is primarily concerned with jobs growth and wage growth in states and counties. On those metrics, Illinois ranked 29th nationally for jobs growth and 42nd for wage growth.
The number of business establishments in a state can grow for good and bad reasons. For example, the Great Recession caused a spike in the number of business establishments in Illinois from 2009-2012, even though the state lost jobs over the same time period. What was happening was larger establishments were dying and laying off workers, leaving a swarm of unemployed professionals with little choice but to start their own business. On the other hand, healthy entrepreneurship in a strong economy leads to more businesses, more jobs and higher wages as new and old businesses compete for the same workers.
The BLS report reveals that healthy entrepreneurship is not the explanation for what is happening in Illinois.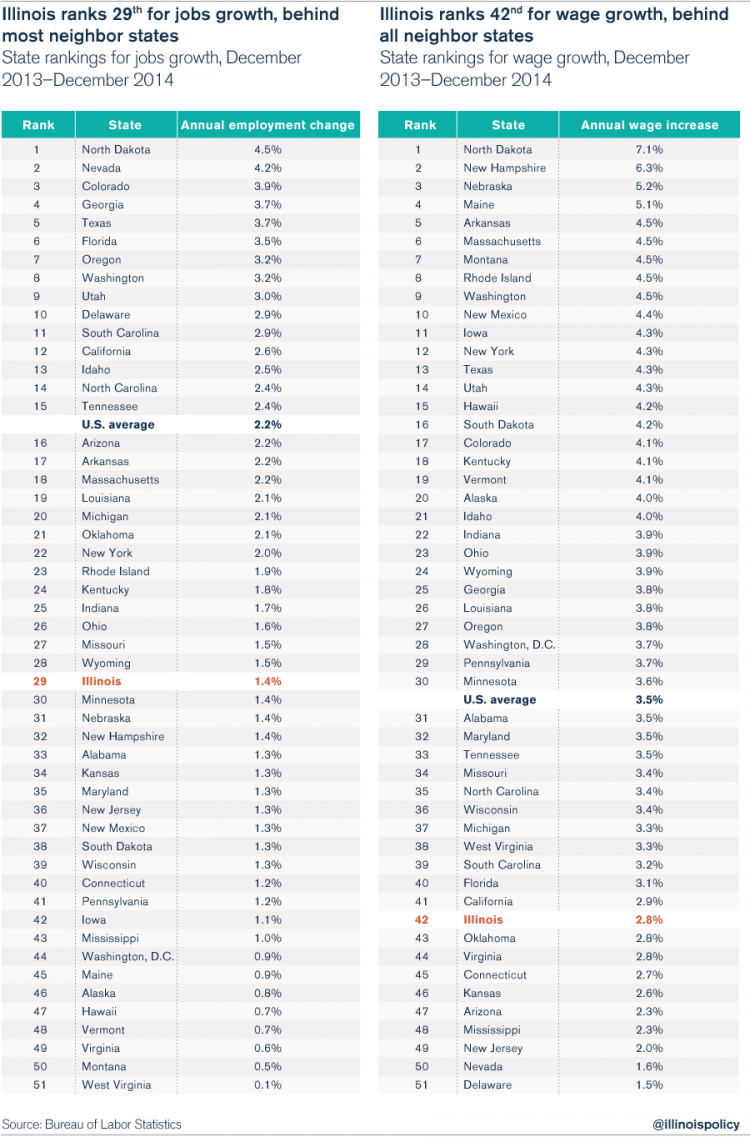 According to the report, Illinois was tied for 29th nationally in job creation from December 2013 to December 2014. Illinois' job-creation rate was 1.4 percent year-over-year, compared to a national average of 2.2 percent. Illinois ranked behind neighbors Michigan (2.1 percent), Kentucky (1.8 percent), Indiana (1.7 percent), and Missouri (1.5 percent), but ahead of Wisconsin (1.3 percent) and Iowa (1.1 percent).
Growth in weekly wages was especially bad in Illinois, according to the report. Weekly wages grew by 2.8 percent in Illinois, ranking the Land of Lincoln as tied for 42nd among the states, compared to a national average of 3.5 percent wage growth. Illinois ranked well behind all neighboring states for wage growth, with Iowa at 4.3 percent, Kentucky at 4.1 percent, Indiana at 4 percent, Missouri and Wisconsin at 3.4 percent, and Michigan at 3.3 percent.
Illinois' largest counties also did not fare well compared to the rest of the nation. Out of the 340 largest American counties, most Illinois counties ranked near the bottom for job creation and wage growth.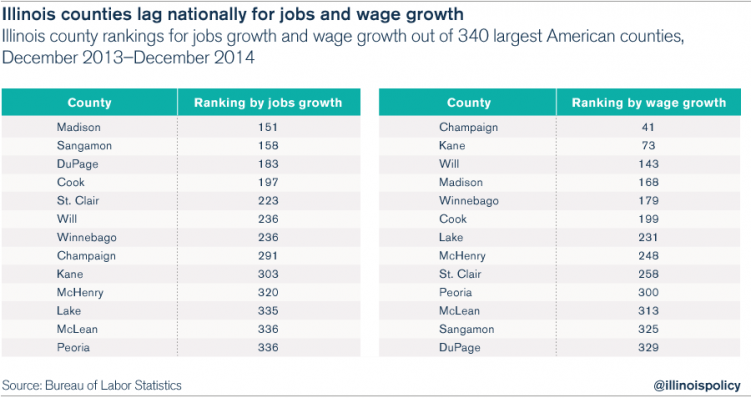 On national, regional and county-level comparisons, the report was negative for Illinois, making it especially odd that media outlets spun the numbers as a positive. New business startups cannot be considered a positive without context, as was proved during the Great Recession. In this case, once again, the growth of new Illinois businesses came in the context of poor job creation and lagging wages.