Blue steel: Illinois' manufacturing exodus continues
Workers' compensation costs are killing Illinois steel.
A suburban Illinois steel company announced April 1 it will be hopping the border to Indiana, taking 100 new jobs with it. As any Illinoisan could tell you, this was no April Fool's joke, but rather another sobering reminder of the state's manufacturing crisis.
South Holland-based T&B Tube will invest $5.6 million to build a brand-new facility in Gary, Indiana, which will be up and running by the end of the year, according to the Indiana Economic Development Corporation.
"We chose Indiana because of its lower taxes, business friendly environment, close proximity to our steel vendors and great infrastructure to move our products," said Jack Jones, president of T&B Tube.
Crain's Chicago Business reported Jones also cited lower workers' compensation rates as a reason for migrating.
This announcement comes hot on the heels of at least two other steel-sector companies cutting Illinois operations in 2015.
United States Steel Corp. announced on March 25 it would be halting operations in Granite City, Illinois, giving pink slips to 2,080 steelworkers. That announcement came two months after U.S. Steel shuttered its coke-making facility there, costing another 176 jobs.
Meanwhile, U.S. Steel has maintained operations in Michigan, Indiana, Alabama and Pennsylvania.
Romeoville-based American Stair Corp. Inc., a manufacturer of steel stairs and railings, announced in February it will be relocating to a new plant in Hammond, Indiana, by the end of the year. This will yield nearly 200 new manufacturing jobs in the border town over the next three years.
When comparing the costs of doing business, Illinois manufacturers have little choice but to bolt for the border. Workers' compensation costs are one major policy misstep putting Illinoisans at a disadvantage.
In the steel industry, Illinois workers' compensation costs can be more than triple that of Indiana's, according to Springfield-based Selvaggio Steel. Steel workers falling under insurance class code 3030 cost Illinois manufacturers more than $14 in workers' compensation costs per $100 of payroll. In Indiana, that number stands at just below $5. These are workers who deal with "structural" steel fabrication, including items used in the construction of bridges, buildings and heavy machinery.
These numbers are mirrored for steel workers falling under insurance class code 3040, who bring nearly $14 in workers' compensation costs in Illinois per $100 of payroll, but just over $5 in Indiana. These are workers who deal with "ornamental" steel products, such as railings, fire escapes and balconies.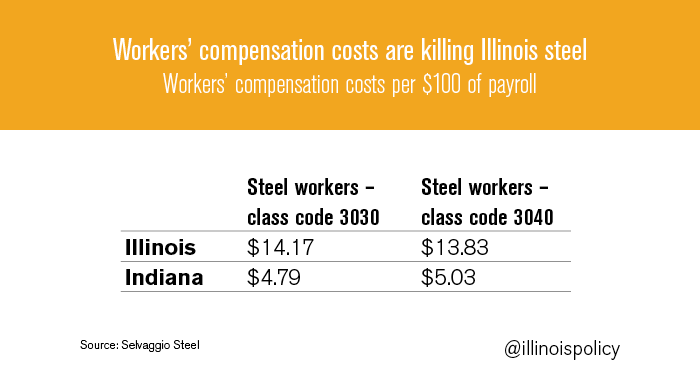 Illinois' neighbors are using this disparity – along with other policy tools – to their advantage, and at alarming rates. Since March 2012, Indiana has added 39,000 manufacturing jobs, while Illinois has lost 2,500, according to the Bureau of Labor Statistics. That's before factoring in the losses in Granite City and South Holland.
Incredibly, with a workforce three-quarters the size of Illinois', Michigan recently passed Illinois for total manufacturing employment.
State government can take immediate action to stop hemorrhaging manufacturing jobs. First, workers' compensation reform is blaringly necessary. A house bill introduced by state Rep. Dwight Kay, R-Glen Carbon, and three senate bills sponsored by state Sen. Kyle McCarter, R-Vandalia, aim to reform the unusual "causation" standards that drive up the cost of workers' compensation in Illinois, among other proposed administrative fixes.
For example, SB 771 would stop temporary partial disability payments from flowing to employees who have been discharged for misconduct. HB 2418 would prevent employees from claiming benefits for injuries resulting from unknown causes, and would only allow benefit payments for injuries incurred during travel if the injury arises when the employee is "actively engaged in the duties of employment."
Manufacturing a steel comeback in the Land of Lincoln won't be easy, but the bleeding won't stop until this policy pain-point is taken seriously.
Image credit: Kheel Center