Carterville passes largest property tax hike in city history to pay for pensions
Pension costs now consume nearly 70 percent of the city's annual property tax levy. It may not be enough.
Pension costs are driving property tax increases across Illinois, including a historic hike in the southern Illinois city of Carterville.
Carterville City Council members voted Nov. 13 to hike the city's property tax levy by more than 30 percent, a measure prompted entirely by public safety pension costs, local leaders said. Nearly 70 percent of the city's property tax revenue will now go to police and fire pensions.
Crowding out
The latest levy increase is the largest in Carterville's history, Mayor Brad Robinson said in an interview. He said the owner of a home valued at $129,000 would pay an additional $53 on the city portion of the property tax bill.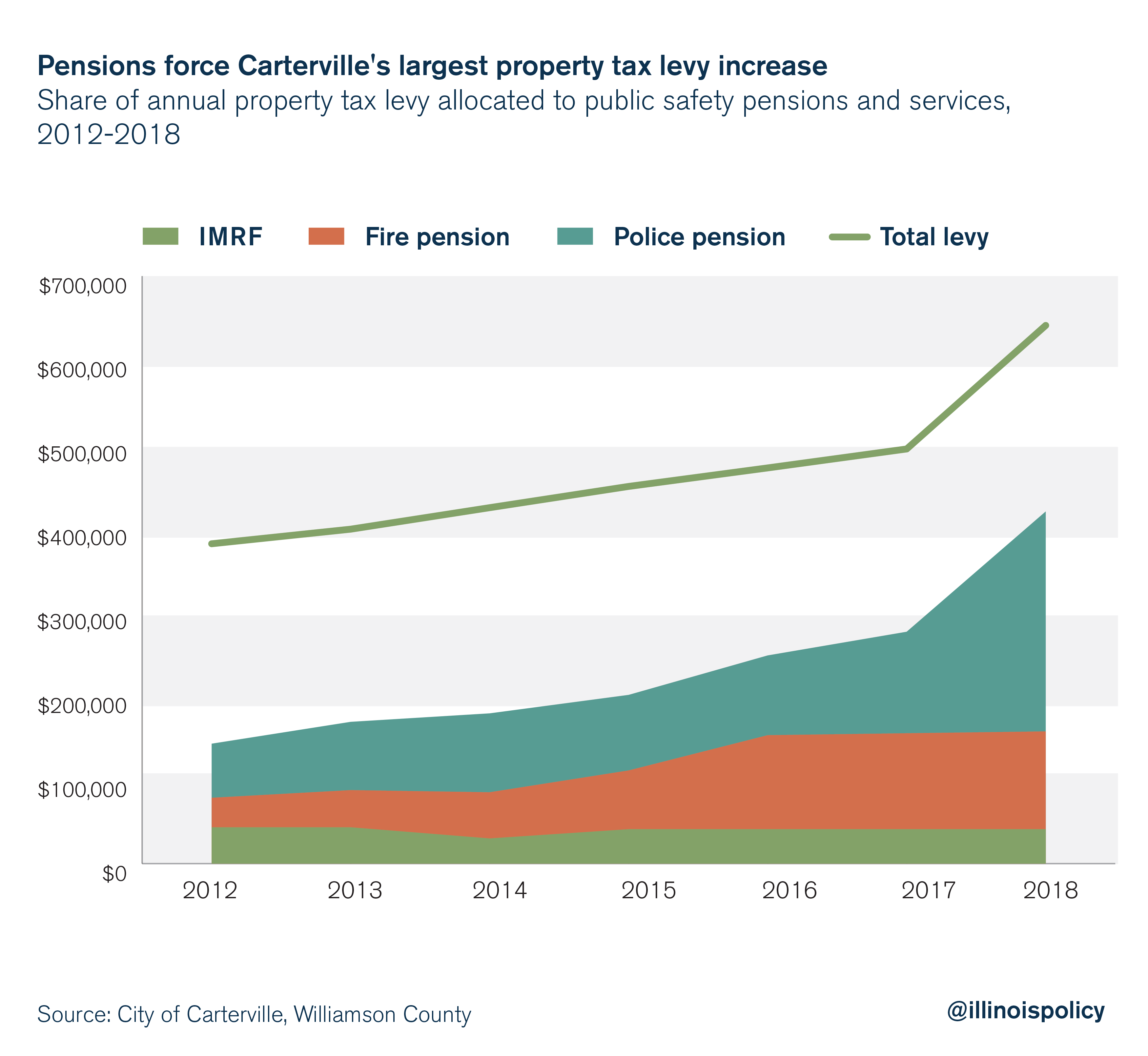 Since 2012, the city's property tax levy almost doubled from around $390,000 to nearly $648,000.
Robinson attributed that growth to the city's police and fire pensions, whose share of the city's property taxes swelled to 67 percent from less than 26 percent in 2012. The city is levying nearly $300,000 more for pensions today than it did six years ago.
"That's $300,000 that could have gone toward hiring new staff, toward building new bridges," Robinson said. "Instead, it's going to pensions."
The costs of yesterday's pensioners are elbowing current public safety services out of the levy, with the city now spending 9 times more on public safety pensions ($387,000) than public safety services ($43,000).
Pension pain
Carterville is in southern Illinois between Carbondale and Marion, with a population estimated at 5,827. It passed the 5,000 mark in 2010, reaching the population threshold at which the state requires municipalities to create separate pension funds for police and separate funds for firefighters, with separate boards to govern each. The city previously enrolled all workers in the Illinois Municipal Retirement Fund.
Illinois' pension law requires each pension system to reach 90 percent funding by 2040.
"If pension obligations are not met with property taxes, they'll have to come out of another operating budget," the mayor told KFVS-TV.
This budget bind is by no means unique to Carterville.
Across the state, growing pension costs are pressuring municipalities to weigh burdensome tax hikes against painful budget cuts. In Peoria, 85 percent of the city's property tax revenue is consumed by pensions. The city in August sent layoff notices to 27 municipal employees, and in November cut another 38 police and firefighter positions in order to cover rising pension costs. This followed a crisis in the south Chicago suburb of Harvey, where the city cut 18 fire and 13 police positions to pay more into its pension funds.
Norridge, Rockford and Chicago all face pension crises.
Relief through reform
The failures of defined-benefit pension systems are not lost on Carterville's mayor.
"I can honestly see, certainly in my lifetime and maybe within my tenure with the city of Carterville, that we could easily get to a place where we have more retirees than we have (workers)," Robinson told WSIL-TV. "And to me, that's a recipe for disaster for our pension funds and for the taxpayers."
On the same day of the vote, city leaders held a public forum on the proposed levy hike, during which the mayor explained that the state's pension funding requirements would necessitate more property tax dollars. The explanation did little to satisfy residents' frustrations, according to WSIL-TV.
Illinois taxpayers need property tax relief, and municipal workers deserve retirement security. State lawmakers can deliver both by amending the state constitution. A sensible amendment to the constitution's pension clause would allow municipalities to control the growth of pension benefits that have not yet been earned while protecting workers' already-earned benefits.
When state leaders reconvene next session, they should start the new year with a resolution to amend the Illinois Constitution.