Caterpillar CEO's warnings 4 years later: Illinois on downward slide as predicted
Illinois politicians ignored Caterpillar CEO Doug Oberhelman's 2012 plea for pro-growth reforms, and Illinois is the only state in the region to have lost manufacturing jobs on net over the last four years.
In February 2012, Caterpillar Inc. CEO Doug Oberhelman wrote an op-ed outlining the reforms Illinois needs to foster an environment for jobs growth, instead of driving more and more businesses across state lines. In the four years since the Springfield State Journal-Register published Oberhelman's letter, Illinois has been the only state in the region with a net loss of manufacturing jobs.
In his piece, Oberhelman pointed out the policy problems that prevent companies such as Caterpillar from making new investments and creating new jobs in Illinois. He urged state leaders to take on the tax and regulatory reforms necessary to rebalance Illinois' economy and put the state's fiscal house in order. "Caterpillar has deep roots in Illinois," he said, adding that "Illinois is Caterpillar's home, and it is my home." However, Oberhelman also pointed out that Caterpillar hadn't opened a new Illinois factory for decades, and state policy problems have a lot to do with it.
Illinois has lost 12,500 manufacturing jobs on net in the four years since Oberhelman wrote his op-ed, while surrounding states added a net 234,000 manufacturing jobs. Michigan gained 73,000, Indiana added 44,000, Kentucky tacked on 29,000, and Wisconsin added 21,000 manufacturing jobs.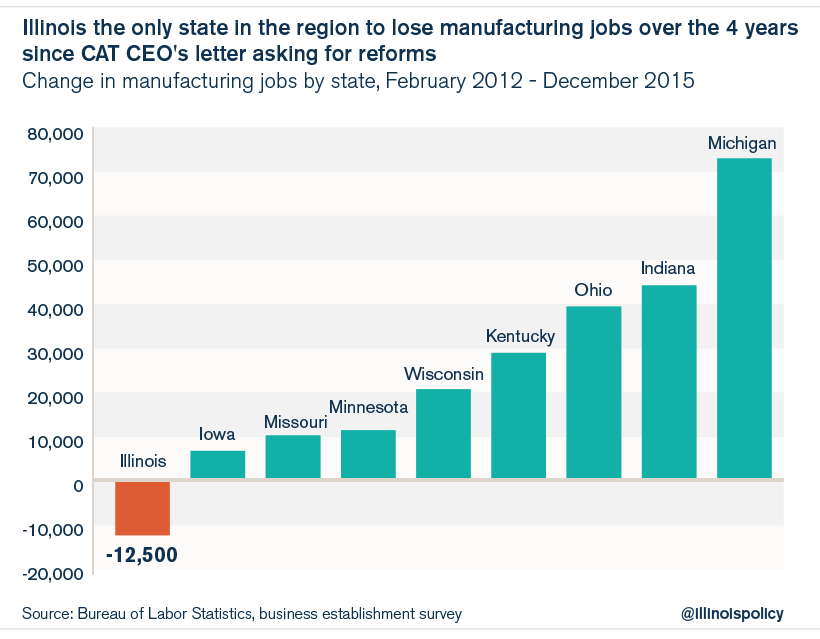 What policy problems was Oberhelman describing? Specifically, he pointed to Illinois' broken workers' compensation system, high tax burden and dire budget projections. Oberhelman suggested the following:
Develop a long-term sustainable budget that allows the 2011 tax increase to sunset on time and relieves pressure on taxpayers
Dramatically reduce workers' compensation costs
State government has not hit the target on either of these marks. Illinois made an attempt at pension reform in 2013, but the Illinois Supreme Court overturned the law and ruled it unconstitutional in May 2015. The state must pass a constitutional amendment to fix its pension problems. The General Assembly passed certain workers' compensation reforms in 2011, before Oberhelman wrote his letter, but the system remains outdated and structurally flawed. Manufacturing job losses have continued unabated since the letter was written, and the losses stretch back to the turn of the 21st century.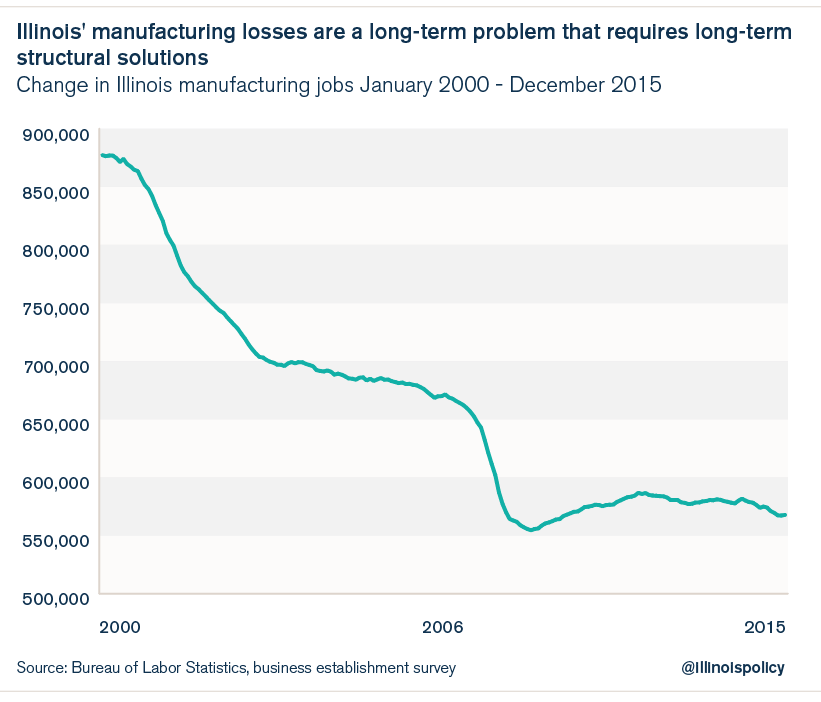 Automation and outsourcing to other countries have partly driven this trend. But another driver, especially in recent years, is that manufacturers are passing up Illinois for surrounding states. The problem that Oberhelman addressed is that industrial companies looking to grow in the U.S. are avoiding Illinois.
His message ended with a clear choice for Illinois:
"Business leaders are making decisions today on where to invest in the future. Illinois must act now, with a bipartisan sense of urgency, to position itself for future job creation that is being discussed in boardrooms all across this country. I want Illinois to be in the hunt for those types of investments, including investments by Caterpillar. Illinois deserves it."
Politicians didn't heed Oberhelman's advice, and the results are in: Illinois' blue-collar middle class is struggling. After four years of delay, it's even more urgent that the state act. Working-class Illinoisans deserve rewarding careers and opportunities in industries such as manufacturing, and it's up to policymakers to clear the barriers that are keeping companies away.